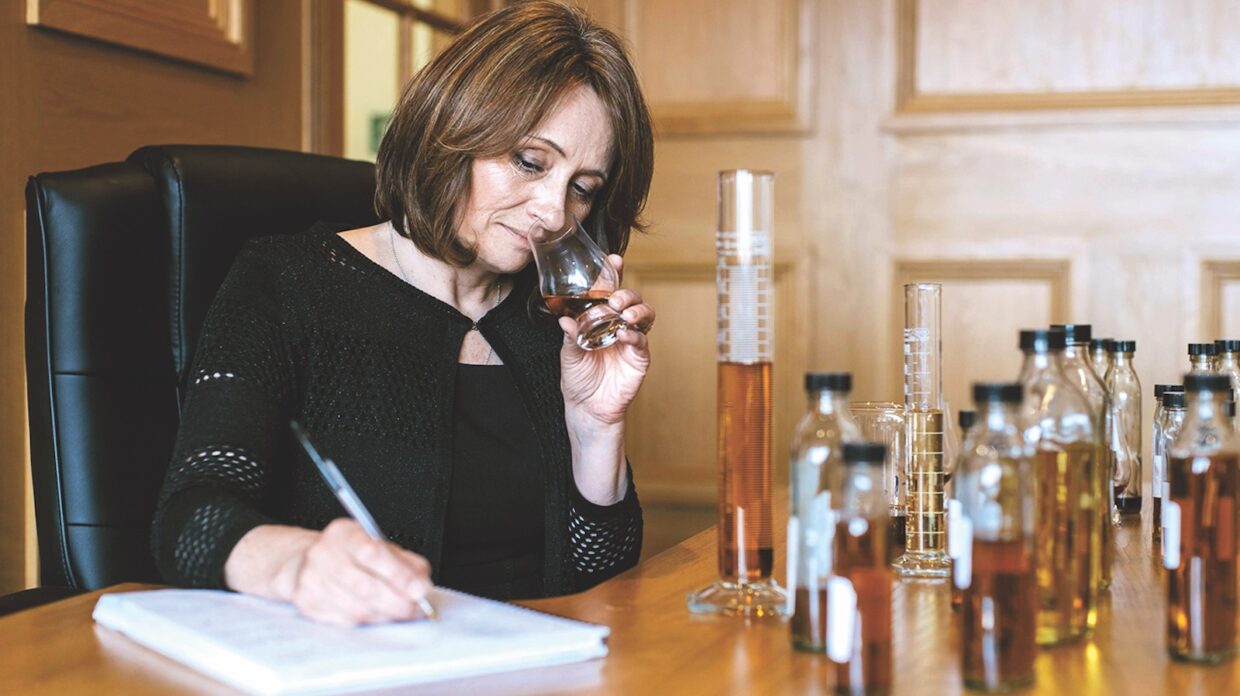 Master blender Rachel Barrie has a wealth of experience in the scotch world—in 2017, Brown-Forman brought her on as the master blender for its scotch portfolio, which includes GlenDronach, BenRiach, and Glenglassaugh. Prior to that, Barrie served as master blender at distilleries such as Bowmore, Laphroaig, and Ardmore. This vast experience helps Barrie when crafting the whiskies she currently works with, such as GlenDronach 12 year old, 15 year old, and 18 year old. Barrie presented these whiskies, along with a couple of sherries, on Instagram Live as part of Whisky Advocate's #TasteWithSpace series on July 31.
GlenDronach's whiskies are all matured in sherry casks. To better understand the nuances that derive from this style of maturation, Barrie first led a tasting of the two types of sherry that GlenDronach uses—oloroso and Pedro Ximénez. "Sherry was always very enjoyed in Scotland," Barrie said, while holding a glass of each sherry side by side to highlight the difference in color. "I think the first record was in the 19th century, or even sooner, of people enjoying sherry in Scotland."
STARTING WITH SHERRY
Barrie went on to explain the difference in the grapes used in the separate sherries—Palomino grapes for the oloroso, and Pedro Ximénez (also called PX) for its eponymous sherry. Starting with the oloroso sherry, Barrie noted stewed grapes and stewed apples, along with a nutty flavor, which stood in contrast from the PX, in which she noted prunes and syrup. The sherry tasting illuminated the flavors that would be found in the whisky, as the 12 and 15 year old expressions are matured in both oloroso and PX casks, and the 18 year old is matured in oloroso casks.
"You're allowing the whole spectrum, from brambles and oranges right through to the barley spice—even just a tiny bit of tobacco on the tail—to all come over into the spirit, and that's why the PX and the oloroso casks can bring all of that out to make it shine," Barrie said as she began her whisky tasting, starting with the GlenDronach 12 year old. She added that GlenDronach uses longer spirit cuts than is typical for single malt scotch, which is what creates such a wide array of flavors to begin with.
As Barrie guided viewers through the three scotches in order of age, she noted the importance of sherry cask maturation to the distillery's house style. "Having tasted the sherries, and then tasting [the 12 year old], it's remarkable. This is GlenDronach's style—this is GlenDronach. This isn't the sherry talking, this is GlenDronach talking." Along with the comparative tasting, Barrie answered viewer questions and provided detailed explanations about maturation minutiae, such as the impact of seasonal variation on the whisky's flavor in cask, and the key characteristics of American, European, and Spanish oak.
Watch the full interview with Barrie on Whisky Advocate's IGTV channel and follow Whisky Advocate on Instagram to join our #TasteWithSpace live interviews every Friday at 3 p.m. Eastern. This Friday, senior whisky specialist and digital editor Susannah Skiver Barton talks with Gareth Moore, CEO of Virginia Distillery Co., about American single malt and the distillery's new Courage & Conviction release.