Bottled in bond bourbons have made a huge splash recently—take Whisky Advocate's 2019 Whisky of the Year George Dickel 13 year old Bottled in Bond, for example. Bottled in bond whiskeys aren't limited to just bourbon, though. As long as the whiskey—or any other spirit, like brandy—is produced according to the Bottled in Bond Act of 1897, it can be labeled as such.
A bottled in bond whiskey must be produced in a single distilling season by a single distiller, aged in a U.S. bonded warehouse for a minimum of 4 years, and bottled at 50% ABV. Any style of whiskey can be bonded as long as it meets those regulations—and to that point, many bottled in bond ryes have emerged over the last few years. One of those ryes, New Riff Bottled in Bond, even made our 2019 Top 20, earning the No.-17 spot.
While the whiskeys on this list share many qualities due to bottled in bond regulations, and the fact that most are rye, there's also rich variety represented. These bottles hail from several different states and boast a range of notes and flavors—illustrating how vast and exciting bottled in bond whiskey can be.
try these 10 non-bourbon bottled in bond whiskeys
New Riff Bottled in Bond Rye—92 points, $46
When New Riff Distilling opened in Newport, KY, it decided only to release bottled in bond whiskey—a decision that requires both time and patience. It's safe to say that both of those things paid off, as this rye impressed our Top 20 panel, showcasing notes of orange, rose petals, and blackberries on the nose, more orange and berries, along with cedar oil, on the palate, and rich chocolate on the finish. It also has a companion bottled in bond bourbon, which scored 89 points and boasts a high-rye mashbill.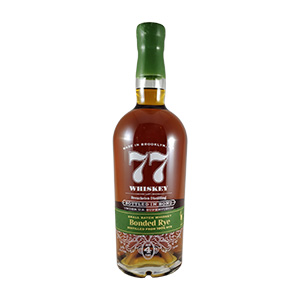 Breuckelen 77 Bonded Rye—87 points, $60
Breuckelen Distilling—which is, unsurprisingly, based in Brooklyn, New York—opened in 2010, and its 77 Whiskey series includes spirits that were all produced using a Coffey still, which brings out different flavors than more common column stills. This bonded rye, which is distilled from 100% rye, is not the only bottled in bond offering from the distillery—there's also Project No. 1 Bottled in Bond bourbon.
Old Overholt Bonded Rye—88 points, $25
This rye is almost like a dessert—with pistachio and nougat on the nose, hazelnut and floral notes on the palate, and baking spice and citrus on the medium-length finish. At $25 it earned a Best Value designation in our Spring 2019 issue. Since it was reviewed, the name has changed slightly to Old Overhold Bottled in Bond rye. The mashbill and age are the same as the previous version, but the new one is non-chill filtered.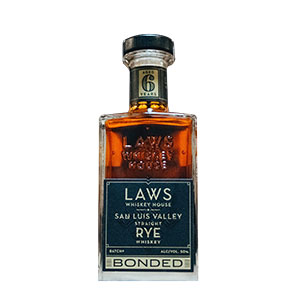 A.D. Laws Secale Bottled in Bond Straight Rye (Batch BBL #4)—84 points, $75
Based in Denver, Colorado, A.D. Laws makes several bottled in bond whiskeys in a variety of styles. The name "secale" is a shortened version of secale cereale, the Latin term for rye grain. In 2020, A.D. Laws released a rebranded version of this rye, 6 year old San Luis Valley Bottled in Bond Straight rye. The new release is the same price and mashbill as Secale, but bears a 6 year old age statement. Look out for a review in our Buying Guide soon!
Spirit Works Bottled in Bond Straight Rye—88 points, $60
Northern California's Spirit Works Distillery produces a variety of whiskeys, gins, and other spirits, including this bottled in bond rye, which has flavors of flower bouquets, pistachio pudding, and nougat. All of Spirit Works' products are milled, mashed, fermented and distilled on-site at the Sonoma County distillery. It's not the only bottled in bond release from Spirit Works—there's also a bottled in bond wheat whiskey.
Coppersea Bottled in Bond Bonticou Crag Straight Rye Malt—86 points, $120
Released in summer 2018, this bottled in bond malted rye whiskey is made with 100% rye from New York's Hudson Valley that Coppersea malted in-house. This is the distillery's second Empire rye, following the non-bottled in bond version of Bonticou Crag rye malt. Coppersea also has a bottled in bond bourbon called Excelsior.
Catoctin Creek Rabble Rouser Bottled in Bond Rye—83 points, $99
This is the first bottled in bond rye from Purcellville, Virginia's Catoctin Creek, launched in early 2019 to celebrate the distillery's 10th anniversary. There are plans to release more bottles of the expression—which is made of 100% rye—in the future, once the barrels have aged long enough.
Ragtime 4 year old Bottled in Bond Straight Rye—87 points, $49
The first bottled in bond whiskey from Brooklyn-based New York Distilling Co., it adheres to the regulations for bottled in bond whisky and also meets the qualifications for Empire rye. Those qualifications mandate, among other things, that the whiskey be made from at least 75% New York State rye grain and aged in new charred oak barrels for at least 2 years. Ragtime has notes of licorice, mint, and brown sugar on the nose, followed by a light palate with black pepper, cherries, and more licorice, and ending with a dark chocolate and oaky finish.
Laws Whiskey House 4 year old Centennial Bottled in Bond Straight Wheat Whiskey (Batch 1)—87 points, $75
Made from soft white centennial spring wheat, this bottled in bond wheat whiskey was produced in Colorado, which is nicknamed "The Centennial State." The grains came from local Colorado farms, and every step of the production took place on-site at Laws Whiskey House. The only non-rye whiskey on this list, it has flavors of licorice, raspberry jam, black pepper, and chocolate.
Rittenhouse Bottled in Bond Rye—88 points, $28
A bargain bonded whiskey at $28, this whiskey's rye content just barely meets the requirements for rye, at 51%. Rittenhouse is distilled by Heaven Hill in Kentucky, but its name comes from Philadelphia's Rittenhouse Square because, historically, it was a Pennsylvania-made whiskey. Its corn-forward palate highlights notes of vanilla, herbs, chocolate, and walnuts.