Whether it's Kit Kat, Twix, Starburst, Swedish Fish, or another candy you crave, there's a whisky to match it. Sure, you can pair your favorite dram with chocolate or a Halloween treat,  but don't lose sight of whiskies that serve up sweetness with each pour. So delight your sweet tooth with these whiskies that unwrap candy flavors in a glass.
George Dickel 11 year old Bottled in Bond (Distilled in Fall 2008) Tennessee whiskey
95 points, 50%, $40
Lush, rich, and deep from the start, with blackberry, cherry, spiced plum, cinnamon, mint, and maple syrup aromas. Even more density on the palate, which has deep flavors of cocoa powder, Raisinets, roasted walnuts, cinnamon, mint, maple syrup, and chewy oak. Extraordinary length on the finish, which carries the chocolate, dark fruit, spice, mint, and rich oak notes for minutes. A phenomenal follow-up to its 13 year old antecedent, our 2019 Whisky of the Year.
Knob Creek 12 year old bourbon
95 points, 50%, $60
York Peppermint Pattie, raisins, baking spice, dark chocolate-covered cherries, iced tea, and tobacco barn appear on the nose, followed by a chewy, full palate laden with cinnamon, allspice, and ginger, and perfectly balanced with sweet berry cobbler, chocolate ganache, and caramel. The finish goes on and on. Number 2 in our 2020 Top 20.
Uncle Nearest 1820 Single Barrel 11 year old (Barrel US-2) Tennessee whiskey
95 points, 55.1%, $119
This is mature whiskey at its most refined: a balance of fruits, nuts, sweetness, and restrained oak. The nose has it all: salted, buttered pecans, rock candy, Dr. Pepper, blackberry jam, dried blueberries, caramel corn, tobacco barn, and old leather chair. It's practically dessert-like in the mouth, with dark chocolate-covered caramel, candied pecans, Goo Goo Clusters, cherry cola, blackberry and blueberry jam, and a kiss of white pepper. The finish stays consistent, a mouthwatering mélange of caramel, chocolate, and nuts. Harmonious, seamless, and silky—you'd never guess the proof.
Aberlour A'bunadh Alba Cask Strength (Batch #001) single malt scotch
93 points, 57.1%, $90
The nose recalls black-and-white cookies, vanilla-frosted yellow cake, and shortbread with caramel topping, along with honeysuckle, jasmine, and coconut cream. Mouth-coating and full, it has flavors of poached pear, malt balls, nougat, lemon curd, toasted coconut, and hints of spice. Vanilla, chocolate, and nut flavors are almost endless on the finish. Add water, or don't: this is delicious either way. Number 5 in our 2019 Top 20
Laphroaig Càirdeas Pedro Ximénez Cask single malt scotch
93 points, 58.9%, $99
Clear peat and maturity on the nose as aromas of antique furniture mingle with cinnamon toast, fireplace log, wax paper, and mahogany. A peppery and well-spiced palate zips with barbecue smoke, red berries, peaches, apricots, vanilla cream, and Red Hots candy. The flavor is similarly intense on the long finish, as dark chocolate meets peppermint. Big, lush, complex, and rich, this whisky has lots to offer.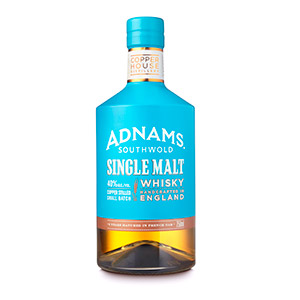 Adnams English single malt
91 points, 40%, $70
A heady mix of floral notes and soft fruits, with fresh cereal notes and aromas of sweet pea, orange honey, apricot, and papaya on this French oak-matured whisky. This begins gracefully as a soft, creamy single malt with flavors of vanilla caramel and condensed milk, becoming denser with scrumptious biscuit and chocolate flavors (think Twix bars) as it slowly reveals its secrets
Limavady Single Barrel (Barrel 0040) Irish single malt
91 points, 46%, $50

Aromas of minerality, vanilla fudge, zested lime, barley sugar, rosewater, and white pepper. It spills sweet flavors of butterscotch, barley sugar, and candied orange peel over the tongue, pursued by a stealthy rise in pepperiness, and ending with a throat-coating finish of baked orange, burnt sugar, and Kit Kat. This is small batch, triple distilled merriment.
Rampur PX Sherry Finish Indian whisky
91 points, 45%, $85
Reese's Peanut Butter Cups, tiffin, honeydew, cherry, cinnamon, nutmeg, and hints of vanilla. A mouth-clinging concoction of swirling honey and caramel, kumquat, redcurrant, banoffee pie, chocolate ganache, and cinnamon, with emerging pepper and clove, highlighting the blender's enhancement of flavor by the finishing vessel.
Corsair Dark Rye American Rye Malt
90 points, 42.5%, $40
A spicy nose that's plentiful with fruit too: There are notes of orange peel, lime, cherry Starburst, watermelon Jolly Ranchers, and apricot marmalade. From here, the silky-smooth palate drops off in fruitiness, with a light sweetness taking over and summoning notes of crème brûlée, yellow birthday cake, burnt walnuts, and a touch of earthiness. Dark chocolate, espresso, toasted almonds, and bright red fruit reign on the finish.
Egan's Conviction 10 year old Irish blend
90 points, 46%, $100

Lush candied orange scents with fresh peach, taffy, baked apricot, sultana, and heather honey, then a hint of sweet lemon and light spice. The flavors revolve around Life Savers, lime juice, orange, caramel, and vanilla, with chocolate, ground pepper, and ginger enduring into the dry finish.
West Cork Glengarriff Series Peat Charred Cask Irish single malt
90 points, 43%, $45
Chocolate brownie, campfire smoke, and sweet cocoa aromas yield to a pleasantly oily, rounded whiskey with citrus, Jolly Rancher hard candy, chocolate cake, spices, and coffee notes, with a finish of festive spices. Ambitious work, fresh from the frontiers of flavor. Number 19 in our 2018 Top 20.
Widow Jane 10 year old Blend of Straight Bourbons (Batch #137)
90 points, 45.5%, $70
Floral on the nose, with notes of orange blossom, as well as cinnamon, caramel, coffee cake, and cola. The palate is smooth and balanced, featuring pound cake, chocolate frosting, pepper, Almond Joy, and lemon iced tea. The finish has excellent length, and reprises the tropical notes. Water brings out vanilla custard and cinnamon. Light, complex, and balanced, with great integration of flavors.
Heaven's Door 10 year old bourbon
89 points, 50%, $130
Bit-O-Honey candies, spearmint, and beeswax introduce this seductively sweet whiskey. On the palate, more honey notes, green apple Jolly Rancher, and grape jelly continue the vivid sweetness, augmented by the sweet nuttiness of marzipan and honey peanut butter. A nicely executed and pretty whiskey, finishing with candied almonds.
Elijah Craig Toasted Barrel Kentucky Straight bourbon
88 points, 47%, $50
Initially reticent on the nose, with time this reveals gooey caramel, pralines, Hershey's milk chocolate, and a touch of charred mint leaves. It's chewy and occasionally sharp on the palate, with oodles of roasted nuts, polished oak, mint, peppery spice, dark chocolate, licorice, tobacco ash, and char. The medium-length finish holds tingling white pepper, unsweetened chocolate, and more polished oak.
WhistlePig 6 year old PiggyBack Big Papi Single Barrel rye
88 points, 48.28%, $50
The nose is sweet and candied, with bubble gum, Twizzlers, taffy, and cinnamon toast, plus some mint. Earthy, wood-driven spice emerges on the palate, which has more candied flavors and a velvety texture. The finish conveys more spice and has a satisfactory length. There is candy store sweetness throughout, underscored by cinnamon and nutmeg, giving it increased dimension.