Bottled in bond bourbon has been around for more than a century, yet the style has undergone a full-on renaissance in recent years. Newer distilleries are finally seeing their stocks reach the 4-year minimum age requirement outlined by the Bottled in Bond Act of 1897; coupled with the steady stream of big-name producers releasing new and revived bottled in bond labels, it seems like every week there's a new option on the shelf.
The Bottled in Bond Act was meant to ensure one very important thing: the integrity of the whiskey. Prior to its enforcement, there was no telling what kind of liquid was in the bottle. It could have been adulterated, flavored, colored, diluted—and so the government intervened. To be labeled bottled in bond, a whiskey must be the product of a single distiller in a single season—spring (January to June) or fall (July to December)—aged for a minimum of 4 years in a federally bonded warehouse, and bottled at 50% ABV.
Beyond a quality assurance, there was tax incentive for distillers to participate. Distilleries could delay payment on the excise tax until the whiskey had matured the full four years. One of the chief proponents of the act was Colonel Edmund Haynes Taylor, Jr., whose name currently adorns a popular bottled in bond brand made at Buffalo Trace Distillery.
For today's distillers, bottled in bond represents all of the quality standards it did before, but with an added tribute to American distilling history. "I knew I wanted to make a bottled in bond as my first release," Nicole Austin said about George Dickel 13 year old Bottled in Bond, Whisky Advocate's 2019 Whisky of the Year. "I care about quality; I care about transparency in production and authenticity in whiskey, and bottled in bond really stands for all of those things. It's synonymous with those principles."
Today's whisky lover has more options than ever. While there is little doubt about the legitimacy of what's in the bottle these days, the bottled in bond designation still acts as an indicator of authenticity. Start exploring the style with these 10 bottles.
The 10 Best Bottled in Bond Bourbons (and Tennessee Whiskeys) To Try Now
Old Fitzgerald 15 year old Bottled in Bond Kentucky Straight Bourbon (Fall 2019 Release)—94 points, $150
Heaven Hill Distillery releases different ages of Old Fitzgerald Bottled in Bond twice a year. The Fall 2019 release, at 15 years old, earned the highest marks, but the Spring 2019 11 year old and Spring 2018 13 year old aren't too far behind at 93 points each. Often pegged for their collectability, these bourbons each show unique aromas and flavors but reflect a consistent style, with vanilla and candied nuts on the nose, and brown sugar, fine leather, and fruit on the palate, carrying through to the finish.
George Dickel Bottled in Bond 13 year old Tennessee Whiskey (Distilled in Fall 2005)—94 points, $36
Our 2019 Whisky of the Year won us over with its high age statement and low cost—and of course, its excellent flavor profile, which showcases peanuts all around, with fresh apples on the nose and cooked cherries on the palate. Nicole Austin, the general manager and distiller at Cascade Hollow Distilling Co., followed up her award-winning debut release in June 2020 with an 11 year old Bottled in Bond, distilled in the fall of 2008. And before you email us, yes, Tennessee whiskey is bourbon.
Heaven Hill 7 year old Bottled in Bond Kentucky Straight Bourbon—92 points, $40
Heaven Hill discontinued its 6 year old Bottled in Bond in 2018, replacing it with this slightly older version. The price went up as well, but the 7 year old, No. 4 in our 2019 Top 20, is also more widely available, whereas the previous was a Kentucky-only exclusive. We're always happy to see top-notch whiskey become more accessible, and this is a particularly delicious bourbon, with corn muffins and caramel on the nose and notes of clove and savory herbs on the palate.
1792 Bottled in Bond Kentucky Straight Bourbon—92 points, $36
The whole 1792 line, from Small Batch to Full Proof, receives high marks, and this recent addition is no exception, landing at No. 9 in our 2018 Top 20. It's well-priced and showcases some of Barton 1792 Distillery's best qualities, with aromas of toasted oak, apple, and hints of cinnamon followed by flavors of cracked pepper and baking spice provided by the high-rye recipe. There's no age statement here, but that shouldn't be a deterrent for those seeking great whiskey at an affordable price.
Early Times Bottled in Bond Kentucky Straight Bourbon—91 points, $25/liter
Notable for its tremendous value (that price is for a whole liter), this bottled in bond bourbon comes from Early Times, a brand better known for its Kentucky whiskey that isn't bourbon, as it's aged in used barrels. The bourbon is delicious and rich, with Raisinets and buttered pecan on the nose, and dark chocolate, coffee bean, and cinnamon on the palate. Parent company Brown-Forman recently sold the Early Times brand to Sazerac, owner of Buffalo Trace, and there is some chatter about how that may affect the price or availability of this whiskey. Get it while you can.
Henry McKenna 10 year old Single Barrel Bottled in Bond Kentucky Straight Bourbon—90 points, $33
Also made at Heaven Hill, Henry McKenna 10 year old went from sleeper to spotlight after receiving heightened attention in 2019. The average shelf price skyrocketed to around $85, nearly 3 times the price Heaven Hill suggests. That can happen when word gets out, but the bourbon is still widely available and consistently delicious. On the nose, there's brown sugar and fresh-baked rye bread; on the palate, pine nuts and spice that lead to a long and savory finish.
Col. E.H. Taylor Jr. Small Batch Kentucky Straight Bourbon—90 points, $40
Named after Colonel Edmund Haynes Taylor, Jr., this bottled in bond whiskey comes from Buffalo Trace but doesn't include the style in its official name, opting instead to label itself as "Small Batch." Every E.H. Taylor expression except for Barrel Proof carries the bottled in bond designation, so perhaps the distillery found its inclusion redundant. All the same, it's an excellent bourbon with a well-deserved reputation for quality. There are spearmint leaves and maple wood on the nose, with flavors of honey and licorice that develop into the finish.
Jack Daniel's Bottled in Bond Tennessee Whiskey—88 points, $38
Released as a Travel Retail exclusive in 2018, this whiskey offers a nice jump in proof from its siblings Old No. 7 and Gentleman Jack, both bottled at 40% ABV. At the time of release, we spoke with master distiller Jeff Arnett about why bonding matters in American whiskey, and we have high hopes of this Jack becoming more widely available. It has banana taffy and bubble gum on the nose, with black cherry soda and a bit of grapefruit on the palate and a drying, fruity finish.
Wilderness Trail Small Batch Bottled in Bond Kentucky Straight Bourbon (Batch #D02)—87 points, $48
Wilderness Trail is among Kentucky's newer distilleries, making whiskey for its own brands as well as contract distilling. The company has made a commitment to bottled in bond, as all of its bourbon and rye bears the designation, from this standard release to more exclusive single barrels. A nose of Honey Nut Cheerios, sticky buns, and cinnamon rolls leads to fruity banana and fresh oak on the palate, with citrus oil and marmalade rounding things out.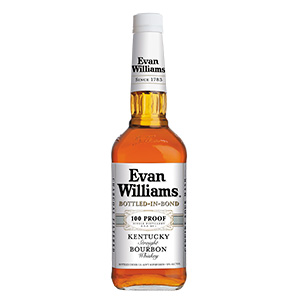 Evan Williams Bottled in Bond Kentucky Straight Bourbon—86 points, $17
Yet another Heaven Hill offering is on this list because the distillery is America's largest producer of bottled in bond whiskey (as well as other spirts like brandy). Inexpensive and sturdy, this Evan Williams is great in cocktails or over ice. It's often overlooked, but shouldn't be, with brown sugar and butterscotch aromas and hints of cinnamon and concentrated caramel flavors to follow.