Have you been following along with the Top 20 countdown? Whiskies 5-10 have all been revealed, and we'll unveil the the rest of the list next week. Join us for the countdown, and don't forget to enter the sweepstakes to win the top three whiskies!
With the holiday shopping season officially underway, now's the time to start thinking about what whisky you want to give—or receive. (For whisky-related gifts that aren't actually bottles, though, check out our gift guide.)
Several distillers are offering their whiskies in special holiday packaging, including Hibiki—which we wrote about previously—J. Rieger & Co., and Woodford Reserve. The special bottle for J. Rieger Kansas City whiskey was inspired by a 1910 advertisement for the original distillery and is festooned with holly and berries, as well as a jolly Santa Claus. The whiskey's price is $35, and it's also available as part of a holiday three-pack with J. Rieger's gin and vodka ($85). The label on Woodford Reserve's holiday bottle comes from a painting by Kentucky artist Lynn Dunbar called "Winter Spirit," featuring an image of snow-covered barrels and the Scale House at the distillery. The bourbon comes in a 1-liter bottle for $50.
In addition to the holiday bottle, which is available nationwide, Woodford has also unveiled the third release in its 2018 Distillery Series—a bottled in bond bourbon. Available in half-size bottles at the distillery and select Kentucky retailers, the limited-edition whiskey costs $50.
Meanwhile, Silver Screen Bottling Co.—which previously released James T. Kirk bourbon—is offering another Star Trek–themed whisky. Montgomery Scott blended scotch is named for—who else?—Scotty the engineer, and costs $50. It's pre-selling now, with bottles shipping in March 2019.
Templeton is rolling out a barrel-proof straight rye—significant not only for its ABV, but because, as a straight whiskey, it does not include the proprietary flavoring used in Templeton's core rye. There are just over 15,000 bottles of the limited-edition straight rye available at the suggested price of $60.
Old Carter has two new whiskeys, for sale in Kentucky only. Old Carter American whiskey ($180) is a batched product of 12 year old whiskeys sourced from MGP Distillery, while Very Old Carter ($500) is its single-barrel sibling, aged a whopping 27 years. Both whiskeys are available in limited amounts.
Tucson's Hamilton Distillers is launching its annual Whiskey Del Bac Winter Release. The single malt whiskey is a more smoky version of Whiskey Del Bac Dorado. It costs $70 and is available at the distillery only.
Chattanooga Whiskey has eight new bourbons, each finished in a different craft beer barrel that first held the bourbon, then the beer, and then the bourbon again. The Chattanooga Whiskey Native Series is for sale in Tennessee and Georgia; each variant is available in limited amounts for $40.
Finally, Vermont's Mad River Distillers has unveiled the third release in its Hopscotch series of single malts distilled from local craft beers. Made from a wash of 14th Star's Tribute Double IPA, the limited-edition whiskey is available for $60 in Vermont and Massachusetts.
Read on for full details.
Woodford Reserve Bottled in Bond
Style: Straight bourbon
Origin: Kentucky
Age: At least 4 years old
Proof: 50% ABV
Price: $50 (375 ml.)
Release: November 2018
Availability: Limited edition, mainly at the distillery
Need to know:
The latest release in Woodford Reserve's Distillery Series, which is for sale mainly at the distillery, this is a bourbon that was produced under the guidelines of the Bottled in Bond Act of 1897. That means it was distilled at one distillery in a single distilling season, aged at least four years, and bottled at 50% ABV.
Whisky Advocate says:
Although it has been available since the Bottled in Bond Act was passed in 1897 (Prohibition notwithstanding), bonded whiskey has seen a resurgence in popularity in the last few years. Even Jack Daniel's has released a bottled in bond Tennessee whiskey, although, like this Woodford Reserve, it's a limited release, currently available only at travel retail. Still, I wouldn't be surprised to see both of these bonded whiskeys eventually become more widely available, once there's enough supply to sustain what's sure to be high demand.
Montgomery Scott Scotch
Style: Blended whisky
Origin: Scotland
Age: Not stated
Proof: 40% ABV
Price: $50
Release: November 2018 pre-order; shipping in March 2019
Availability: Online at montgomeryscottscotch.com
Need to know:
Following the release earlier this year of James T. Kirk bourbon, this blended scotch is named for Scotty, the Scottish engineer on Star Trek. It is produced by an undisclosed Glasgow blender. Pre-orders are open now, with bottles shipping starting March; however, it's planned to be consistently available.
Whisky Advocate says:
Silver Screen Bottling Co., the company producing this scotch and James T. Kirk bourbon, also offers Ten-Forward vodka—some of whose liquid has, apparently, traveled to space. Yes, these are gimmicks, but that doesn't mean the whiskies aren't good. The bourbons bottled under the James T. Kirk name range in age from 4 to 12 years, and are likely sourced from the same large distilleries that provide whiskey for other non-distiller producers, like MGP (whose quality is indisputable). If we get the chance to blind-taste and review these whiskies, we'll be sure to publish a score in the Whisky Advocate Buying Guide.
Templeton Barrel Strength Straight Rye
Style: Straight rye
Origin: Indiana
Age: At least 4 years old
Proof: 57.2% ABV
Price: $60
Release: November 2018
Availability: 15,822 bottles
Need to know:
Templeton—best known for adding proprietary flavorings to sourced rye whiskey to replicate a historic whiskey—is releasing this straight rye with no chill filtering and nothing added. Although the company opened its own distillery earlier in 2017, none of the whiskey is yet old enough to bottle, so this rye, like the others from Templeton, is sourced from MGP Distillery in Indiana.
Whisky Advocate says:
Adding a small amount (up to 2.5%) of proprietary flavoring agents is perfectly legal for rye and some other American whiskeys, provided they aren't labeled as straight whiskeys. If you like Templeton's core rye whiskey, you may find that the barrel-strength rye tastes different, both because of its proof and because it doesn't have the added flavoring.
Old Carter American Whiskey
Style: Whiskey
Origin: Indiana
Age: 12 years old
Proof: 67.45% ABV
Price: $180
Release: December 2018
Availability: 1,396 bottles in KY only
Need to know:
This 12 year old whiskey, distilled in Indiana (aka at MGP Distillery), is the first American whiskey in the Old Carter lineup, which also offers bourbon and rye. It was made from a high-corn mashbill.
Very Old Carter American Whiskey
Style: Whiskey
Origin: Indiana
Age: 27 years old
Proof: Varies (barrel proof)
Price: $500
Release: December 2018
Availability: Extremely limited; for sale in KY only
Need to know:
The older sibling to the 12 year old American whiskey, this is a single-barrel product, so the proof will vary. The company has bottled three barrels, each of which yielded a different number of bottles.
Whisky Advocate says:
Winemakers Sherri and Mark Carter—who co-founded Kentucky Owl with Dixon Dedman, before the brand was sold to Stoli Group in 2017—blend sourced whiskeys to create Old Carter's offerings. The brand launched earlier this year with bourbon and rye. The Carters are contract-distilling and aging whiskey in Kentucky for future releases.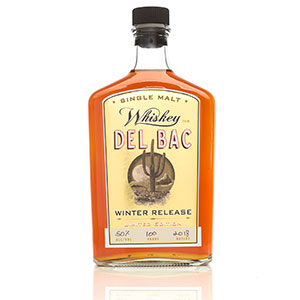 Whiskey Del Bac 2018 Winter Release
Style: Single malt
Origin: Arizona
Age: Not stated
Proof: 50% ABV
Price: $70
Release: December 2018
Availability: Less than 1,000 bottles; for sale at the distillery only
Need to know:
Each year, Hamilton Distillers in Tucson, Arizona releases a special batch of its Whiskey Del Bac single malt. This year's batch is heavily smoked with mesquite and includes whiskeys finished in ex-bourbon casks, as well as some whiskeys matured in sherry barleywine barrels from local brewery Iron John's.
Whisky Advocate says:
Born from requests for a smokier version of Whiskey Del Bac Dorado (88 points), this whiskey is completely different from last year's Winter Release (87 points) and from whatever release comes along in 2019. That's part of the fun, after all. Hamilton Distillers consistently turns out whiskey at a high quality level, so I anticipate this one to be up to par with its peers.
Chattanooga Whiskey Native Series
Style: Bourbon
Origin: Tennessee
Age: Not stated
Proof: 50% ABV
Price: $40
Release: November 2018
Availability: Limited edition; TN and GA only
Need to know:
Each of the eight bourbons in this series is finished in a different barrel that initially held Chattanooga's 1816 bourbon, then was used to age stout at a craft brewery, before being returned to the distillery. The eight partner distilleries and the beers they put in the barrels are:
Heaven & Ale—Crème Brûlée Milk Stout
OddStory—Mexican Hot Chocolate Stout
Terminal Brewhouse—Mocha Stout
Big River—Imperial Coffee Stout
Hutton & Smith—Imperial Stout
Chattanooga Brewing—Imperial Oatmeal Stout
Moccasin Bend Brewing—American Stout
Three Taverns Craft Brewery—Imperial Milk Stout
Whisky Advocate says:
Distilleries lending barrels to breweries, then taking them back for whiskey finishing seems to be growing ever more popular. Chattanooga Whiskey is tapping into the trend in a big way by releasing eight different beer barrel-finished bourbons all at once. The beer styles are all roughly the same—some variation on a stout—but I'm guessing that the results will nevertheless taste distinct from one another. If you get a chance to taste and compare two or more of these releases, let us know what you think!
Hopscotch Vermont Single Malt (3rd Edition)
Style: Single malt
Origin: Vermont
Age: Not stated
Proof: 46% ABV
Price: $60
Release: November 2018
Availability: 800 bottles; for sale in VT and MA
Need to know:
This whiskey is distilled by Mad River from Tribute Double IPA, made at 14th Star Brewing Co. in St. Albans City, Vermont. It is aged at least two years in new charred oak. A portion of the proceeds from the whiskey's sale will benefit the Josh Pallotta Fund, which provides support and services for returning veterans and their families.
Whisky Advocate says:
While Chattanooga's Native Series whiskeys above are bourbons finished in beer barrels, this single malt from Mad River is actually a whiskey distilled from beer—more unusual than beer barrel finishing, although not totally rare. Mad River works with local breweries to create Hopscotch as a unique Vermont whiskey; each year's release uses a different craft brewery's beer as the base wash for distillation.