If you enjoy pairing whisky with cigars, we have the event for you. The second annual Big Smoke Meets WhiskyFest hits the Seminole Hard Rock Hotel & Casino in Hollywood, Florida tomorrow night. The event will feature a grand tasting and seminars, including the chance to taste the 2021 Cigar of the Year, Padrón 1964 Anniversary Series Torpedo, paired with the 2021 Whisky of the Year, Lagavulin 11 year old Offerman Edition: Guinness Cask Finish. It's sure to be an unforgettable evening filled amazing whiskies and cigars, and the opportunity to meet the people who make them.
As for new whiskies this week, some great golf-themed scotches lead the way. Dewar's unveils the latest version of its 19 year old The Champion's Edition which celebrates the U.S. Open; while Loch Lomond has announced two new single malts to honor The Open at St Andrews. Elsewhere, Barrell Craft Spirits is releasing a 20 year old Seagrass under its Gold Label line, and The Dalmore adds a 21 year old single malt to its core range. Read on for full details.
Dewar's 19 Year Old The Champions Edition (2022 Release)
Style: Blended
Origin: Scotland
Age: 19 year old
ABV: 43%
Price: $80
Release: June 2022
Availability: Limited
Need to know:
For the second year running, Dewar's has unveiled the official whisky of the 122nd U.S. Open Championship, which tees off  June 16 at The Country Club in Brookline, Massachusetts. Like last year's release, this whisky is a double-aged blend of up to 40 single malt and grain whiskies. But while last year's whisky was finished in bourbon barrels, this one is finished in a mixture of bourbon, new American oak, and rye whiskey barrels. It's a concept taken from a previous Dewar's launch called Dewar's Scratched Cask. "We finished that one in bourbon, new American, and rye casks," recalls Dewar's master blender and malt master Stephanie Macleod. "It had great flavor and character, but the marketing wasn't great, so it didn't do well. I decided to resurrect the idea for this latest Dewar's 19 release. We're trying to take all the influences that we see in American whiskey and bring them into scotch." 
Whisky Advocate says:
Golf fans will cheer the news that the price and age statement of The Champions Edition are unchanged from last year's release. The silver box packaging is inspired by the U.S. Open winner's Wanamaker trophy, while the age statement is a nod to the tradition of a final round at the 19th hole. A twist on this year's release is the Dewar's Lemon Wedge, the official cocktail of the U.S. Open, which is available to purchase as a kit through Cocktail Courier for those following the leader board at home. It's simple to make: Mix 1½ oz. Dewar's 12 year old, 3 oz. club soda, and 2 oz. fresh lemonade over ice and garnish with a lemon wedge skewered by a golf tee.
Loch Lomond The Open Course Edition
Style: Single malt
Origin: Scotland (Highlands)
Age: 22 year old
ABV: 48.2%
Price: $190
Release: June 2022
Availability: Limited
Need to know:
Crafted in homage to the many golf courses where The Open has taken place over the years, this whisky was aged in American oak casks before receiving a 36-month finish in Haut-Médoc red wine barriques.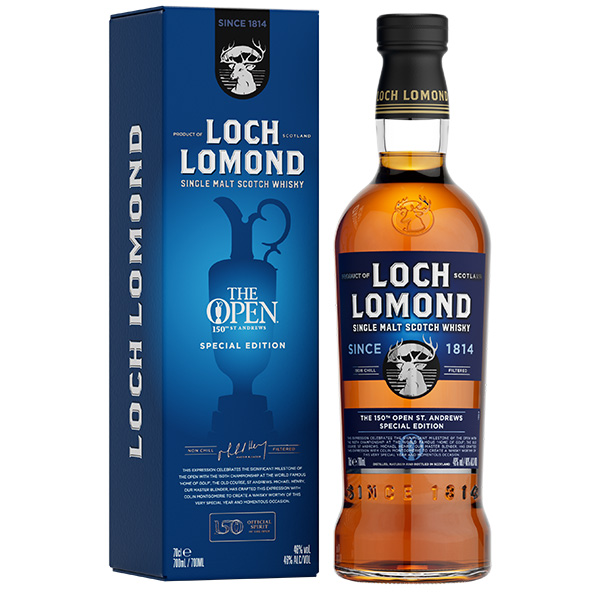 Loch Lomond The Open Special Edition 2022
Style: Single malt
Origin: Scotland (Highlands)
Age: Not stated
ABV: 46%
Price: $40
Release: June 2022
Availability: Limited
Need to know:
Created in partnership with golfer Colin Montgomerie, this whisky was also aged in American oak casks, and then was finished in Bordeaux red wine barriques. It celebrates the 150th anniversary of The Open, which will take place July 14-17 this year at St Andrews The Old Course in Scotland.
Whisky Advocate says:
Loch Lomond became the official spirit of The Open in 2018, and has released a limited-edition whisky in honor of the golf tournament every year since then. In 2019, the distillery teamed up with golfer Cristie Kerr and her Kerr Cellars winery to release a 2002 vintage red wine cask-finish that received 94 points in our Buying Guide. Loch Lomond is one of the more underappreciated scotch distilleries, and either the no age statement The Open Special Edition or more highly aged The Open Course Edition would make a great gift for the golf and whisky lover in your life. Our summer issue, which hits newsstands next week, goes in depth on all the great golf and whisky to be had in the historic town of St Andrews.
The Dalmore 21 year old
Style: Single malt
Origin: Scotland (Highlands)
Age: 21 year old
ABV: 43.8%
Price: $800
Release: June 1, 2022
Availability: 1,000 bottles in the U.S.
Need to know:
The Dalmore is adding this 21 year old to its core collection of single malts. After initial maturation in bourbon barrels, it was transferred to 30 year old Matusalem oloroso sherry casks for a 36-month finish.
Whisky Advocate says:
The sherry casks used for this finish are from Gonzalez Byass in Jerez, Spain, where they were used to age Matusalem, a sweeter version of oloroso that blends in some Pedro Ximénez sherry via a solera system. The Dalmore is one of the most recognizable names in luxury single malt scotch, with this release representing the upper echelons of their core range's Principal Collection, which also includes King Alexander III, Dalmore 18 year old, Cigar Malt Reserve, and more.
Barrell Gold Label Seagrass
Style: Finished rye
Origin: Canada
Age: 20 year old
ABV: 64.06%
Price: $500
Release: May 2022
Availability: 5,000 bottles
Need to know:
Like previous Seagrass releases, this whiskey utilizes Martinique rhum, Malmsey madeira, and apricot brandy casks for its finishing. A portion was finished in apricot brandy casks, another portion was finished in Martinique rhum barrels. The blend of the first and second batches was finished in Malmsey madeira barrels. When each set of secondary maturations were ready, those casks were pulled and slowly married into the final blend. At 20 years old, this is the oldest Seagrass released to date.
Whisky Advocate says:
Barrell introduced the first Seagrass in March 2021, a blend of whiskies from Canada, Indiana, and other states (88 points). They followed that up with a 16 year old Grey Label version in January of this year, with that whisky entirely sourced from Canada. With its inventive finishing process, Seagrass can be a polarizing whisky, with the original concept aimed at showcasing grassy oceanside notes found in rye and the spice influence from finishing barrels.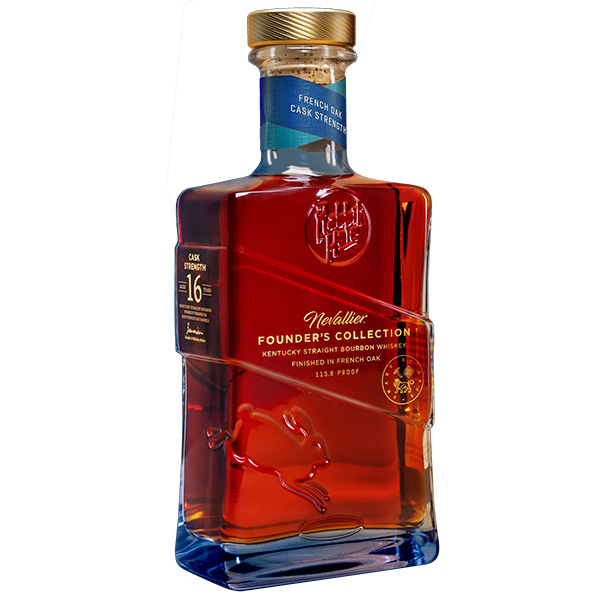 Rabbit Hole Nevallier Founder's Collection French Oak Finished
Style: Straight bourbon
Origin: Kentucky
Age: 16 year old
ABV: 57.9%
Price: $895
Release: June 2022
Availability: 1,155 bottles
Need to know:
An exploration of the sensory impact of French oak maturation on bourbon, Nevallier is a blend of 10 high-rye Kentucky bourbons that were aged for 15 years in new charred American oak barrels and finished in French oak casks for one year. It's bottled at cask strength.
Whisky Advocate says:
This is the fourth release in the Rabbit Hole Founder's Collection, a series of limited-edition whiskeys released bi-annually which launched in 2020, and among its oldest releases to date. The French oak barrels used for the finish were specially selected by Rabbit Hole founder Kaveh Zamanian; they were made by French cooperage Tonnellerie Leroi, which sourced the oak from the Nevers and Allier forests of central France.
Milam & Greene The Castle Hill Series (Batch Two)
Style: Straight bourbon
Origin: Tennessee
Age: 13 year old
ABV: 55.5%
Price: $150
Release: May 2022
Availability: Limited; 3,000 bottles
Need to know:
This second release in Milam & Greene's The Castle Hill Series is a blend of 26 barrels ranging in age from 13 years, 10 months, and 17 days to 14 years, 3 months, and 6 days. The series is named for the historic Texas Military Institute in Austin, which is also home to master blender Heather Greene's blending lab. The first 118 bottles will be available at the Milam & Greene Distillery in Blanco, Texas on Saturday, May 28, starting at 11 a.m. with the remaining bottles distributed to CA, CT, DC, FL, GA, IL, KY, MD, NJ, NY, OK, TX, WA, WI, and Alberta, Canada.
Whisky Advocate says:
The Castle Hill Series carries the oldest age statement of any Milam & Greene whiskey and represents the distillery's most exclusive casks. It is also a showcase for Heather Greene's skill as a blender. We spoke with Greene last July about making whiskey in Texas and her vision for the Milam & Greene brand, which she co-founded in 2019, with two flagship releases: a triple cask bourbon and a port-finished rye.
The Beverly High Rye
Style: Blend of straight whiskeys
Origin: Iowa and Indiana
Age: Not stated
ABV: 48%
Price: $60
Release: May 2022
Availability: Nationwide via beverlyhighrye.com
Need to know:
This whiskey is a blend of straight rye and straight bourbon whiskeys, distilled at Iowa-based Cedar Ridge Distillery and Indiana's MGP, and then blended at Cedar Ridge. The majority of the mashbill is rye. For each bottle sold, Beverly Spirits will plant a tree through the non-profit organization Trees for the Future, which trains farmers in agroforestry and sustainable land use to improve regional economies, food systems, and the planet.
Whisky Advocate says:
The Beverly High Rye is the first release from Beverly Spirits, which was launched in 2021 by Los Angeles native and whisky enthusiast Andrew Borenzweig. It's a marriage of rye and bourbon from Iowa and Indiana. Borenzweig partnered with Iowa craft player Cedar Ridge Distillery for the blending and part of the production for this whiskey. Beverly Spirits has also collaborated with mixologist Jeffrey Morgenthaler on a number of signature cocktails designed to highlight the versatility of the whiskey.