Fall calls for whisky, and there are more than 150 of them rated in Whisky Advocate's Fall 2020 Buying Guide—including several bourbons that draw flavor from unusual cask finishes. American distillers are hopping on the finishing bandwagon, long commandeered by their Scottish peers, as they experiment with new types of wood, finishing length, and barrels that previously held a totally different spirit.
In the U.S., these whiskeys are known as distilled spirits specialties. Generally, they encompass any type of spirits that contain or are treated with flavors, colors, or nonstandard materials or processes. This includes bourbons and straight American whiskeys that are finished, or partly matured, in a secondary barrel that is not new, charred oak, such as a sherry, port, or rum cask. Although these products often use words like "whiskey," "bourbon," and "rye" prominently on the label, and bear the names of famous distilleries, none of them are straight whiskey. That doesn't make them inferior, or mean that you shouldn't try them—but brace yourself for a parade of flavors well outside what you'd expect from your everyday bourbon.
The Fall issue theme is Big Whisky, and each of these finished bourbons embodies it in some way. Two of them pack a wallop when it comes to proof, and all five offer an abundance of flavor—with scores to prove it. So pour a glass of one of these finished bourbons and turn over a new leaf in your tasting journey.
5 Alluring Finished Bourbons to Add to Your Autumn Tasting List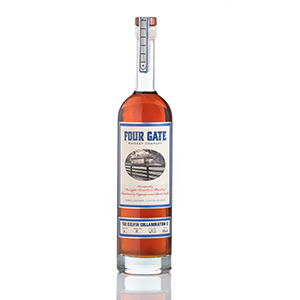 Four Gate The Kelvin Collaboration II Cognac and Rum Cask-Finished—94 points, 63.2% ABV, $200
A very intriguing nose suggests brewed sweet tea, caramel, and eclectic fruits that span blackberry, cherry, and bruised apples, with flickers of baking spice and toasted almond. The palate is somewhat jammy, as sweet cooked fruit—damsons and currants—come sprinkled among more spice. Really beguiling and moreish with its dark fruit, perfect burnt sugar edge, and tea-like tannin on the finish. (2,474 bottles). —Jeffery Lindenmuth
Bardstown Bourbon Co. Château de Laubade Armagnac Barrel-Finished—93 points, 59.2% ABV, $125
Thanks to its finishing casks, there are dried and syrupy fruits on the nose—cherry cordial candies, raisins, figs—along with sugared pecans, maple syrup, candied ginger, and leather. That finishing asserts itself even more strongly on the palate, which is fruity and sweet, becoming better integrated with water: cherries, blackberry and raspberry jams, figs, raisins, pecans, milk chocolate, ginger, white pepper, and coffee bean. Incredible length on the finish, with more dried fruit, leather, hazelnuts, ginger, and white pepper. (1,974 bottles) —Susannah Skiver Barton
Blood Oath Pact No. 6 Cognac Barrel-Finished—91 points, 49.3% ABV, $100
Chocolate-covered cherries, grape hard candy, iced tea, peppermint stick, and white pepper on the nose; with time, brown sugar and toffee emerge. The palate is chewy without water, velvety, and replete with dark, mature flavors: concord grape jelly, Cherry Coke, dark chocolate, roasted nuts, white pepper, and varnish. Seamless from start to rewarding finish. (51,000 bottles) —Susannah Skiver Barton
Doc Swinson's 13 year old Flagship Series Sherry Cask-Finished (Barrel No. 005)—90 points, 45% ABV, $50
The nose is lightly tropical, with notes of oak, pine, herbs, and orange peel. A buttery mouthfeel, and a palate that offers almond, butterscotch, chocolate fudge, caramel, and oak tannins, along with spice and black pepper. The finish has notes of salted peanuts as well as peanut butter, which sweeten to flavors of rich chocolate with a hint of marshmallow. Full-bodied, sometimes jagged, but with a spicy, nutty finish. —David Fleming
Borough Armagnac Cask-Finished (Batch 03)—87 points, 44% ABV, $49
From Washington, D.C.-based distiller Republic Restoratives, this is an Indiana-made bourbon aged 5 years and then finished in armagnac casks for about 8 weeks. The nose offers light notes of dried figs and fragrant herbs, as well as a distinct back note of earthiness. Nutty, oily, and somewhat dry on the palate, with spice and restraining oak tannins leading to a finish that's also dry but with flavors of vanilla and light nuttiness. (14,000 bottles) —David Fleming