The Spring 2021 issue of Whisky Advocate features over 100 whisky reviews, covering scotch, bourbon, Irish, Japanese, and many other whisky styles. Below, check out 10 of the bottles (excluding Editors' Choice and Collectibles) that scored highest, netting 93 points and above.
Many of the top-scoring bottles come from distilleries featured in the issue's cover story on the best-kept secrets in single malt scotch. Others highlight the diversity of barrel finishes taking place in American whiskey or showcase up-and-comers in the distilling world.
But don't stop here: There are plenty of other high-scoring whiskies in the Spring 2021 Buying Guide, and lots to discover. Check out the full slate of new reviews!
Top Scores from Whisky Advocate's Spring 2021 Issue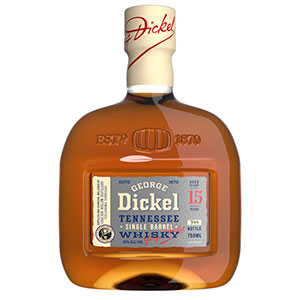 George Dickel 15 year old Single Barrel Tennessee Whiskey (No. L2029-5k-1010)
95 points, 52.3% ABV, $60
This has Dickel's distinctive oily grain aromas: It's packed with corn and peanuts, and also sweet with brown-sugar oatmeal and maple candy. Add a little water and voila! Orange peel and Luxardo cherry appear, creating an instant Old Fashioned. The palate is chewy and full-bodied, pepped up with cinnamon and dried ginger, and lengthened by grape jelly, Coca-Cola, Corn Nuts, and dried cherries. A full and lengthy finish sings with ginger, peanuts, and chocolaty oak. —Susannah Skiver Barton
Glen Scotia 10 year old Bordeaux Wine Cask-Finished Campbeltown Malts Festival Single Malt Scotch (2020 Release)
94 points, 56.1% ABV, $80
A deft use of bordeaux casks beautifully showcases Glen Scotia's inherent density and amplitude. Raspberry ripple ice cream with butterscotch sauce, strawberry jam, tiramisu, toffee, and cigar wrapper on the nose. The full, thick palate is sweet with raspberry and strawberry jam, black currants, candied ginger, and orange peel, tempered by dark chocolate, pecan pie, gingerbread spices, and a touch of tobacco. It remains mouth-filling on the finish, with jammy berries, orange oil, spices, salinity, and integrated oak. —Susannah Skiver Barton
Arran Sherry Cask The Bodega Cask-Strength Single Malt Scotch
94 points, 55.8% ABV, $80
The nose leans sweet with dulce de leche and dark berry jam, but it's countered with dark chocolate, dried rose petals, and a faint whiff of talc. The palate is thick with raisins, figs, candied ginger, orange peel, Concord grape jelly, rose oil, cocoa, and peppery spice, while the lengthy finish has persistent white pepper, dried ginger, chocolate, and burnt citrus. Dense with flavor thanks to its total sherry-cask maturation; give it time to fully reveal its depths. —Susannah Skiver Barton
Barrell Cask-Strength Blend of Straight Bourbons (Batch 026)
93 points, 56.32% ABV, $90
A rich and fragrant nose of mince pie, baking spices, figs, cherry pie, sweetened ice tea, candle wax, and an earthy note of warehouse floor. The palate is dense and chewy, with rich flavors of chocolate-covered raspberries, cooked cherries, honeyed almonds, licorice, and black tea. Water unlocks more fruit notes, spice, and a hint of café au lait. The finish is lengthy, offering dark chocolate, allspice, licorice, and balanced oak. —David Fleming
Chichibu Ichiro's Malt Peated U.S. Edition (2020 Release) Japanese Single Malt
93 points, 55.5% ABV, $340
Icy cool clinical whisky with a precision delivery of peat smoke and icing sugar, vanilla, sponge cake, attractive spiciness, and a touch of mint on the nose. The mouthfeel is effervescent with fizzing spices, buckets of bourbon-cask sweetness, sugary vanilla, and a huge thrust of clove at full strength, becoming richer as the peat smoke blows through. Water coaxes out lime and clementine peel and a deeper, more rounded smoke. (2,109 bottles) —Jonny McCormick
Deanston 12 year old Single Malt Scotch
93 points, 46.3% ABV, $60
The nose immediately indicates the depth and complexity of this whisky: caramel, praline, Nutella, figs, raspberry jam, candied rose petal, Concord grape jelly, dark chocolate-dipped gingerbread, and leather book bindings all waft from the glass, and then appear at the first sip, buttressed by more spice, marmalade, pecans, coffee, and a touch of tobacco. The body is silky and pleasurable. It finishes with dried ginger, tobacco, mocha, and savory oak—nuanced and perfectly balanced. —Susannah Skiver Barton
Glencadam 25 year old Single Malt Scotch
93 points, 46% ABV, $450
Refined aromas of dried apricots, strawberries, peonies, candle wax, marzipan, graham cracker, candied ginger, and vanilla frosting carry through to the palate, which showcases sugared almonds, Raisinets, dried apricots, red berry jam, Fig Newtons, and savory tobacco. A few drops of water temper oak tannin. The finish is lengthy and complex, yet soft with orange marmalade, dark chocolate, coffee bean, dried cherries and ginger, and tobacco. There's a lovely delicacy among layered complexity. —Susannah Skiver Barton
Loch Lomond 18 year old Single Malt Scotch
93 points, 46% ABV, $90
Sherry dominates the nose, rounding up stewed apples, dark caramel, raisins, dates, ground ginger, dark chocolate, and hazelnuts to go with the distillery's characteristic tropical fruit aromas, the result of extra-long fermentation with wine yeast. A well-textured palate showcases the same mix of sherry cask and spirit character, with chocolate, baking spices, almond, pineapple, mango, pistachio, honey, and ginger. The finish's coffee-tinged oak is sweetened by dark chocolate-dipped dried mango and pineapple. —Susannah Skiver Barton
Thomas S. Moore Port Cask-Finished Bourbon
93 points, 49.45% ABV, $70
The port casks give an arresting nose of saline, like a tidal pool, but rich with raisins, figs, hazelnuts, brown sugar, and orange peel. Tart yuzu appears, a curiosity, but not unwelcome. The full-bodied palate is spicy, rich, sweet, and nutty, resplendent with baking spice, brown sugar, Coca-Cola, dark chocolate, candied orange peel, fig jam, and toasted pecans and hazelnuts. Gingersnaps, Italian hot chocolate, brown sugar-encrusted pecans, and polished oak on the finish. —Susannah Skiver Barton
Bonus: Thomas S. Moore Chardonnay Cask-Finished bourbon, 93 points
Four Gate Split Stave by Kelvin Cask-Finished Rye (Batch 10)
93 points, 56.25% ABV, $185
Lush cooked dark fruit and dark chocolate aromas, mingling with baking spice, earthen floor, leather, and iced tea hint at what's to come on the palate: chocolate-covered cherries, blackberry jam, a sweep of gingerbread spices, plus fresh mint and zesty dill, all with ample depth. There's no end to the white pepper, mocha, leathery oak, dark chocolate, and candied ginger on the finish, which remains complex and rewarding long after the glass is empty. (2,439 bottles) —Susannah Skiver Barton
Bonus: Four Gate Andalusia Key Oloroso and Dark Rum Cask-Finished bourbon, 93 points