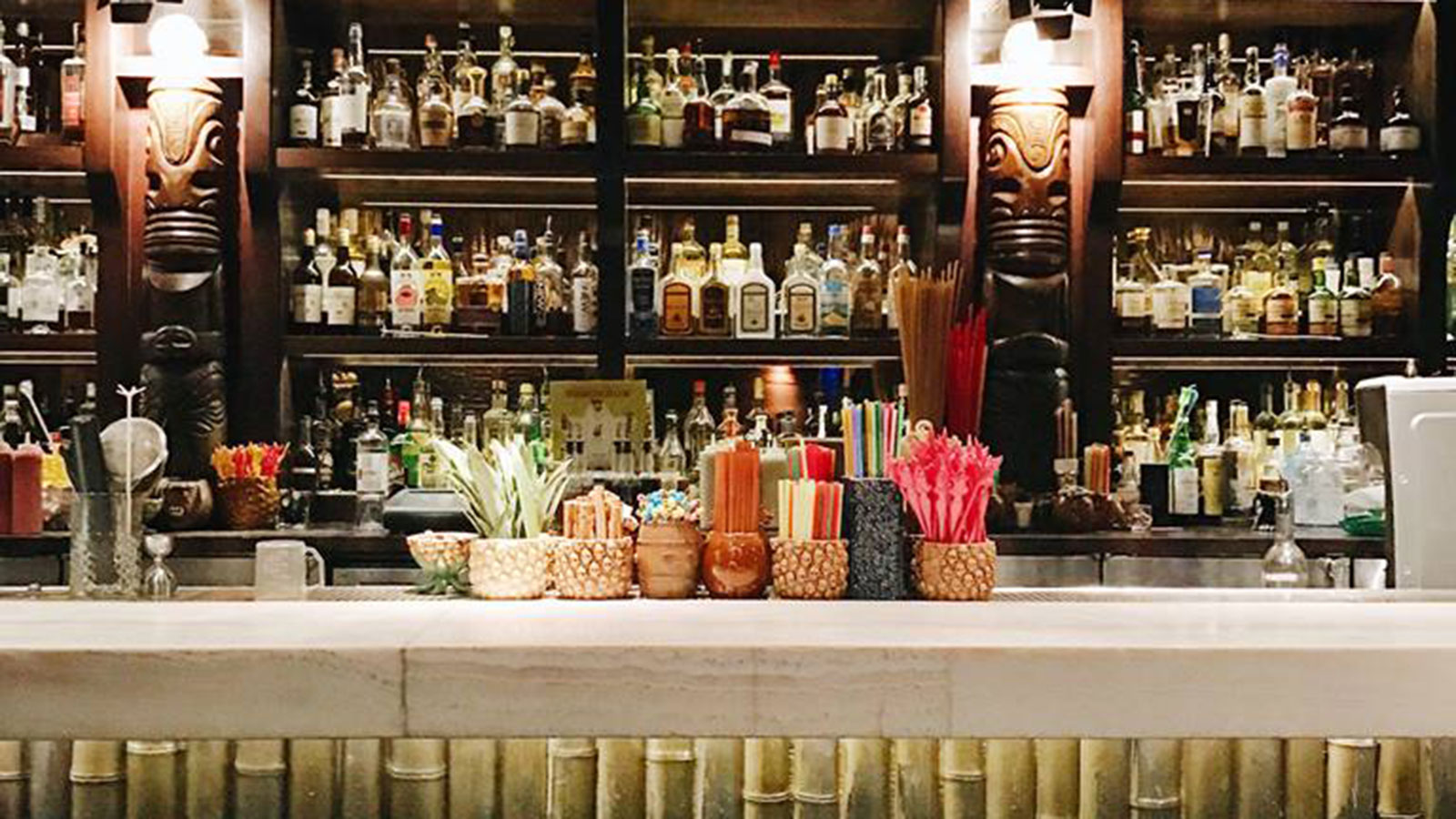 How do you drink whisky on a tropical island? Try a tiki cocktail. An Americanized hybrid of ancient Māori mythology and the motifs of the Polynesian islands, the tiki movement kicked off in 1933 with the opening of Don the Beachcomber in Hollywood. Back then, tiki culture was all about tropical flavor profiles built atop rum bases, and cocktails like the Mai Tai and the Zombie ruled menus across the country. A friendly rivalry between Don the Beachcomber and his Oakland-based rival Trader Vic, who opened Hinky Dink's (later Trader Vic's) in 1937, helped birth a flourishing trend—though later in the century, appetites for kitsch waned and tiki fell out of favor. But thanks to modern tiki cocktail bars and annual gatherings like Tiki by the Sea, tiki culture is rallying—and these days, it's including whisky.
"As the scope of what constitutes a tiki drink expands, whisky is an easy spirit to add," says Brother Cleve, an icon in the contemporary tiki community and a guest speaker at Tiki by the Sea. "Trader Vic's Eastern Sour—which is made with rye or bourbon, orange juice, lemon juice, orgeat (almond syrup), and simple syrup—was an anomaly in the 1950s, but it showcases that the whiskey sour can get a tropical flair with the addition of syrups and liqueurs. Whiskies also pair nicely with rums, especially the more molasses-heavy and aged varieties."
Redemption Whiskey national brand ambassador Joe Riggs says, "We're definitely seeing more American whiskey in tiki cocktails. There are actually some classic tiki cocktails that do already have whiskey in them, like the Port Light, so it's not an entirely new development. It's just that the awareness and interest in American whiskey is at the highest it's ever been."
New York City bar Mother of Pearl in the East Village is championing the use of whisky in tiki cocktails with drinks like the Shark Eye, mixing bourbon, rye, passion fruit syrup, lemon juice, maraschino liqueur, dry curaçao, and tiki bitters. The Tiki Peat doubles up on whisky by using both blended Scotch and a peated Islay single malt, Demerara syrup, toasted almond syrup, lime juice, Angostura bitters, and a house-made mixture of banana liqueur, dry curaçao, and cinnamon syrup.
Over in Chicago, the tiki bar Three Dots and a Dash is combining whisky with the traditional rum. "What we're trying to do is show you that you can layer different spirits together in a cocktail—it doesn't have to be just rum," says production lead Chris Martin. Three Dots and a Dash's take on the classic Tropical Itch perfectly demonstrates tiki's flexibility, mingling a base of bonded bourbon and overproof rum with tangerine and lemon juices, passion fruit purée simple syrup, falernum, and Angostura bitters.
If you want to get started using whisky in a tiki cocktail, follow these tips, or try one of the recipes below.
1. Start with substitution.
Riggs points out that substituting whisky for rum in tiki cocktails is an easy way to experiment at home. "Most rums are aged, even some clear rums, and share many of the same flavors of vanilla, caramel, and other flavors achieved by aging whisky," he explains. "Substituting bourbon or rye for rum can create a dryer cocktail." Riggs recommends using high-proof whisky in recipes that call for overproof rum.
2. Aim for balance.
Start with the classics and aim for balance first. "Balancing acid, sugar, and spirit in simple cocktails will prepare the home bartender for adjusting more complex builds," Riggs notes. "Don't worry about mistakes. Knowing balance can help identify where a cocktail went wrong and how to adjust it without starting over. Since tiki drinks have so many ingredients, there is opportunity to rebound when over- or under-measuring ingredients."
3. Change one thing at a time.
When fine-tuning an experimental tiki cocktail, change one thing at a time to gauge differences. "When you create a new cocktail and feel like the first draft could be improved, the impulse can sometimes be to change multiple aspects of the drink," Riggs says. "This is more likely to end with an entirely different drink. Adjust one ingredient at a time. Identify why the change made the drink better or worse."
Whisky Tiki Cocktail Recipes
Eastern Sour
Originally created at Trader Vic's in Oakland, California, in the 1950s, this classic recipe has been slightly modified by tiki aficionado Brother Cleve. It includes bourbon, rye, lemon and orange juices, orgeat (almond syrup), and simple syrup.
Tiki Peat
Did you know there are palm trees on some Scottish islands? Take the tropical vibe all the way with this tiki cocktail, created at Mother of Pearl in New York City, that incorporates both Islay single malt and blended scotch.
Tropical Itch
This classic tiki recipe has been adapted by Chicago's Three Dots and a Dash to include both bourbon and overproof rum, along with tangerine and lemon juices, passion fruit purée, simple syrup, falernum (a sweet, spiced syrup), and Angostura bitters.
The Shark Eye
New York City bar Mother of Pearl created this rye- and bourbon-based tiki cocktail whose dramatic presentation includes "shark blood" made of Peychaud's bitters and cane syrup.