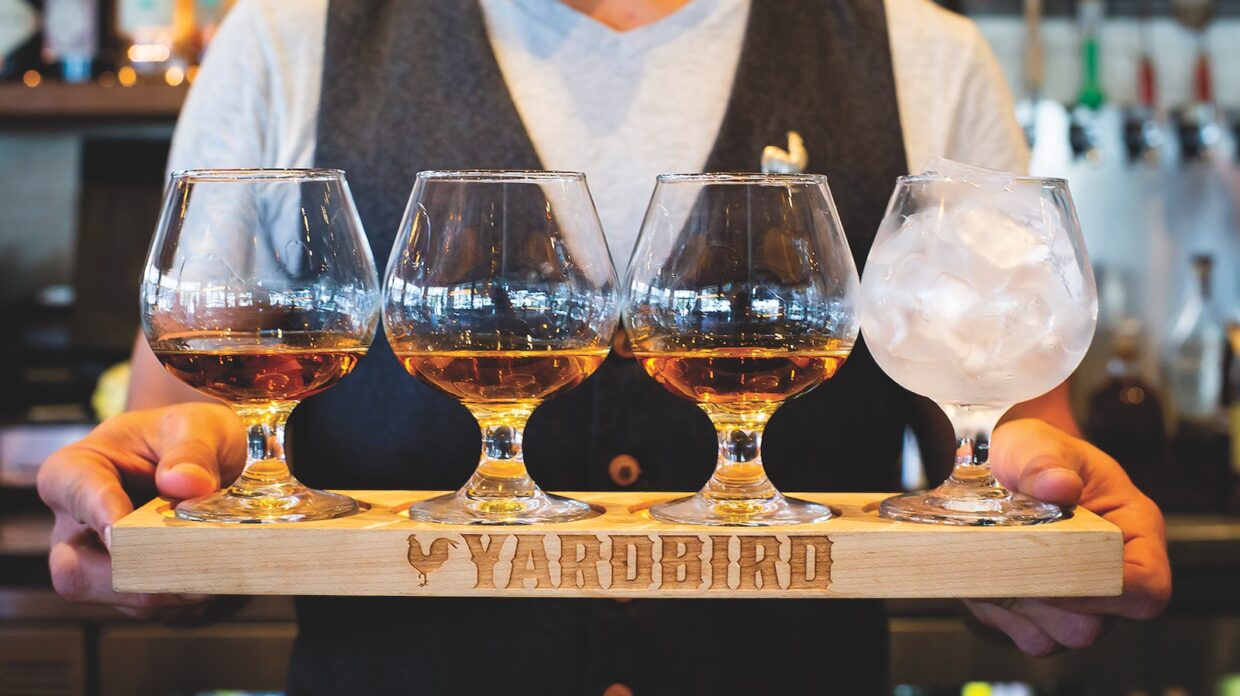 Just the name Miami evokes thoughts of sunny days with gentle trade winds and sultry nights filled with neon lights and the strains of salsa music.
Miami's cityscape is constantly changing. Wynwood, now the city's art and brewing capital, was an industrial and warehouse district as recently as 10 years ago. The Design District was once a place for interior designers to shop for upholstery, and now it's home to designer shops like Gucci and Dior, and has some of the finest eateries in Miami.
The entire city's food scene is thriving, and there are some things you absolutely cannot miss: a Cuban sandwich, a slice of key lime pie, and croquetas—fried bites filled with bechamel sauce and meat (usually ham, cod, or chicken)—Miami's official snack. If you visit between October and May—stone crab season—don't miss out on some crab claws. And Little Havana is a good place to find some of Miami's most authentic food and drink.
Miami is a sprawling city, so ridesharing is the best way to get around town. Miami Beach has a free trolley service that loops South Beach, and the Metromover is an elevated tram that gets you around downtown and Brickell.
Plan your visit to coincide with Big Smoke Meets WhiskyFest, held at the Seminole Hard Rock Hotel and Casino Hollywood, Florida. Last year's event drew a big crowd. Add a day to your trip to Miami and enjoy hundreds of whiskies and premium cigars.
Day One
You're going to want to get your feet wet in the ocean, so opt to stay oceanside in Miami Beach. The Fontainebleau Miami Beach Hotel is arguably its most famous. Once the playground of Frank Sinatra, the hotel and towers boast more than 1,500 rooms, six eateries, a lounge, and a nightclub. Rooms have ocean or intracoastal views and are decorated in mid-century modern décor. Pets get first-class treatment at the resort, with a complimentary dog tag with "return to" information on it, in-room pet movies, and a dog park with an ocean view on the hotel grounds.
If you're into quirky boutique stays, The Betsy Hotel, located on famed Ocean Drive, has a literary theme and is also dog-friendly. The hotel offers a rooftop pool, two restaurants, and a lending library. Rooms are equipped with marble bathrooms, alpaca throws, and your choice of feather or non-allergenic pillows. You can even book an interspecies couple's massage for you and Fido.
Grab a coffee and breakfast to go so you can start your day with a stroll on the Miami Beach Boardwalk, which runs from Fontainebleau to South Pointe Park, a total of 40 blocks. When you need a break, take a dip in the ocean to work up an appetite for lunch.
Then head over to Yardbird Southern Table & Bar for lunch, just a few miles south of Fontainebleau. The restaurant features Southern comfort food and an impressive bourbon selection that includes everything from Kentucky Owl Confiscated to Pappy Van Winkle's Family Reserve 15 year old. Try a flight or have a Yardbird Old Fashioned, made with bacon-infused Wild Turkey and maple bitters. You can't go wrong with Lewellyn's Fine fried chicken—half a chicken served with hot honey sauce—or the Nashville Hot chicken sandwich, made with a Carolina reaper rub that packs a kick.
Need to cool off? Aubi & Ramsa is a boozy ice cream parlor in the Design District, about a 10-minute car ride over the Intercoastal waterway. Flavors include Kentucky Crème Brûlée, made with Maker's Mark bourbon and caramelized sugar sprinkles, and Highland Truffle, chocolate chunks in Belgian chocolate ice cream spiked with Macallan 12 year old. Then head to Vintage Liquor & Wine Bar to pick up a souvenir bottle. Browse the impressive whisky selection, which includes collectible bottlings like Balvenie 40 year old and Old Rip Van Winkle 10 year old.
Make Wynwood your next stop for beer, cocktails, and art. The Wynwood Walls is an outdoor museum of murals by some of the world's finest artists. The murals change annually, and past and present artists include Shepard Fairey, The London Police, and Kenny Scharf. Wynwood is also home to the Museum of Graffiti, which celebrates this art form. Insider tip: Visit the Museum of Graffiti first, save your ticket, and present it at Wynwood Walls for half-priced admission. If you're getting thirsty, Beaker & Gray is just a few blocks away. Partner and bar manager Ben Potts creates fantastical libations like the P.S.L. made with Redemption rye, Appleton 12 year old rum, house cold brew, and a pumpkin spice foam. Or go across the street to sneaker-themed sports bar Grails for a pour of Haig Club Clubman, a single grain scotch whisky distilled at Cameronbridge. In the U.S., it is only available in Miami and Ft. Lauderdale.
There are a number of breweries in the area, all within walking distance of each other. J. Wakefield Brewing offers a Star Wars-themed taproom that specializes in weisse-style beers, made with local fruits. Wynwood Brewing Company offers a rotating selection of beers, including its award-winning Pop's porter. Cervecería La Tropical uses original recipes from Cuba's oldest brewery, Cervecería La Tropical, which was founded in 1888. Tropical Distillers, producer of J.F. Haden's liqueurs, expects to open its distillery late this year[*TS: I'm fact checking to update this]. Tours and tastings will be offered.
Wynwood is also home to 1-800-Lucky, an Asian food hall and bar with private karaoke rooms. The Lucky bar at 1-800-Lucky offers a curated Japanese spirits flight that rotates seasonally. Right now the flight features Iwai and Akashi Ume whiskies, and Ki No Bi Sei Navy Strength gin.
A 20-minute drive from Wynwood brings you to lush, tree-lined Coconut Grove, where you'll find The Taurus, a dog-friendly watering hole that's home to a selection of about 200 whiskies. It also serves one heck of a good frita—the Cuban version of a hamburger, made with a blend of beef, pork, and chorizo topped with shoestring potatoes. Across the street is Barnacle Historic State Park. This tiny five-acre park features a mangrove forest and the Barnacle House, the oldest house in Miami-Dade County standing in its original location.
Arrange a rideshare and head back to Miami Beach. Start the evening with a whisky-fueled happy hour at Azabu, offered daily from 6 to 7 p.m. Enjoy a Toki Kobe Highball—chilled Suntory Toki, soda, and lemon served over a single cube, or, if you prefer, explore Azabu's collection of 15 different Japanese whiskies.
About a five-minute walk from Azabu, you'll find Joe's Stone Crab. This Miami Beach institution is a must-visit for dinner. Older than the city itself, Joe's opened in 1913 as a crab shack. Since then it's fed presidents, royalty, and celebrities. Joe's is open from the beginning of stone crab season in October through July, but its casual next-door neighbor, Joe's Takeaway, is open year-round. The restaurant doesn't take reservations and people sometimes wait for hours to snag some of those sweet stone crab claws, but it's worth the wait. Grab a seat at the bar, which makes a fantastic Manhattan. Don't forget a slice of key lime pie for dessert; Joe's is a mile-high version, filled with tart key lime custard.
It's time for a nightcap at Fontainebleau's Bleau Bar, the place to see and be seen. The mixologists are constantly rewriting the cocktail menu, but ask for a Bourbon Smash, made with Angel's Envy, organic Florida honey, lemon, and basil. If you're feeling energetic, head to the hotel's LIV, an 8,000 square-foot club nightclub that regularly features some of the world's best DJs and hip-hop artists. LIV offers bottle service and champagne, so be prepared to splurge a bit.
Day Two
Rise and get your shine on with a café cubano—Cuban coffee, served black with about five teaspoons of sugar. Find it at any one of the dozens of coffee windows called ventanitas throughout Miami and Miami Beach. These cafes also serve affordable breakfasts. A plate of eggs, bacon, and toast made from soft Cuban bread that's pressed on a plancha can be found for less than $5.
Now that you're fueled up, take the 25-minute drive from South Beach to Little Havana. Stroll along Calle Ocho Paseo de las Estrellas, Miami's version of Hollywood's Walk of Fame that pays tribute to famous Latin American actors, singers, musicians, artists, and writers. Visit Domino Park to watch some intense domino playing. These games get heated, and the players don't mind an audience; just don't ask to join in a game—they're for members only.
Little Havana is also home to Sanguich De Miami, arguably the finest Cuban sandwich place in the city. Its famed cubano sandwich is made with roast pork and ham cured on-site, then freshly pressed to order with Swiss cheese, pickles, and mustard.
Along Calle Ocho, you'll find cigar rollers making cigars with tobacco grown domestically from Cuban seeds. Cuban Crafters also has a large selection of imported cigars, humidors, and cigar cutters.
Take a moment to visit the Cuban Memorial Boulevard Park and its Bay of Pigs memorial that honors Cuba's freedom fighters. Just behind the memorial, you'll find a large Ceiba tree, where Santeria religious rituals are still performed. Take a look and you'll find its roots filled with candles, bottles of rum, playing cards, and other offerings.
If you're thirsty, Bar Nancy, an American Revolution-themed bar is just a five-minute walk away. Try a Banana Cannon, made with Monkey Shoulder, cinnamon walnut orgeat, Giffard Banana liqueur, and lemon, or the Square Grouper, a Jack Daniel's rye-based cocktail on tap. About a mile up the road, Cafe la Trova is a lively restaurant and bar that might be as close to a Havana night in the 1950s as you can get. It offers an experiential dinner and a show all in one. The bartenders, called cantineros after the classic Cuban bartenders of the 1950s, "throw" Daiquiris—a showy way of mixing the cocktail by "throwing" the liquid from shaker to shaker without ever spilling a drop. They also play instruments while making the most delectable cocktails in the city. Try the La Trova Old Fashioned, made with Woodford Reserve and coffee-tobacco bitters, but do not leave without having at least one hand-thrown Hemingway Daiquiri. A live band plays nightly on a stage made to look like a typical street in Havana, complete with a fluttering clothesline. The dinner menu, created by James Beard award-winning chef Michelle Bernstein, features classic Cuban dishes like arroz con pollo and oxtail. You must try the croquetas, made here with jamon serrano or lobster. La Trova has an outdoor patio where you can enjoy a hand-rolled cigar with your after-dinner cocktail.
Take a car back to Miami Beach for a nightcap at Sweet Liberty. This neighborhood bar has been recognized for its spirits collection and makes innovative drinks, like a coconut-infused Sazerac and a PB&J Old Fashioned.
If you are departing from Miami International Airport, be sure to stop at Airport Cafe & Liquors, where you can get a Jameson-glazed burger, and pick out a bottle of whisky from a selection of 50-plus and enjoy it with your sandwich. A unique license allows you to drink the bottle you purchase on premise, while watching the planes take off and land as you plan your next visit to the Magic City.
Breweries/Distilleries
Cervercería La Tropical 42 NE 25th St.
J. Wakefield Brewing 120 NW 24th St.
Tropical Distillers 2141 NW 10th Ave.
Wynwood Brewing Co. 565 NW 24th St.
Bars/Restaurants
1-800-Lucky 143 NW 23rd St.
Airport Cafe & Liquors 4427 NW 36th St., Miami Springs
Aubi & Ramsa 172 NE 41st. St.
Azabu Miami Beach 161 Ocean Dr., Miami Beach
Bar Nancy 2007 SW 8th St.
Beaker & Gray 2637 N Miami Ave.
Cafe La Trova 971 SW 8th St.
Grails 2800 N. Miami Ave.
Joe's Stone Crab 11 Washington Ave., Miami Beach
Sanguich De Miami 2057 SW 8th St.
Sweet Liberty Drinks & Supply Company 237 20th St., Ste. B, Miami Beach
The Taurus 3540 Main Hwy.
Yardbird Southern Table & Bar 1600 Lenox Ave., Miami Beach; runchickenrun.com
Hotels
The Betsy Hotel 1440 Ocean Dr.
Fontainebleau Miami Beach Hotel 4441 Collins Ave.
Attractions
Barnacle Historic State Park 3485 Main Hwy.
Calle Ocho Walk of Fame 12th to 17th Ave.
Cuban Memorial Boulevard Park 999 SW 13th Ave.
Domino Park 801 SW 15th Ave.
Miami Beach Boardwalk South Pointe Park to 40th St.
Museum of Graffiti 299 NW 25th St.
The Wynwood Walls 2520 NW 2nd Ave.
Shops
Cuban Crafters 3604 NW 7th St.
Vintage Liquor & Wine Bar 3301 NE 1st Ave.