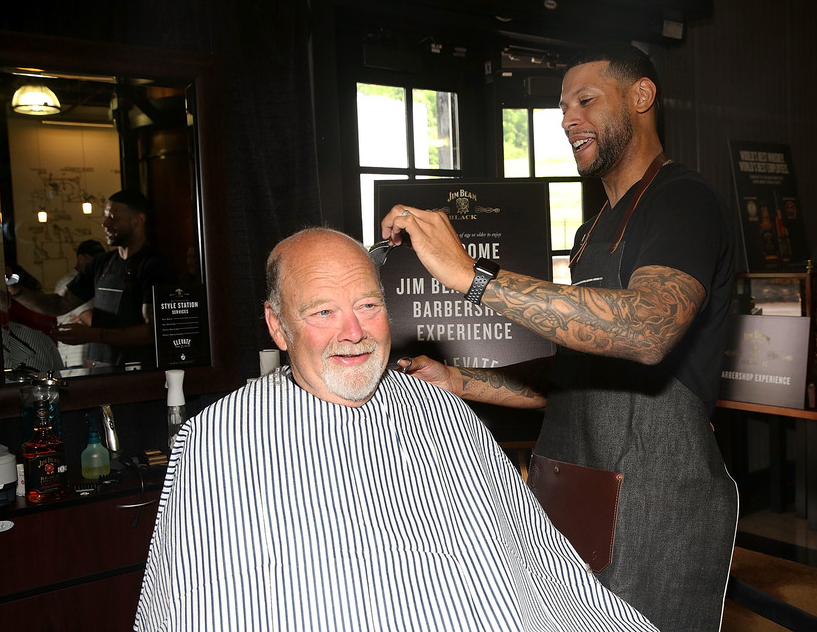 Jim Beam wants to help you improve your personal grooming habits and "elevate your style." This summer, Jim Beam Black is running a series of pop-up barbershops in nine cities across the country, partnering with local coiffeurs to help whisky lovers spiff up while enjoying bourbon. The first event took place at the Jim Beam American Stillhouse in Clermont, Kentucky in the run-up to the Kentucky Derby. Male visitors were offered complimentary haircuts and beard trims, while ladies were treated to hair curling and makeup touch-ups. Even master distiller Fred Noe took advantage of the opportunity to revamp his 'do. And of course, plenty of Jim Beam was served.
The next event takes place on May 18th at Made Man Barbershop in New York City, followed by stops in Denver (May 24th at Proper Barbershop), Austin (May 31st and June 1st at Finley's), Hoboken (June 8th and June 14th at The Hoboken Man), Portland, Oregon (June 14th and 15th at Cloak & Dagger Barber Co.), and Philadelphia (June 22nd and June 28th at The Duke Barber Co.). The pop-up will also schedule appearances in San Francisco, Los Angeles, and Washington, D.C. At every stop, bourbon drinkers can get haircuts and beard trims while enjoying Jim Beam neat and in cocktails. Follow Jim Beam on social media or check jimbeam.com for more information as it's available.
Can't get to one of the pop-ups? Not to worry—Jim Beam has you covered there too. The brand is collaborating with subscription grooming service Gentleman's Box to offer a series of limited-edition boxes that feature special accessories for bourbon lovers. The "southern gentleman" box, available this month, includes Jim Beam-branded coasters from Woodchuck USA, plus a Jim Beam ice cube tray, Southern Scholar socks, a tie by Salt + Dapper, an Armoir Fashion leather bracelet, a lapel pin from The Dark Knot, and A.J. Murray's Kentucky Bourbon Lotion. It's available for $25 to current and new Gentleman's Box subscribers, and there will be another Jim Beam box released in the fall. Bear in mind, these boxes don't include any whiskey—you'll have to provide that for yourself.
Do spiffy socks and a trim beard make you appreciate your bourbon more? Probably not. My take, as a woman: drinking whiskey is the height of style, period.