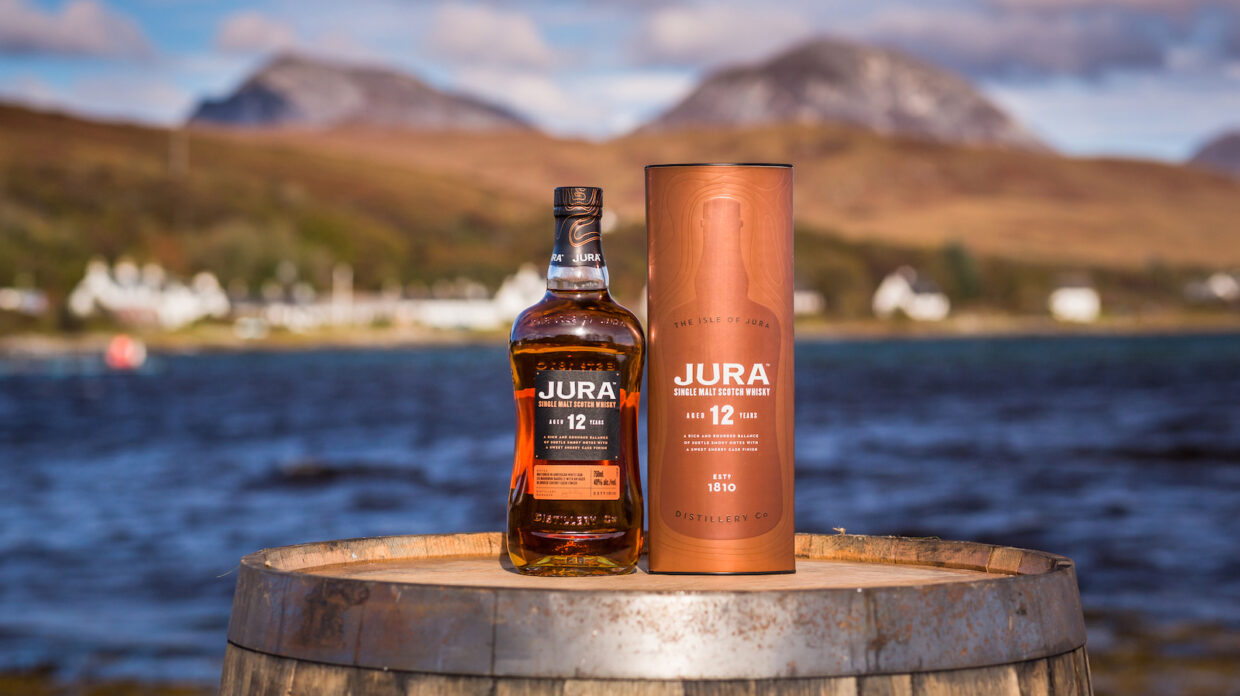 High-profile distillers are on the move: Former Jameson master distiller Brian Nation is taking on the American Midwest at Minnesota craft venture O'Shaughnessy Distilling Co., while Jeff Arnett walked away from his master distiller's role at Jack Daniel Distillery last year and just announced the launch of his new venture, Company Distilling, which is situated by the foothills of the Great Smoky Mountains in eastern Tennessee.
While we'll have to wait patiently for the whiskeys from Nation and Arnett, there are plenty of new releases to sip in the meantime. First up, Jura is adding a 12 year old single malt to its core lineup. The whisky is widely available, at a buyer-friendly price of $50.
From North Texas, Garrison Bros. is also rolling out one of their oldest, rarest expressions to date: Laguna Madre. There are 2,000 bottles of the bourbon available, and it'll set you back $299.
Buffalo Trace has added a new whiskey to its experimental collection that pays homage to Chinese spirit baijiu. Priced at $47, it's available on a limited basis.
Indiana distillery Penelope has a new barrel strength bourbon that costs $65 and, while limited to start, will eventually have wide availability.
Elsewhere in Indiana, Old 55 is back with a first-of-its-kind sweet corn bottled in bond bourbon, which costs $75 and is available at the distillery's tasting room and across its home state.
And finally, New York State distiller Iron Smoke has teamed up with metal band Dream Theater's John Petrucci on a cask strength four-grain bourbon. There are 324 bottles available, each priced at $200.
Read on for full details.
Jura 12 year old
Style: Single malt

Origin: Scotland (Islands)

Age: 12 year old

ABV: 40%

Price: $50

Release: May 2021

Availability: Widely available
Need to know:
Initially matured in bourbon barrels, this whisky was then finished in oloroso sherry casks.
Whisky Advocate says:
Jura has been gradually revamping its lineup since 2017, when it launched a 10 year old expression. The following year, it introduced its Seven Wood and 18 year old whiskies, and this 12 year old extends the range further.
Garrison Brothers Laguna Madre
Style: Straight bourbon

Origin: Texas

Age: 8 year old
ABV: 50.5%

Price: $299

Release: May 2021

Availability: 2,000 bottles
Need to know:
Named after the waters that run along Texas' Gulf Coast, this bourbon underwent two maturation periods—first spending four years in new white oak and then an additional four years in French Limousin oak.
Whisky Advocate says:
Just 2,000 bottles of this limited release are available, with Garrison Brothers planning to sell at least 500 at a drive-thru event at the Hye, Texas distillery on May 8 beginning at 8 a.m. The distillery is calling this its oldest and rarest expression to date, so fans are encouraged to act fast if they want to secure a bottle.
Buffalo Trace Experimental Collection Baijiu-Style Spirit
Style: Distilled spirits specialty
Origin: Kentucky
Age: 11 year old
ABV: 45%
Price: $47/375 ml
Release: April 2021
Availability: Limited edition
Need to know:
This experimental release from Buffalo Trace is distilled like whiskey, but from sorghum and peas, which are ingredients often found in baijiu, a traditional Chinese rice spirit. The distillate is aged for 11 years in different types of new American oak barrels—uncharred, charred, and toasted white oak—before being blended together.
Whisky Advocate says:
Buffalo Trace has been releasing expressions within its Experimental Collection series since 2006, with recent releases including a wheated bourbon, an organic six-grain bourbon, and a bourbon aged in French oak barrels. This unique release stands out from the pack as neither whisky nor baijiu—though it's distilled like a whisky and has a mashbill with similar ingredients to baijiu, it's technically a distilled spirits specialty. As with most such Buffalo Trace releases, its limited quantity will likely make it difficult to get hold of a bottle.
Penelope Bourbon Barrel Strength Toasted Series
Style: Bourbon
Origin: Indiana
Age: Not stated
ABV: Barrel strength, varies (57%-58.5%)
Price: $65
Release: May 2021
Availability: Limited to start, with expansion planned
Need to know:
This series will explore new variations on Penelope's signature Four Grain Straight bourbon, according to co-founder and CEO Michael Paladini. "After full maturation in charred new American oak barrels, we finish Penelope Bourbon Barrel Strength in a new, freshly toasted barrel. Each batch is a unique blend of our signature three bourbon mashbills and all have different custom chars and toasts—making each bottle unique and different," he adds.
Whisky Advocate says:
This release comes on the heels of Penelope's October 2020 release, a bourbon finished in rosé barrels. We've reviewed Penelope Barrel Strength Four Grain Straight bourbon and scored it 90 points—so we're excited to taste the difference that the toasted barrels make!
Old 55 Sweet Corn Bottled in Bond Bourbon
Style: Straight bourbon
Origin: Indiana
Age: 4 year old
ABV: 50%
Price: $75
Release: April 2021
Availability: Available across IN
Need to know:
This is the definition of grain to glass: the corn was grown, milled, mashed, fermented, distilled, barreled, aged, and bottled all at Old 55's Newtown, Indiana distillery. The bourbon comes from a 100% sweet corn mashbill, and the distillery claims to be the only one making bourbon out of sweet corn—the very corn that you enjoy off the cob.
Whisky Advocate says:
Old 55 prides itself on its farm-to-glass production, and this new release augments a lineup that includes a sweet corn bourbon (not bottled in bond) and a straight bottled in bond expression.
Iron Smoke Rock the Barrel
Style: Straight bourbon

Origin: New York

Age: Not stated

ABV: 60%

Price: $200

Release: May 2021

Availability: 324 bottles
Need to know:
Fairport, New York's Iron Smoke Distillery and John Petrucci, guitarist for metal band Dream Theater, have teamed up for this limited cask strength four-grain bourbon made with applewood-smoked wheat.
Whisky Advocate says:
Petrucci visited the distillery and picked three barrels for this release. Bottles will go on sale starting Monday, May 3 at 12 p.m. Eastern via the distillery's website. Each bottle comes with an "All Access" laminate which includes merchandise codes and access to a live virtual tasting with Petrucci and Tommy Brunett, co-founder of Iron Smoke Distillery. Heavy metal and craft whiskey collaborations are becoming quite the trend, and we examine some high-profile releases in our upcoming Summer issue.