If you are on the hunt for a new whisky to try, new releases are a great starting point, but sometimes discovery can come from unexpected places. Take Nordic whiskies for example. Distillers in Sweden, Norway, Finland, Denmark, and Iceland are crafting whiskies that capture Nordic climates and traditions—including smoking with sheep-dung—and adding to the ever-expanding category of world whisky. Read all about the growing Nordic whisky scene in our feature looking at the region.
As for this week's new releases, Glenmorangie has unveiled its Grand Vintage Malt 1998, a portion of which comes from 23 year old single malt aged in virgin oak barrels. Wild Turkey announced a new addition under its Russell's Reserve label that examines the impact of warehouse location. And WhistlePig added to its PiggyBack line with a 100 proof bourbon. Read on for full details.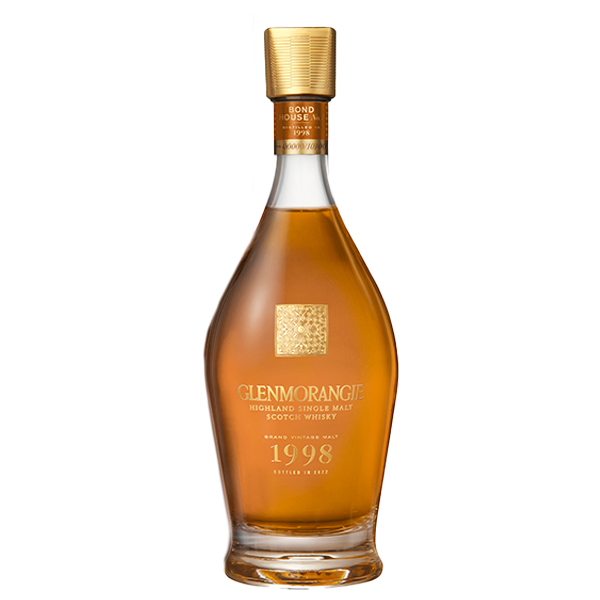 Glenmorangie Grand Vintage Malt 1998
Style: Single malt
Origin: Scotland (Highlands)
Age: 23 year old
ABV: 43%
Price: $900
Release: August 2022
Availability: Limited; 10,000 bottles
Need to know:
The latest release in Glenmorangie's Grand Vintage Malt series was distilled in 1998, the same year that Dr. Bill Lumsden was appointed director of whisky creation. In fact, the whiskies bottled for this release were among the first that Dr. Bill's early efforts, with the use of new charred oak for the first time in Glenmorangie's history. While he designated some of those new charred oak casks for finishing, he filled others with new make spirit and allowed them to age for 23 years. That parcel is at the heart of this Grand Vintage release, blended with whiskies aged in bourbon casks and others finished in oloroso sherry casks.
Whisky Advocate says:
Most scotch whisky is aged in used casks, allowing distillers and blenders to mature their stocks for extended periods of time without worrying about them becoming over-oaked. That's not to say that some scotch whisky makers haven't experimented with virgin oak to great success, but Lumsden was well ahead of the curve when he filled these barrels 23 years ago. He's always one to push the limits of innovation, and we can expect even more creative thinking from Dr. Bill, especially with the opening of Glenmorangie's experimental distillery the Lighthouse last September.
Russell's Reserve Single Rickhouse Camp Nelson C
Style: Straight bourbon
Origin: Kentucky
Age: Not stated
ABV: 56.2%
Price: $250
Release: October 2022
Availability: Limited
Need to know:
Wild Turkey is launching a new limited-edition series under its Russell's Reserve line, exploring the impact of warehouse location on its whiskey. Each release will feature whiskey from an individual rickhouse. The first release comes from Camp Nelson C, a seven-story rickhouse that was built in 1946 and decommissioned in 2021. The whiskey comes 72 barrels, aged for over 10 years, and bottled at barrel proof. Master distiller Eddie Russell selected the barrels from the center-cut, or sweet spot, on floors three and four of the warehouse.
Whisky Advocate says:
Much attention is paid to the type of barrel in the aging of whisky, but just as important is the type of warehouse and the location within that warehouse. A few years back, Jack Daniel's released its Heritage Barrel limited edition, taken from the highest, hottest parts of the warehouses. The result was a 93 point whiskey that landed at No. 3 on the 2018 Top 20 list. We'll have to taste this whiskey to see if it measures up, but recent Russell's Reserve releases, like the popular 13 year old, quickly gained cult status, so it isn't hard to imagine this will get plenty of attention.
WhistlePig PiggyBack 100 Proof Bourbon
Style: Straight bourbon
Origin: Undisclosed
Age: 6 year old
ABV: 50%
Price: $50
Release: August 2022
Availability: Nationwide
Need to know:
This high-corn mashbill bourbon is aged for 6 years in char #3 barrels and bottled at 100 proof. According to WhistlePig, some of the whiskey in the bottle comes from its own farm in Vermont, with the rest coming from unnamed distilling partners.
Whisky Advocate says:
This is the second PiggyBack whiskey in WhistlePig's arsenal, following the debut of PiggyBack 100% Rye back in 2019. As with the rye, this whiskey is geared toward bartenders, with the brand touting it as a powerful addition to classic cocktails like a Whiskey Sour. The lower price point also means that WhistlePig fans will have an easier entry point to the brand, and with a bourbon to boot; being rye-centric, WhistlePig offers only one other bourbon at the moment—Farmstock Beyond Bonded bourbon—and that's twice the price of this new release.
Dubliner Steelers Select
Style: Blend
Origin: Ireland
Age: Not stated
ABV: 42%
Price: $60
Release: Limited release
Availability: Pennsylvania LCB stores in the greater Pittsburgh area and online via dublinerwhiskey.com and reservebar.com.
Need to know:
This bourbon cask-matured blend of malt and grain Irish whiskeys is the first bottling in an annual series of limited release Dubliner whiskeys marking a three-year sponsorship agreement between The Dublin Liberties Distillery and the NFL's Pittsburgh Steelers.
Whisky Advocate says:
The release of Dubliner Steelers Select marks 90 seasons of football for the Steelers under the ownership of the Rooney family. Established 1933, the Steelers are six-time Super Bowl champions, including a run of four titles in six years beginning with Super Bowl IX in 1975. This exclusive Dubliner blend contains eight single malt and grain Irish whiskeys aged in bourbon casks for 3 to 10 years. The bottle displays the Steelers logo and a black and gold cap and will be backed by a social media campaign through the Steelers digital channels, LED signage at Acrisure Stadium, and opportunities for Steelers Nation to explore the wider Dubliner range on game days in bars and restaurants across Steelers country and beyond. To celebrate the launch, a competition, "The Pot of Black and Gold," is offering Steelers fans a chance to win monthly prizes including game-day tickets, autographed and non-autographed merchandise, and a grand prize of an all-expenses paid trip for two to Dublin, including a visit to the Dublin Liberties Distillery. 
Filmland Spirits
Style: Straight bourbon and rye
Origin: Indiana
Age: Not stated
ABV: 47%-57.5%
Price: $55-$80
Release: September 2022
Availability: California, Kentucky, and online
Need to know:
California-based Filmland Spirits, founded in 2020, has launched its first batch of whiskeys, all inspired by retro B-movie concepts involving robots and monsters. The whiskeys, sourced from distilleries throughout the U.S., then blended, finished, and bottled in Kentucky, are as follows: 
Moonlight Mayhem!—4 year old straight bourbon (47%, $55)
Moonlight Mayhem! Extended Cut—4 year old cask strength straight bourbon (57.5%, $80)
Ryes of the Robots—4 year old straight rye (47%, $60)
Whisky Advocate says:
We've seen movie-themed whiskies before, namely ones released by Silver Screen Bottling Company, but Filmland is going the extra step of crafting entire narratives around each whiskey, with character details and trailers available on their website. And to be fair, who doesn't like to curl up with a healthy pour and a quality film? In the past, we've highlighted 10 great movies for whisky lovers, a number of film-famous bars that you can visit, and the role that whisky and other drinks have played in the long history of James Bond films.