Anyone looking to pad their whiskey collection with some antique American bottles should check out Whisky Auctioneer's A Century of American Whiskey which runs until Aug. 23. Our auctions expert previewed some of the Pappy Van Winkle, Wild Turkey, and Old Overholt up for bid, even sampling a few of these rare items.
In terms of new arrivals, this week there are plenty to choose from. Glenfiddich adds a cognac-finish to its Grand Series, Dalmore unveils a collection of whiskies selected from the last 60 years, Michter's brings back its Toasted Barrel Finish, plus more new bourbons and ryes. Read on for full details.
Glenfiddich Grande Couronne
Style: Single malt
Origin: Scotland (Speyside)
Age: 26 year old
ABV: 43.8%
Price: $600
Release: August 2021
Availability: Nationwide
Need to know:
Initially matured in American and European oak casks, this whisky was then finished in cognac casks for up to two years—marking the first time Glenfiddich has ever released a cognac-finished expression. Grande Couronne, which is French for "Great Crown," is the third expression in the brand's Grand Series. It follows Grand Cru (finished in French cuvée oak casks) and Gran Reserva (finished in Caribbean rum casks).
Whisky Advocate says:
The Grand Series is meant to showcase Glenfiddich's experimentation with aged stocks, and previous releases have contributed to the world of luxury yet attainable whiskies. Grand Cru, released in 2019, scored 92 points, and at 26 years old, we have similar expectations for this cognac-finished effort.
The Dalmore Decades No. 5 Collection
Style: Single Malt
Origin: Scotland (Highland)
Age: Varies
ABV: Varies
Price: £200,000 (approximately $278,000)
Release: Fall 2021
Availability: 15 unique sets worldwide (1 set for the U.S.)
Need to know:
Master distiller Richard Paterson has selected whiskies from the last 60 years to create three limited sets of whiskies in the Decades Collection. Each comprises vintages from four, five, or six decades.
Dalmore Decades No. 5 is the only collection being released in the U.S. It consists of:
The Decades 1967 "Expertly Composed Spirit," 42.5%, underwent final maturation in a Chateau Mont-Redon Châteauneuf-du-Pape wine barrel.
The Decades 1979 "Curating Exquisite Casks," 41.5%, is a 40 year old matured in a Matusalem oloroso sherry butt and finished in a Graham's Port vintage 1952 cask.
The Decades 1980 "Unbroken Chain of Visionaries," 40.8%, was also aged in a Matusalem sherry butt before finishing in a first-fill bourbon barrel for five years.
The Decades 1995 "The Creation of an Icon," 42.5%, was finished in Tintilla de Rota port pipes and toasts the distillery's bell-shaped bottles.
The Decades 2000 "Into the New Millennium," 47%, came off the stills just after midnight on January 1, 2000 and has been fully matured in a Matusalem oloroso sherry butt.
Each Dalmore Decades No. 5 set is numbered and presented in its own colorway.
Whisky Advocate says:
These sets represent the most significant release by Dalmore since the 12-bottle Paterson Collection in 2013. This October, Sotheby's, Hong Kong will auction the only set of Dalmore Decades No. 6 Collection, the pinnacle of the series, which includes Dalmore Decades 1951 "Royal Heritage," a 60 year old single malt matured in twin sherry casks. Rare editions of Dalmore have an admirable track record at auction. Dalmore previously collaborated with Sotheby's on the sale of its L'Anima 49 year old in 2019.
Michter's US*1 Toasted Barrel Finish
Style: Straight bourbon
Origin: Kentucky
Age: Not stated
ABV: 45.7%
Price: $100
Release: August 2021
Availability: Limited
Need to know:
This release marks the return of Toasted Barrel Finish, whose last appearance was in 2018. The original expression of Toasted Barrel Finish was launched in 2014, and Michter's then followed with releases in 2015 and 2018. Supply constraints forced the distillery to hold off in 2019 and 2020, but now Toasted Barrel Finish is back.
Whisky Advocate says:
For Toasted Barrel Finish, Michter's starts with fully matured barrels of its US*1 Small Batch Kentucky Straight bourbon, and then transfers the whiskey into a second barrel made of air-dried wood for additional aging. That second barrel is toasted (not charred) to specification by Michter's master of maturation Andrea Wilson. Read more about how barrel toasting impacts a whisky's flavor.
Rabbit Hole Founder's Collection Raceking
Style: Straight bourbon
Origin: Kentucky
Age: Not stated
ABV: 54.6%
Price: $295
Release: September 2021
Availability: 1,365 bottles
Need to know:
The third release in Rabbit Hole's Founder's Collection, this is a five grain bourbon with a mashbill of 70% corn, 13% rye, 10% malted rye, 4% chocolate malted wheat, and 3% chocolate malted barley. The whiskey is named in honor of Kentucky's horse racing tradition and aged for 4 years in wood-fired toasted and charred new American oak barrels.
Whisky Advocate says:
Raceking, with its unusual double chocolate malt mashbill, follows a 15 year old mizunara finish released earlier this year, and 2020's Boxergrail in the Founder's Collection series. That whisky was a 6 year old 95% rye that scored 93 points.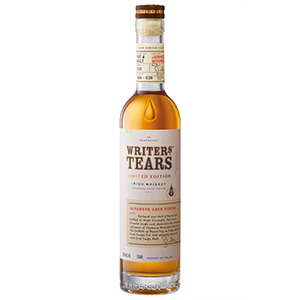 Writers' Tears Japanese Cask Finish
Style: Blended whiskey
Origin: Ireland
Age: Not stated
ABV: 55%
Price: $109
Release: Fall 2021
Availability: AZ, CA, CO, DC, FL, GA, IL, MA, MD, NJ, NY, NV, PA, TX, WA
Need to know:
Initially aged in Kentucky bourbon barrels, this whiskey, which is a blend of single malt and single pot still, was then finished in mizunara casks for nine months.
Whisky Advocate says:
Japan's native mizunara oak can be tricky to work with, and to our knowledge, only one Irish whiskey brand has used it previously. Glendalough released a 17 year old in 2020 and a 13 year old before that, the latter landing at No. 18 on our 2018 Top 20 list.
Cathead Old Soul (2021 Edition)
Style: Blend of straight bourbons
Origin: Multiple (IN and MS)
Age: 4 year old
ABV: 45%
Price: $45
Release: August 2021
Availability: Limited, but nationwide
Need to know:
The latest release of Old Soul is a blend of 4 and 5 year old bourbons with identical mashbills of 75% corn, 21% rye, and 4% malted barley.
Whisky Advocate says:
Cathead initially released this whiskey, which uses straight bourbon sourced from MGP Distillery in Indiana in addition to straight bourbon made at its Jackson, Mississippi-based distillery, in 2019. Unlike its 2 year old predecessor, the latest Old Soul spent at least four years aging in Mississippi. Just 88 barrels of the whiskey were made.
Oak & Eden Rye & Rumba
Style: Rye
Origin: Indiana
Age: Not stated
ABV: 45%
Price: $60
Release: August 2021
Availability: Seasonal
Need to know:
A 95% straight rye whiskey distilled at MGP in Indiana, Rye & Rumba is aged for two years before being bottled. After that, a Caribbean rum-soaked wood spire is added to the bottle, as part of the brand's "in-bottle finishing" process.
Whisky Advocate says:
Oak & Eden's spires inform the entire business, with the brand also making whiskeys finished in-bottle with beer-soaked spires, toasted French oak spires, and more. First released in 2019, this particular whiskey will now be an annual summer release.