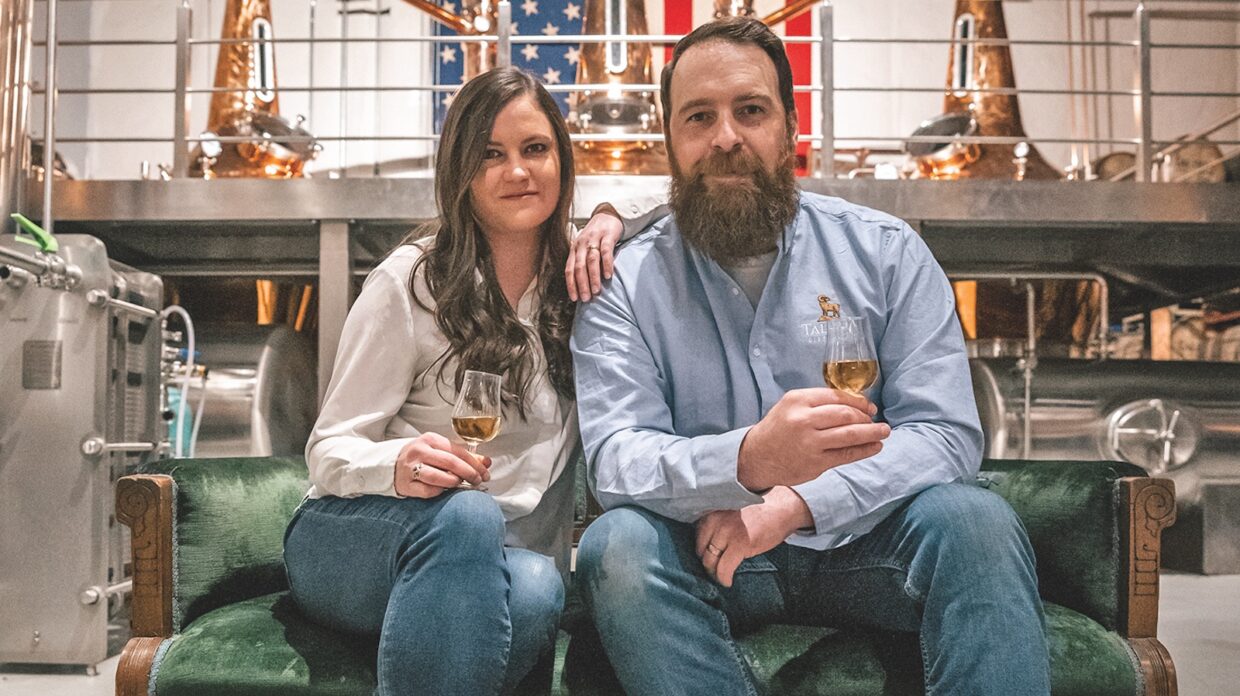 With 1 in 10 people in the U.S. claiming Irish heritage, there's a natural affinity with Ireland, and it extends to Irish whiskey. Some stateside distillers have also created their own take on Ireland's classic whiskey styles.
At Black Bear Distillery in Green Mountain Falls, Colorado, master chef and distiller Victor Matthews produces an Irish-style whiskey and a sherry-finished Irish-style bourbon, which he describes as a fusion of Irish-style whiskey and wheated bourbon. Inspired by his great-grandfather's Irish ancestry, he fought and won a two-year campaign with U.S. and Irish regulators to use the term "Irish style" for this 100% American- made whiskey.
Ten years ago, Meagan and Patrick Miller, co-founders of Talnua Distillery in Arvada, Colorado, set out to produce American single pot still whiskey after tasting Redbreast in a Galway pub on their honeymoon. Talnua is Irish for "new land," and they proudly claim to be the only U.S. distillery dedicated to making single pot still whiskey. Their tagline is "Gaelic tradition meets American pioneerism." Using a 50:50 ratio of malted to unmalted barley, like Ireland's Teeling Distillery, Talnua triple distills each batch in traditional copper pot stills. Other than hurrying along maturation with quarter casks, Talnua's Continuum Cask American single pot still whiskey certainly ticks the boxes for authenticity.
Brothership is truly an Irish-American whiskey: A blend of sourced American single malt and sourced Irish single malt blended and bottled at New Liberty Distillery in Philadelphia, it's the work of Robert Cassell, the Philadelphia-born master distiller at Ireland's Connacht Distillery, which was founded by a consortium of Irish and American citizens.
Irish whiskey must be aged for a minimum of 3 years, although many are considerably older. Some of these American-made expressions are bottled much younger—Black Bear's Irish-style whiskey goes into the bottle after a minimum of 1 year and its bourbon is bottled at 2 years—while Finger Lakes Distilling's McKenzie Pure Pot Still is aged for 4 to 7 years. 
In Ireland, enormous pot stills are critical to the flavor development of single pot still whiskey, like the three massive, nearly 20,000-gallon stills at Irish Distillers' Midleton Distillery. (U.S. distilleries using column stills can only make the equivalent of Irish grain whiskey, not single pot still.) While these whiskeys' mashbills include malted and unmalted barley, the proportions can diverge significantly from the Irish requirements of at least 30% malted and 30% unmalted barley, plus up to 5% other grains.
5 Irish-Style American Whiskeys to Try
Black Bear Irish-Style Colorado—40%, $45
Caramel corn, watermelon Jolly Rancher, orange Popsicle, and strawberry Blow-Pop on the nose. The silky palate holds dilute flavors of bubble gum, candy, vanilla, and toasted wood.
Brothership Irish-American 10 year old—45%, $50
Grassy, grainy, and floral on the nose, with hints of citrus, grape soda, and apples. The palate is creamy, fruity, sweet, and light, with creamed corn, milk chocolate, and grassy and floral notes.
McKenzie Pure Pot Still—40%, $43
Made from unmalted barley, malted barley, and oats and aged in used bourbon and rye barrels. The nose is evocative of a florist's shop, with notes of flower stems, lime peel, peach jam, and orange blossom.
Ransom The Emerald 1865—43.8%, $78
The nose offers charred oak, bitter orange, toasted grain, oatmeal, dried leaves, and cherry bitters. A spicy palate features notes of orange marmalade, milk chocolate, and red apples.
Talnua Continuum Cask American Single Pot Still—43%, $40
There is a musty funkiness on the nose, but underneath lurk aromas of banana Runts, herbal cough syrup, and fruit cocktail. The light and nimble palate buzzes with fizzy lemon, sweet nuts, cinnamon, and allspice.