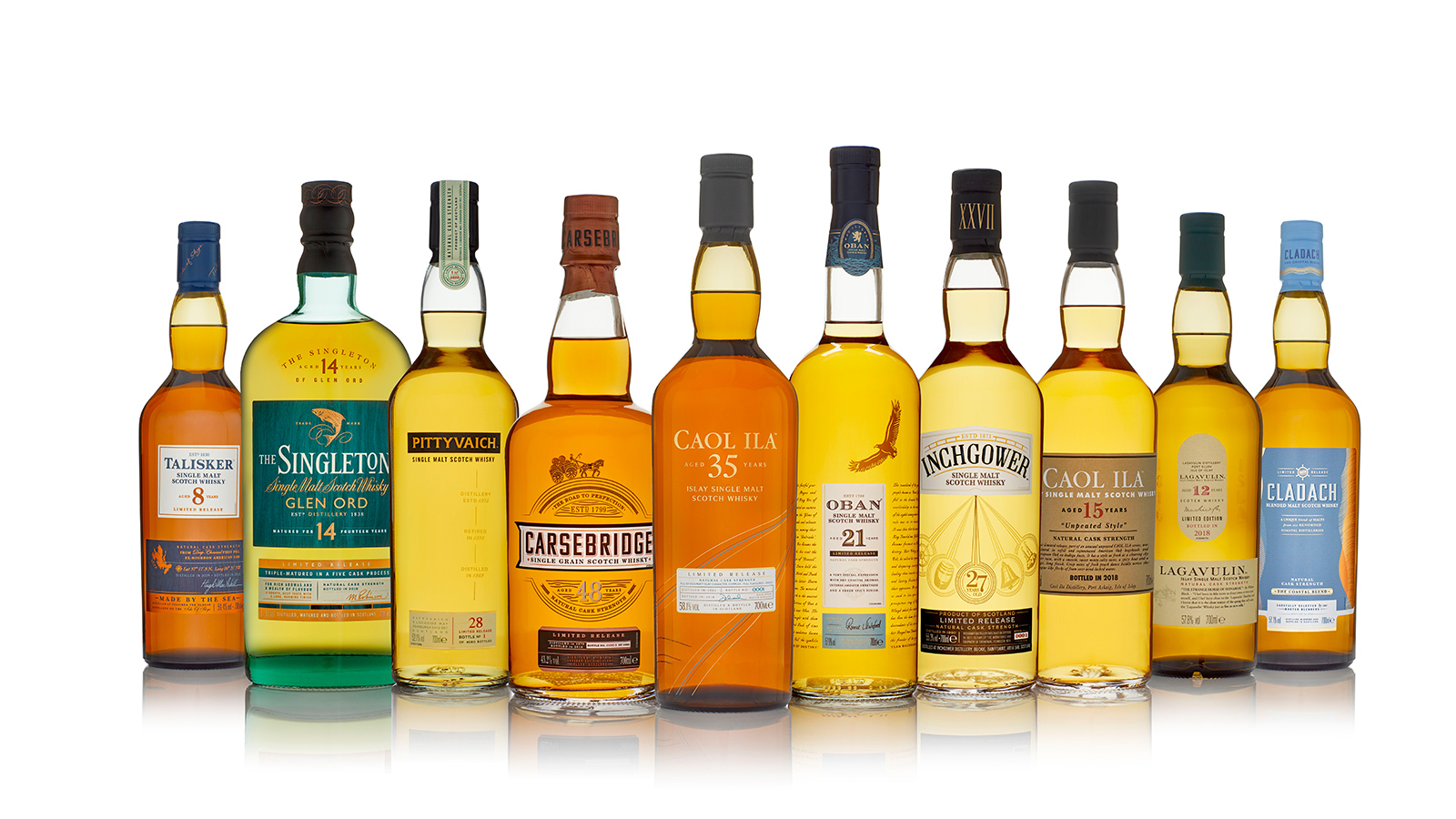 Post updated 9/12/2018 to reflect additional details on pricing and availability.
Diageo has announced its full Special Release Collection whiskies for 2018. As it did last year, the company kept details of one of the ten whiskies under wraps for several months. Last year's surprise whisky was Collectivum XXVIII, a blended malt containing whiskies from all 28 of Diageo's malt distilleries. In 2018, it's another blended malt called Cladach, which means "shoreline" in Scots Gaelic. The whiskies in the blend come from Diageo's coastal distilleries: Caol Ila and Lagavulin (Islay), Clynelish and Oban (Highlands), Inchgower (Speyside), and Talisker (Islands). Like Collectivum, Cladach will not be available in the U.S.
Collectors and savvy drinkers may notice a couple of gaps in this year's list. For the first time since the Special Releases were launched in 2001, there's no Port Ellen or Brora among them. That doesn't mean there is no Port Ellen or Brora whisky left to bottle, however. In fall 2017, when Diageo announced its plans to  to reopen both shuttered distilleries, head of whisky outreach Nick Morgan declined to comment on how much whisky from Port Ellen and Brora was left in cask but did tell Whisky Advocate, "We're pretty confident we can keep that supply going." The plan now is to release those whiskies separately, ramping up to the day when new Port Ellen and Brora single malts are finally bottled.
Although Port Ellen and Brora are off the list, the 2018 Special Releases Collection does include whiskies from silent distilleries: a 28 year old Pittyvaich (Speyside single malt) and a 48 year old Carsebridge (Lowlands single grain). There's also a 27 year old Inchgower, a 21 year old Oban, a 14 year old Singleton of Glen Ord, an 8 year old Talisker, and a brace of Caol Ilas: a 35 year old and an unpeated 15 year old. Once again, the collection includes a 12 year old Lagavulin, sure to be a hit. In fact, the 2017 Special Release Lagavulin 12 year old ranked as number four in Whisky Advocate's Top 20.
Read on for full details.
2018 Diageo Special Releases
Caol Ila Unpeated 15 year old
Style: Single malt
Origin: Islay
Proof: 59.1% ABV
Cask type: Refill and rejuvenated American oak hogsheads and ex-bodega European oak sherry butts
Availability: Limited quantities worldwide
Price: $129
Caol Ila 35 year old
Style: Single malt
Origin: Islay
Proof: 58.1% ABV
Cask type: Refill American oak hogsheads and refill European oak sherry butts
Availability: 3,276 bottles worldwide
Price: $989
Carsebridge 48 year old
Style: Single grain
Origin: Lowlands
Proof: 43.2% ABV
Cask type: Refill American oak hogsheads
Availability: 1,000 bottles worldwide
Price: $959
Cladach
Style: Blended malt
Origin: Multiple
Proof: 57.1% ABV
Cask type: First-fill ex-bourbon casks, refill American oak hogsheads, refill European oak sherry butts, and ex-bodega European oak sherry butts
Availability: Limited quantities worldwide; not available in the U.S.
Price: £155
Inchgower 27 year old
Style: Single malt
Origin: Speyside
Proof: 55.3% ABV
Cask type: Refill American oak hogsheads
Availability: 8,544 bottles worldwide
Price: $359
Lagavulin 12 year old
Style: Single malt
Origin: Islay
Proof: 57.8% ABV
Cask type: Refill American oak hogsheads
Availability: Limited quantities worldwide
Price: $139
Oban 21 year old
Style: Single malt
Origin: Highlands
Proof: 57.9% ABV
Cask type: Refill European oak sherry butts
Availability: Limited quantities worldwide
Price: $549
Pittyvaich 28 year old
Style: Single malt
Origin: Speyside
Proof: 52.1% ABV
Cask type: Refill American oak hogsheads
Availability: 4,680 bottles worldwide
Price: $419
The Singleton of Glen Ord 14 year old
Style: Single malt
Origin: Highlands
Proof: 57.6% ABV
Cask type: Refill American oak hogsheads and refill European oak sherry butts, "followed by a unique maturation and marrying process" (per press release)
Availability: Limited quantities worldwide; not available in the U.S.
Price: £100
Talisker 8 year old
Style: Single malt
Origin: Islands
Proof: 59.4% ABV
Cask type: First-fill ex-bourbon American oak hogsheads
Availability: Limited quantities worldwide; not available in the U.S.
Price: £70