The Winter 2021 issue of Whisky Advocate is all about connecting you with great whisky. There are over 150 whisky reviews inside, including our annual Top 20 list, which celebrates an exciting year of high-quality and affordable drams. Our Whisky of the Year is a stout-finished Islay single malt scotch, but the full list includes value bourbons, surprising world whiskies, complex blended malts, and more.
Elsewhere in the issue, we help you plan a year of whisky spending based on four different budgets and interest levels, and survey the rich landscape of 21 year old scotch. Of course, there is perhaps no greater resource than our Buying Guide, which spans multiple styles and continents to deliver well-considered tasting notes. In each issue we provide Editors' Choice, Best Values, and Collectibles picks, but beyond those, there is still plenty of whisky to consider. The highest-scoring whiskies from the Winter issue, include familiar names like Laphroaig and Booker's as well as a few surprises. Germany's Eifel Whisky nets 94 points with its Peated Duo Malt, while Speyside's Glenallachie impresses with a 10 year old single malt aged in American oak barrels and then placed into Kentucky rye casks.
Check out the 10 highest-scoring whiskies below and visit the Winter 2021 Buying Guide for the full slate of reviews.
TOP SCORES FROM WHISKY ADVOCATE'S Winter 2021 ISSUE
Kilchoman Loch Gorm Sherry Cask Matured (2021 Edition)
94 points, 46%, $100
Peat smoke and fresh maritime notes on the nose, rope tar, lime, black pepper, and medicinal hints of Band-Aid and iodine. On the palate, black peat embers blend into milk chocolate, luscious dark fruits, and espresso macchiato. The finish is viscous and smooth, and has excellent length. There's plenty of smoke, but also lively fruit notes of orange, blackberries, and black currants. There is a real elegance to this whisky. (2,040 bottles for the U.S.)—David Fleming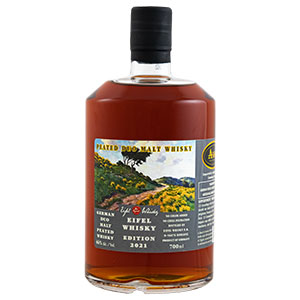 Eifel Whisky German Peated Duo Malt 2021 Edition
94 points, 46%, $90
A nose of Nestle Crunch bar, dates, smoke from green wood, golden syrup, vanilla seeds, cherry gummy bears, and a medley of dried fruits. Respectfully, with its 4:1 mashbill ratio of malted wheat and barley to 35 ppm peated malt, it's like a fine blended scotch that costs ten times more. The flavors are in perfect balance with a distinctive red wine influence, with dark toffee, black cherry, black currant, runny caramel, and an up-tempo spiciness. (2,400 bottles)—Jonny McCormick
Laphroaig 25 year old Cask Strength (2020)
94 points, 49.8%, $750
A cask strength whisky, but don't expect a rambunctious blisterer. Age has given this one a mellowed beauty. It offers a deep, rich, soft peat influence on a thick and creamy palate, with dried seaweed, seashells, salinity, brine, charcoal, and muted medicinal notes—all imbued with sweet oak, lime, chocolate-covered marshmallows, and light pepper. Cooked pears, chocolate, and vanilla cream complete the finish. The peat has settled in, and a marvelous, mature whisky rises.—David Fleming
Booker's 2021-02 "Tagalong Batch" Kentucky Straight bourbon
93 points, 63.95%, $90
The fifth edition of distiller Freddie Noe's signature annual release. This is a weighty one, in classic Booker's fashion—rich, full, and powerful, loaded with chocolate, cocoa powder, candied orange slices, dark chocolate, melted caramel, and cinnamon spice. Water quells the flavor riot, softening to notes of vanilla and vanilla malt, chocolate candy bar, and leather. The finish is spicy, with more chocolate and orange. There's nothing shy about this tasty sipper.—David Fleming
Dalmore 30 year old (2021 Release)
93 points, 42.8%, $5,500
Dark and gleaming from the port pipes that contained Graham's 30 year old tawny port, this revels in a nose of treacle tart, polished horse chestnut, baked orange, walnut, and Luxardo cherry syrup. A decadent palate of sweet orange, cherry, baked plum desserts, poached pears in cream, and a hint of nuttiness and spice, it finishes darkly with inky purple fruits, black grape, and Airheads blue raspberry chew bars. (1,318 bottles)—Jonny McCormick
Hibiki 21 year old
93 points, 43%, $350
Deep layers of vanilla and mizunara oak with sugar sprinkled pastries, incense sticks, oiled wood, tatami, dried apricot, golden sultana, and faint smoky spiciness. Nectarous mouthfeel with honey, barley sugar, dried citrus, orange peel, and delicate spices, it continues to sweeten beautifully showing vanilla, sugared almonds, banana custard, with hints of ginger and gentle oak. Slightly gummy finish as the vanilla quenches little eruptions of wood spices.—Jonny McCormick
Glenfarclas 105 Cask Strength
93 points, 60%, $90
Sweet scents of Boston cream pie, citrus, and fresh forest, growing more fragrant as the liquid rests in the glass. On the palate, the citrus sweetens to baked orange tart and lemon meringue pie, with underpinnings of chocolate malt, raisins, and pepper spice. The mouthfeel is creamy and concentrated, and the finish is like a rich, full, spiced chocolate dessert. Water enhances things, bringing out more spice and chocolate.—David Fleming
Peerless Single Barrel Straight (150812100)
93 points, 55.7%, $124
The nose is filled with depth and spice, melding with blackberry and other cooked dark fruit notes. On the palate, rice pudding, vanilla cream, rich dark chocolate, and blueberry pie are laced with savory spice. The mouthfeel is smooth and creamy, with little hint of the high proof. It's even smoother with water, unlocking cinnamon spice, grape jam, and more chocolate. The finish is deep, jammy, and long, with loads of spice.—David Fleming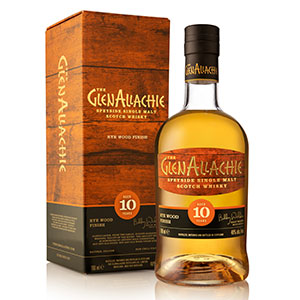 Glenallachie 10 year old Rye Wood Finished
93 points, 48%, $100
On the nose, there's roasted almond, fragrant butterscotch, toffee, lemon, and oak, plus vanilla, lemon meringue, sweet malt, and a hint of melon. The palate has notes of vanilla cake, pleasant soapiness, sweet tea, rich chocolate, a hint of coconut, and alluring flavors of blueberry cobbler and raspberry tart. The finish is long, lively, and beautifully punctuated with fruit notes, dark chocolate, and a parting song of oak. Loaded with great, well-integrated flavors.—David Fleming
Glenfiddich 21 year old Reserva Rum Cask Finish
93 points, 40%, $210
Rich, sweet, and fruity with baked apples drizzled in honey, crisp white pear, honeysuckle, dried banana, vanilla fudge, and pecan pie. This works so well with the nascent Glenfiddich spirit; lime zest, vanilla, foamy meringue, honey blossom sweetness, and pepper transitioning to lime shred marmalade, soft oak, and a dry spicy finish. Vibrant, stimulating, sophisticated, and so well balanced that it never risks becoming overly sweet.—Jonny McCormick