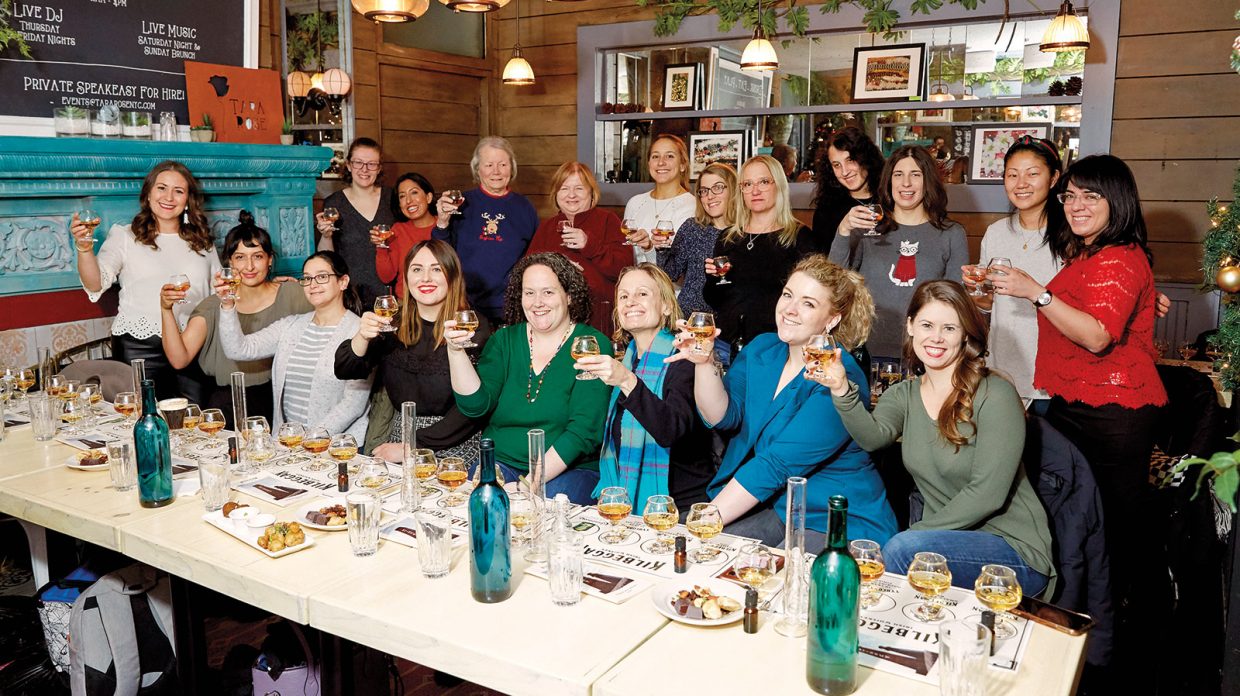 Julia Ritz Toffoli grew weary of raised eyebrows each time she ordered whisky neat or rye on the rocks. In order to disprove the fallacy that whisky was only a "man's drink" she founded Women Who Whiskey, which boasts more than 10,000 members across major U.S. cities, along with smaller regional chapters, and international chapters in Canada, Africa, and Europe. Its members are driven by a key tenet of Toffoli's original plan—to bring whisky to a broader audience comprised not just of "whisky lovers," but also "whisky learners."
"At the end of the day, we're a member-focused organization that really tries to provide an accessible, safe space to learn about whisky, and do it in a fun and educational way," Toffoli says. The majority of gatherings take place at bars, restaurants, distilleries, or even whisky brands' offices. "Each event usually serves cocktails and food, so it just makes sense to do it at a place that can supply that," she explains.
Membership is free, although the club may begin charging "nominally" in the not-too-distant future. "But it will never be very expensive, and we'll always have a free option," Toffoli says. Every chapter has both a ladies' list and a gentlemen's list, she adds. "Most of the events that we do are ladies-only, or 'all ladies welcome.' We've come to define that very broadly as sort of women and gender-nonconforming people, if they wish to attend." Additionally, the club occasionally hosts "gentlemen's editions," where men are also welcome.
Despite its size, Women Who Whiskey has thus far developed as an essentially grassroots organization. "A few of the earlier New York chapter members left New York for work or personal reasons, and were really sad to leave behind a community that they had become a part of," Toffoli says. "I said to my friend who was moving back to Portland, Oregon, 'Why don't you just start a chapter there?' She was like, 'You know, that's actually a really good idea. I'm going to do that.'"
Eventually, Women Who Whiskey caught the attention of whisky-inclined women around the world who wanted to start a club but felt it would be easier to tackle under the umbrella of Toffoli's organization. "That's how the rest of the chapters started—some by women that I've never met, in cities that I've never been in," she says.
Women Who Whiskey at a Glance
Location: International, with the majority of members concentrated in major U.S. cities
Year founded: 2011
Number of members: Just over 10,000
Membership: Open to the public