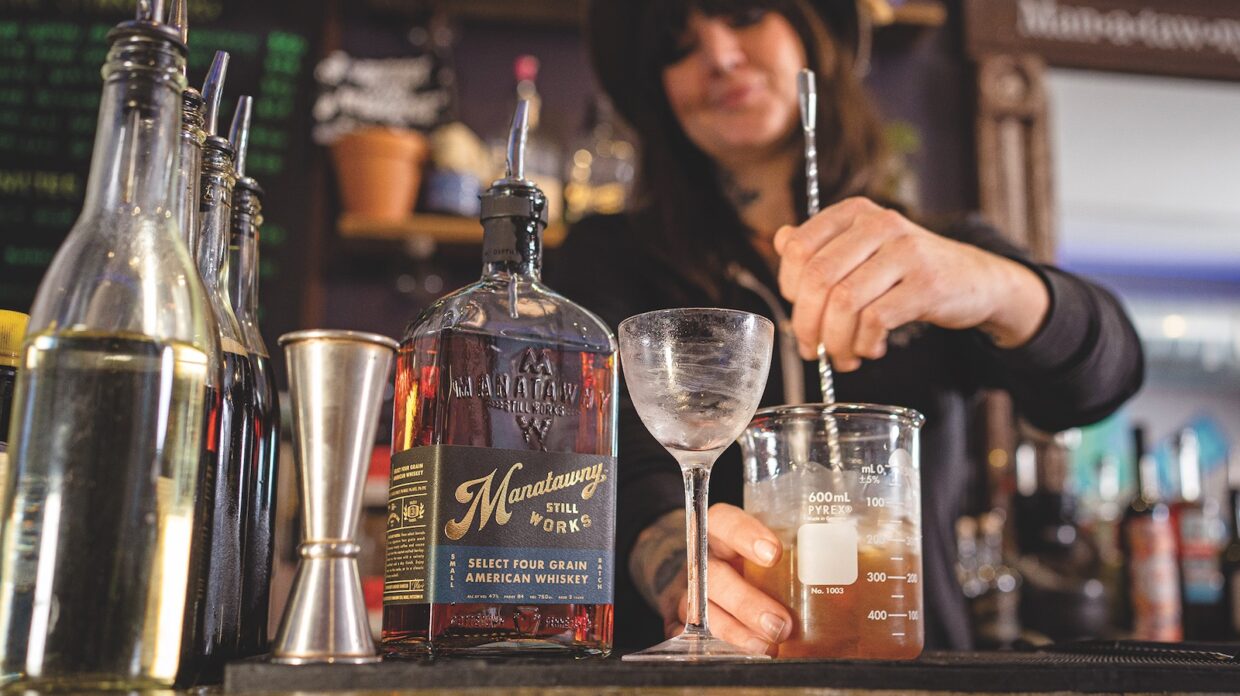 Whether looking for a no-nonsense shot-and-beer bar or a fancy joint with a miles-deep whisky menu, a weekend in Philadelphia will provide. The city is eminently walkable, too. From any Center City hotel there are dozens of options for food, drinks, and attractions in one of America's most historic cities. A walk down Broad Street—downtown Philadelphia's main north-south drag—offers views of the city's late-19th century City Hall, the Civil War-era Union League (now a private club), and the city's leading arts venues, like the Kimmel Center and the Academy of Music. And just blocks east or west of Broad Street are some of the city's best places to eat and drink.
Staying in Center City is the best option for a mostly walkable trip, with convenient public transit that gives you the widest variety of bars and restaurants to choose from. Whether flying, driving, or taking Amtrak, Center City is a breeze to reach. For accommodations, it's easy to recommend Philadelphia's Loews Hotel, at 12th and Market Streets. The hotel is located in Philadelphia's first high-rise building. Another upscale option in the neighborhood is The Bellevue Hotel, which overlooks Broad Street, just south of City Hall. But if you're looking to keep hotel costs down so you can grab a few extra drams, Center City has you covered there, too: the DoubleTree (also on Broad, south of City Hall) and Club Quarters (located one block south and two blocks west of City Hall) are both solid options in the neighborhood.
Day One
After dropping off your bags, grab a hearty breakfast at Red Owl Tavern, located less than a mile from Loews Hotel. Then head across the street to the Liberty Bell, Independence Hall, and the Old City neighborhood.
After you've brushed up on your American history, swing by The Olde Bar, just a few blocks from Independence Hall, for a whisky or cocktail while sightseeing in Old City. Beyond offering a solid array of whiskies, with a particular focus on scotch, The Olde Bar's cocktail menu nods to drinks history with its Fish House Punch, a colonial-era rum drink born in Philadelphia in the 1700s. Try The Olde Bar Sour, made with Old Overholt rye, amaretto, lemon, egg white, and bitters.
With lunch in mind, take in more sights with a 30-minute walk, or hop on the SEPTA train Market-Frankford line (the 'El') from Independence Hall or 2nd Street stops and take the train west (toward 69th Street) to 15th Street/City Hall, then head to Monk's Café, a Belgian restaurant. Monk's is a five-block walk south from the City Hall station and is located one block west on 16th Street. While Monk's has a full bar, the real star of the show here is its Belgian beer list, including Monk's Flemish sour ale, a beer brewed at Belgium-based Van Steenberge Brewery specially for Monk's. Here, the cheese plate and smoked trout dip are excellent starters, and the burgers and mussels can't be beat.
Once you've had your fill of lunch and history, head back to Center City and swing by Fine Wine & Good Spirits on Chestnut Street between 11th and 12th to browse one of the more well-stocked liquor stores in the area, which offers a variety of excellent whiskies. While Pennsylvania's "state stores" (the colloquial name for Fine Wine & Good Spirits, the state owned-and-operated liquor stores), all but rule out hunting for dusty bottles, the state has stepped up its game in recent years, and their Premium Collection locations (like the store recommended here) often offer FWGS-exclusive barrel picks from distillers like Four Roses, Maker's Mark, and Buffalo Trace.
After shopping, head to Village Whiskey for happy hour. While the bar snacks and $7 happy hour cocktails are an easy draw at Iron Chef and James Beard award-winner Jose Garces's restaurant, the real star here is the whisky list. Village Whiskey serves over 200, including Japanese, Irish, and world whiskies, but the focus is on bourbon and scotch.
From there, take a short walk to Ashton Cigar Bar, a second-floor lounge that boasts nearly 400 whiskies, 200 cigars, and roughly 500 other spirits. Ashton has sofa, bar, and table seating, with a handful of tables overlooking Chestnut Street and many facing the bar's walk-in humidor.
For dinner, try Bank & Bourbon in the Loews Hotel. The restaurant, helmed by chef Joe Thomas, serves American fare with a local flair: the cheeses and chickens are sourced from Pennsylvania farms. Bank & Bourbon has a robust cocktail program too, offering cocktails barrel-aged in house, as well as specialties like the Secret Knock, made with whiskey matured on-site, green tea, lemon, and clarified milk.
After dinner, take a five-minute walk to Time on Sansom Street, between 13th and Juniper. While it houses three bars, with one focused on live music and one for dancing, Time really takes flight in its dedicated whisky bar, which does not have a cover. Featuring over 200 whiskies, Time offers a deep dive into scotch, Irish, and American whiskies, with a sizable portion of the list priced at $20 or less a pour.
Time's whisky flights are of particular interest; while they cover common ground—offering a selection from an individual producer or region—the whiskies chosen are unique and step off the beaten path. Time's bourbon flight, for example, serves Jefferson's Very Small Batch, Longbranch, and Old Elk, and its Irish flight includes Green Spot, Teeling Single Grain, and The Sexton single malt.
Day Two
For breakfast, check out Green Eggs Cafe on 18th Street between Ludlow and Ranstead in Center City. The restaurant—which has a few outposts dotted around the city—offers diner staples like eggs and omelets as well as four different kinds of eggs Benedict. If you're looking for the heartiest option to start your day, try the Kitchen Sink, a combination of eggs, sausage gravy, potatoes, cheese, peppers, onions, and a biscuit, all served in a skillet.
To kick off the second day of finding Philly's finest whiskies, take to the El at 15th Street/City Hall or at 13th and Market Streets and head east to the Girard stop. Welcome to the Riverwards and, more specifically, Fishtown, Philly's trendiest neighborhood.
From the Girard station, head east on Girard Avenue for two blocks to Frankford Avenue. Visit Corridor Contemporary, a modern art gallery with three floors of works from local, national, and international artists, or if street art is your interest, take a stroll and you'll find sanctioned and unsanctioned murals on many of the neighborhood's buildings. Shop for vintage home goods at Jinxed, visit the community-maintained Fishtown Rose Garden, and if music is of interest stop by Philadelphia Record Exchange for vinyl, cds, and cassettes spanning genres from hip-hop to country. While on Frankford, grab some lunch at Fette Sau, a barbecue and bourbon institution. Although Fette Sau stocks heavy hitters from bourbon's biggest distillers, including private barrel picks, the restaurant's commitment to local distillers is unmatched.
If you're looking to stop for a cheesesteak while you're in Philly, Fishtown's got you covered. At the corner of Frankford and Girard is Joe's Steaks + Soda Shop, a Philadelphia mainstay serving cheesesteaks (beef and chicken) and even a few vegetarian and vegan options. Beyond the classic cheesesteak—which I'd recommend with American cheese (not whiz), onions, and hot peppers—Joe's milkshakes are also great.
After lunch, head two blocks north on Frankford, then make a left on Master Street. Continue for about a third of a mile and take a right on Cadwallader Street where you'll find New Liberty Distillery, one of a handful of distilleries in Philadelphia making their own whiskey. There, in the distillery's courtyard bar, you can sample its Kinsey and New Liberty whiskeys neat or in cocktails, as well as take a tour of the distillery and pick up bottles in their store.
Take a 20-minute walk or grab a rideshare to Lloyd Whiskey Bar. On your way through the Fishtown neighborhood keep an eye out for the fish signs hanging from the row homes. Lloyd is Fishtown's best whisky bar, offering a selection of over 150 (with a heavy emphasis on bourbon and rye), affordable prices, and a relaxed atmosphere. Beyond showcasing a deep library of whiskies to try on their own, Lloyd is committed to the shot-and-beer combo Boilermaker—known in Philly as a Citywide Special—featuring 17 different whisky-and-beer combinations.
After a Citywide or two, walk west on Girard back to the El, and stop by another Fine Wine & Good Spirits Premium Collection store located at North Second Street and Girard Avenue. This location usually offers a good selection of FWGS store picks as well as one of the strongest selections of whiskies in the area.
It's time to head to South Philly for dinner. From the 15th Street/City Hall station, take the El's Broad Street Line south to Tasker-Morris, which will leave you a few blocks from Stateside, a gem serving creatively prepared and locally sourced small plates, alongside local beers and American whiskeys with pours like Blanton's and High West Bourye.
A few hundred feet south of Stateside is Manatawny Still Works Craft Spirits Shop and Tasting Room, the Philadelphia outpost of the regional Pottstown distillery. Stop in for a whiskey flight, which showcases Manatawny's Four Grain American whiskey (made primarily from malted barley, with wheat, oats, and rye) at two ages (older and younger than 3 years) alongside their Honey whiskey. If you're looking for something even more unique, try the Seventh Anniversary peated single malt.
While Philadelphia's bar scene offers plenty of upscale meals and high-end whiskies, a trip to the City of Brotherly Love wouldn't be complete without a stop at Bob and Barbara's Lounge, a no-frills, cash-only bar best known for its $4 Citywides with Jim Beam and PBR. Relax, take in some soul jazz, and finish your night in an uncomplicated, classic Philly bar.
Distilleries
Manatawny Still Works Craft Spirits Shop and Tasting Room 1603 E Passyunk Ave.
New Liberty Distillery 1431 Cadwallader St.
Bars/Restaurants
Ashton Cigar Bar 1522 Walnut St.
Bank & Bourbon 1200 Market St.
Bob & Barbara's Lounge 1509 South St.
Fette Sau 1208 Frankford Ave.
Green Eggs Cafe 33 S 18th St
Joe's Steaks + Soda Shop 1 W Girard Ave.
Lloyd Whiskey Bar 529 E Girard Ave.
Monk's Café 264 S 16th St.
The Olde Bar 125 Walnut St.
Red Owl Tavern 433 Chestnut St.
Stateside 1536 E Passyunk Ave.
Time 1315 Sansom St.
Village Whiskey 118 S 20th St.
Hotels
The Bellevue 200 S Broad St.
Club Quarters Center City 1628 Chestnut St.
DoubleTree Center City 237 S Broad St.
Loews Philadelphia 1200 Market St.
Stores
Fine Wine & Good Spirits 1112 Chestnut St.; 180 W Girard Ave
Attractions
Corridor Contemporary 1315 Frankford Ave
Jinxed 1331 Frankford Ave.
Philadelphia Record Exchange 1524 Frankford Ave.