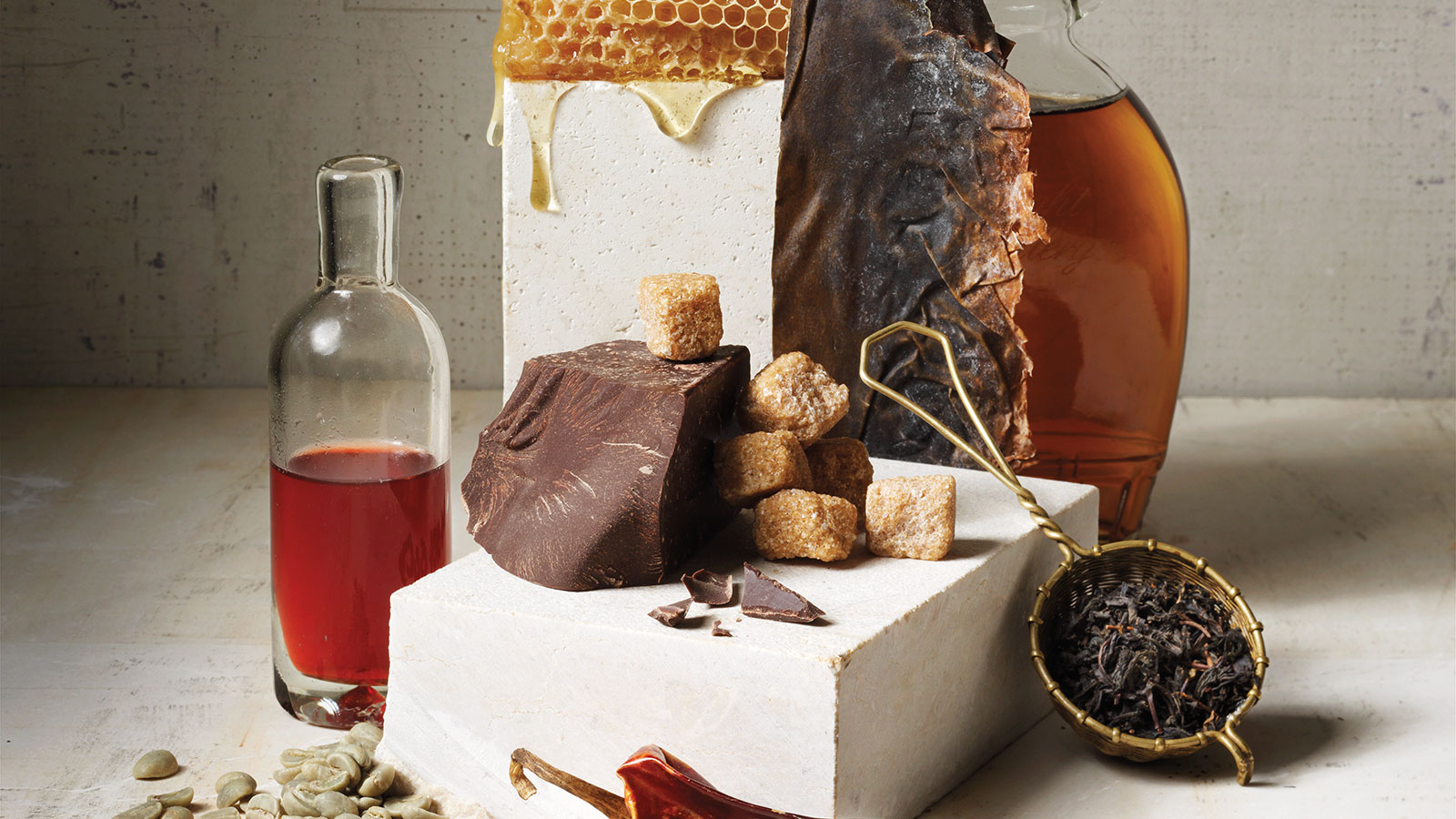 (Photo by Jeff Harris)
America's bourbon barrels, which can be used to age whiskey here only once, are the globetrotting alchemical vessels that keep many of the world's spirits flowing, crossing the Atlantic to house scotch or sailing to the Caribbean to cradle rum. Brewers have also embraced these barrels to create complex and robust beers, like Goose Island Beer Co.'s Bourbon County Stout and its many imitators. Now, with the current fervor for American whiskey, barrel aging includes much more than just alcohol beverages, expanding its footprint in the wider culinary world with bold steps and new techniques that promise to bring the magic of barrel-aged flavor to fine dining, or your breakfast table.
How Sweet It Is
Steven Stallard, a professional chef and whiskey lover, founded Blis Gourmet in Grand Rapids, Mich. in 2004 to put his chef's penchant for ingredient sourcing and flavor construction to work, creating specialty foods like salmon and arctic char cured over whiskey barrel staves. Struck by the rapturous sweet and boozy flavors emanating from the bourbon barrels he'd acquired, Stallard was inspired to conduct an experiment aging maple syrup in them. "At the time, the barrels were like $15 a pop, but the investment in the maple syrup was $3,000, so that was really the bigger risk. I didn't know if it would leak out or how it would taste," says Stallard.
Today, Blis houses hundreds of barrels filled with maple syrup, allowed to age from 6 to 12 months before the syrup is filtered and boiled to strip away any alcohol, leaving only the lasting flavor impression of the barrels. "We want the beautiful butterscotchy bourbon flavor, but avoid taking it to a point where the wood is dominant. We have barrels that held 18, 21, and 24 year old bourbon, so we monitor and blend across them. You can get a really hot one that is throwing a lot of flavor," explains Stallard, who notes he is particular about his barrels, requiring they held bourbon a minimum of 12 years and preferring only non-wheated whiskey.
Stallard soon realized that barrels that held maple syrup for up to a year were not tapped of their flavor, but only getting better! In addition to sharing them with eager brewers, he began filling them yet again, with vinegar, then hot sauce, even teaming with Yamato Soy to import soy sauce aged for 1 year in Kanazawa, Japan before adding another year in 20 year old maple-cured bourbon barrels. "We are squeezing every single thing we can out of the barrel. We don't use it up, but nourish it. So you just keep creating new products," beams Stallard, whose Blis Blast Hot Sauce is the last stop for barrels that previously held bourbon, maple syrup, and Founders Brewing Co. Kentucky Breakfast Stout.
Tim Burton, owner of Burton's Maplewood Farm in Medora, Ind., is keenly aware of the effect of bourbon barrels on his homemade maple syrup, as well as the loyal whiskey lovers those barrels attract. Each of Burton's barrel-aged maple syrups emerges from a single barrel and bears the name of its distillery; notable producers like Prichard's, High West, Breckenridge, and Koval.
Among this who's who of American craft distillers, Burton says he has never paid for a barrel, but acquires them through goodwill, by placing phone calls or knocking on distillery doors. "It's really been a collaborative effort. I deal directly with the owners or the decision makers," says Burton. "I just swung by Garrison Brothers distillery [in Texas] and Dan Garrison loaded me up with like eight barrels, so you'll see that syrup around December." Burton has also obtained barrels from some larger Kentucky distillers interested in contributing to his maple syrup, but he says requests for exorbitant liability insurance and other onerous legal requirements ultimately prevented him from adding their names to the roster of barrel-aged Burton's. Now, he's content to keep things small.
Like many great whiskey tales, Burton's process includes the serendipity of a forgotten cask, a Hungarian oak brandy barrel that lay neglected for a full year near his enormous Rumford fireplace. "I thought it was empty, but what we discovered inside was amazing! Now, all our syrup is aged for 12 months, and 'fire infused.' That means twice a month we heat the barrel to 30 degrees above the ambient air temperature," explains Burton, describing a process reminiscent of that used in some American whiskey warehouses. Burton is unsure how long maple syrup can age, but a Madagascar vanilla-infused rendition he created for Virgin Atlantic remains in bourbon barrels for a full 3 years.
Honey has certainly been the hottest flavor in whiskey, but could whiskey become the hottest flavor in honey? Woodinville Whiskey Co. in Washington is aging both maple syrup and honey in their used barrels and selling it at the distillery. And Tim Norray, beekeeper at Norray's Honey in Berne, N.Y., sees barrel aging as a way to open up new opportunities for his family honey business, now entering the third generation. "It's a simple recipe: honey and a barrel. But you have different whiskeys and chars in the barrels, and each honey is really a snapshot of the flowers that are blooming at that moment, so it's about finding the right combination," says Norray.
Norray combines late-season, dark-hued honey with barrels sourced from New York's Kings County distillery, bottling the smoky, spicy sweetener under the name Black Sheep Honey. With the addition of bourbon barrel aging, Norray sees Black Sheep Honey expanding potential consumers and occasions for his honey, ideal for glazing meats on the grill or sweetening a smoky tea. Given its instant popularity, Norray anticipates he may eventually age half of his seven-ton annual production in barrels. "We see the barrel flavor start to kick in after 3 or 4 months. The whiskey guys are used to waiting. For a beekeeper, waiting is the hardest part," he says.
Coffee or Tea?
The barrel aging frontier is pushing beyond just liquids, with coffee beans leading the charge. According to Terry Patano, owner of Doma Coffee Roasting Company in Post Falls, Idaho, green coffee beans are highly susceptible to absorbing unwanted odors and flavors. So, about two years ago, he got the idea to impart the desirable flavors of whiskey and called upon Dry Fly Distilling in Spokane for some used barrels.
In many ways, flavoring coffee is a bold move for a small organic roaster, party to the so-called "third wave" of coffee, which generally looks upon flavored coffees with the same skepticism whiskey lovers might reserve for honey-pepper whiskey. "It's not going to appeal to the hipster crowd. To them, whiskey flavored coffee is not cool," says Patano, while noting that Doma Whiskey Barrel Aged Coffee is a high-quality flavored product that bears little resemblance to the hazelnut brew at your corner gas station. "That is usually a terrible product with a low quality bean. Here, we are using a medium-roast, single-origin Ethiopian coffee that complements the whiskey," resulting in flavors he describes as vanilla, butterscotch, and crème brulee. Given the extra labor and expense, a 12 oz. can of Doma Whiskey Barrel Aged Coffee, their only flavored product, commands $25, versus around $14 for other Doma fresh roast.
Tal Fishman, founder of Whiskey Barrel Coffee in Denver (See Whisky Advocate, Spring 2016), specializes in the marriage of coffee and whiskey barrels, having begun his exploration five years ago. According to Fishman, he was inspired by complementary flavors, but mostly by a personal passion for both beverages. "It was something missing from my life," says Fishman. "There is a lot of similarity between coffee and whiskey. When I finish a meal, I might have a Booker's [bourbon], but I also enjoy coffee. This is created as an after-dinner drink that satisfies that social occasion with a wonderful and unique flavor." Oddly enough, Fishman discovered that many people who don't like whiskey do enjoy Whiskey Barrel Coffee.
Unlike coffee purists, many tea drinkers appreciate the flavoring, or scenting, of tea as a venerated art, with centuries of tradition dedicated to bringing notes of jasmine flowers or bergamot to the precious leaves. "I became infatuated with the idea of scenting tea. Tea is like a sponge, and there are many vessels in each leaf that will absorb scent," says Rodrick J. Markus, president and master blender of Rare Tea Cellar Inc., Chicago, who has been aging fine tea in barrels for the past nine years. "People are just gaga over seeing their favorite whiskey with tea," he says.
Although barrel-aged tea represents just 2 percent of sales for Rare Tea Cellar, Markus currently has about 175 barrels in play, yielding delights like a smoky-sweet Forbidden Forest Lapsang Souchong aged in Willett rye barrels for 6 to 9 months and RTC Barrel Aged Chai, comprised of high mountain black teas aged for 3 to 6 months in a Templeton rye barrel along with $1,000 worth of Tonga Island vanilla.
Peering across a palette of luxurious scenting ingredients, Markus says whiskey barrels present the greatest sourcing challenge. "Everyone is clamoring for these barrels, so we are just doing anything we can to get the right barrels. A lot of barrel aging is moving away from the pedigree of the barrel for that very reason, as people are forced to be more generic in their acquisition," he says. In addition to fine tea, Markus has aged both Demerara sugar and kombu seaweed in whiskey barrels, successful experiments that were eagerly gobbled up by Chicago chefs. "Do you know how difficult it is to get a leaf of seaweed out of a barrel?" says Markus.
Put More Barrel in Your Cocktail
For bartenders who age their Negronis or Manhattans in barrels, these vessels have demonstrated the ability to not only impart flavor, but also uniquely marry ingredients. Now, even amateur mixologists can enjoy the harmonious character that barrel aging brings to cocktails. Bittermilk of Charleston, S.C. ages two cocktail mixers in whiskey barrels, including No.1 Bourbon Barrel Aged Old-Fashioned (aged in Willett bourbon barrels for 30 days) and No.4 New Orleans Style Old-Fashioned Rouge (aged in a Willett Family Reserve rye barrel).
"We arrived at two different barrels because the bourbon imparts more sweetness. The rye is a bit drier and works well with flavors of wormwood and licorice root, while giving a nod to the Sazerac cocktail," explains MariElena Raya, who owns Bittermilk with her husband Joe Raya. The No. 1 Bourbon Barrel Aged Old-Fashioned, which relies on the bitter-sweet-acid balance of caramelized sugar tempered by barrel aging, is the top seller. "We line price our products at $15. Each has different ingredients and expenses, but the most expensive part by far of crafting No.1 is the barrels," reveals Raya.
Bitters producers have also benefited from aging their bitters in barrels. Fee Brothers of Rochester, N.Y. includes several barrel-aged bitters in their range, and Cole Benoit, owner of The Apothecary Bitters Company in Vancouver, British Columbia recently chose an eight-gallon barrel purchased from Woodinville Whiskey Company to age his aromatic bitters. "I like their whiskey. It was also size appropriate," says Benoit, who backed off on the sugar in his small-batch bitters in anticipation of the added sweetness of the barrel. Following 4 months of aging, he says the barrel-aged bitters emerge "more cohesive, with more of a whole flavor." Benoit's newly created orange bitters are aging in the same barrel now.
Buy the Barrel
Beyond their shared flavors, the best barrel-aged provisions have something else in common: premium pricing. Given the added expense and effort of whiskey barrel aging, it only stands to reason that the people embracing the practice tend to fill their barrels with the finest commodities. Marx Foods, a Seattle-based specialty foods supplier, offers a curated selection of some of the best barrel-aged goods, including two-ounce Raaka Bourbon Cask Aged chocolate bars for $8 and twelve ounces of Burton's Maple syrup at $39. Kim Brauer, Marx Foods' culinary concierge, says customers are excited about whiskey barrel products and have appreciation for the additional labor and cost they entail. "I have not seen a lot of sticker shock. I think people know the flavor and they know whiskey as a premium product to start with. They understand that putting something in a whiskey barrel adds value," explains Brauer.
Marx evaluated about 700 products last year, choosing less than 5 percent to retail. Demonstrating that whiskey barrel aging is not just an American phenomenon, Marx accepted Haku Iwashi Whiskey Barrel Aged Fish Sauce, which takes its name from the Iwashi sardine from the Sea of Japan, and receives its final year of aging in Japanese whisky barrels, resulting in a delicately flavored fish sauce suitable for finishing dishes. Marx also gives high praise to a peculiar vegetarian Worcestershire sauce aged in bourbon barrels by Louisville's Bourbon Barrel Foods.
Nate Hodge, co-founder and head chocolate maker of Brooklyn-based Raaka says his Raaka Bourbon Cask Aged bar, made using cacao nibs aged in Berkshire Mountain Distilling bourbon barrels, is an ideal entry into dark chocolates. "With 82 percent cacao, it is one of the darkest chocolates you can pick up and aging in a bourbon cask actually makes it much, much more palatable," says Hodge, noting added flavors of caramel, vanilla, and oak.
Hodge ages the nibs in cask for about 5 weeks and each barrel yields about 2,500 bars. In the past five years, Raaka has produced over 50,000 of the popular specialty. With barrels becoming increasingly expensive to source, however, Hodge has devised a clever way to get a second use from each barrel, by washing it down with a bottle of whiskey to reinvigorate the flavors. "We tried gin and rum barrels, but they did not come out very well. With bourbon we get this simulated Maillard reaction that is similar to roasting chocolate. I would not go so far as to say the exact bourbon or percentage of corn results in a difference. For us, it's all about the barrel," says Hodge.