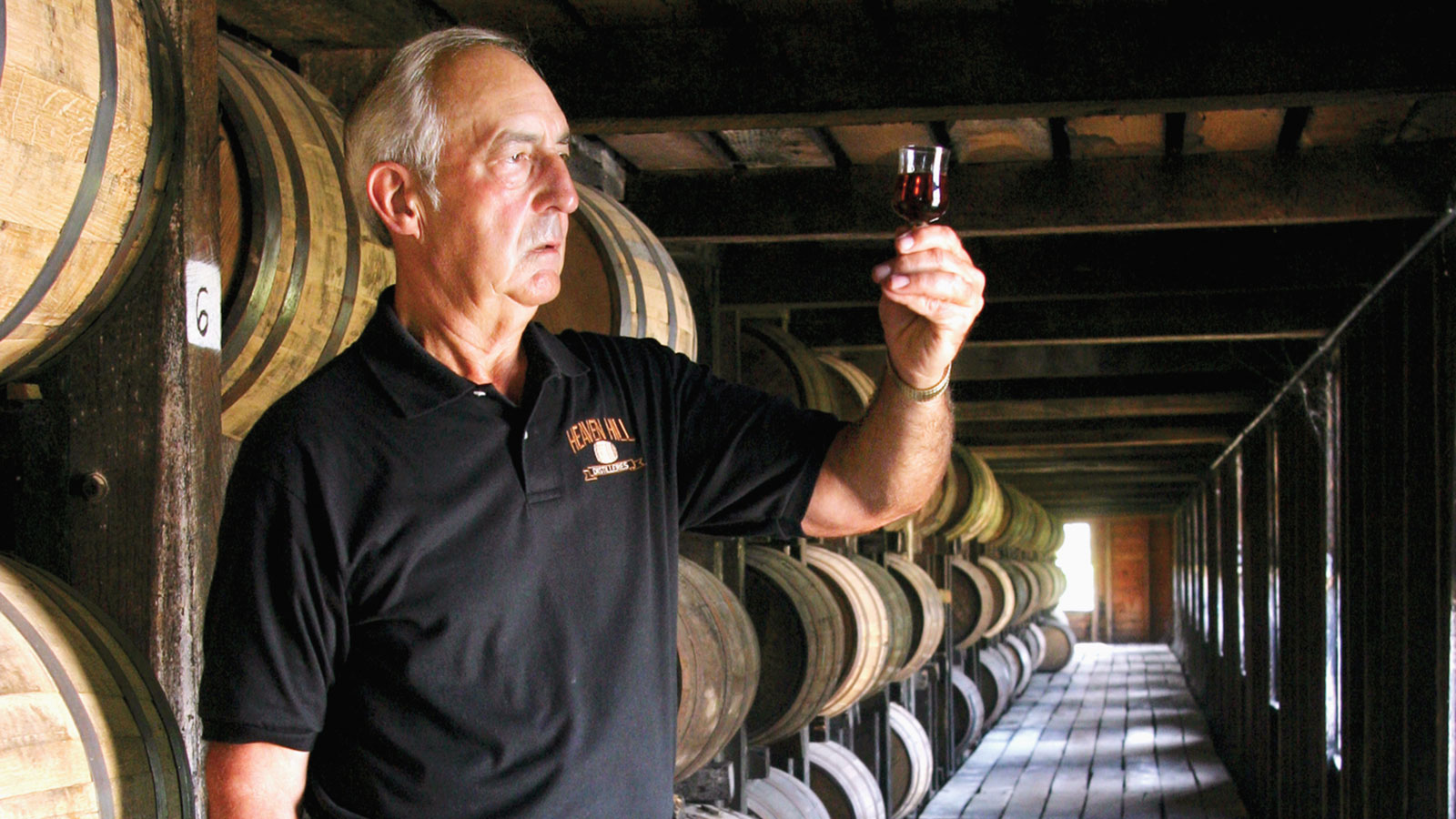 The whiskey world shines a little less brightly today with the death of Parker Beam, who passed away last night. The longtime master distiller at Heaven Hill, an independent, family-owned distilled spirits company based in Bardstown, Kentucky, Parker had been fighting amyotrophic lateral sclerosis (ALS—also known as Lou Gehrig's disease) for the last six years—a public battle that brought the entire Kentucky bourbon community out to rally around him and push for a cure.
Parker grew up learning from his father, Earl Beam, who was master distiller at Heaven Hill before him. Parker started his official career in 1960, although he had worked odd jobs at the distillery even as a child. He became master distiller in 1975, and over the course of his career, he was an industry leader in innovation and quality through brands like Evan Williams and Elijah Craig. He had been master distiller emeritus at Heaven Hill since 2013, when he passed the reins to his son, Craig.
Parker's prowess as a master distiller became legendary over the course of his career, and he was honored with Whisky Advocate's Lifetime Achievement Award in 2003. He also netted two Whisky Advocate American Whiskey of the Year awards for Parker's Heritage Collection 27 year old bourbon in 2008 and Parker's Heritage Collection "Golden Anniversary" bourbon in 2009. In 2013, after Parker announced news of his illness publicly, his colleagues from Kentucky's leading distilleries—including Jimmy Russell of Wild Turkey, Fred Noe of Jim Beam, Jim Rutledge of Four Roses, Chris Morris of Woodford Reserve, Harlen Wheatley of Buffalo Trace, and Greg Davis of Maker's Mark—each donated a bottle of bourbon, which Parker blended, along with a bottle of Heaven Hill bourbon, to create a special whiskey called Master Distillers' Unity. Whisky Advocate editor and publisher John Hansell and some of the contributing distillers, as well as Craig Beam, honored Parker that year at WhiskyFest New York, leading a special tasting of Unity. Only two bottles of the whiskey were made available for purchase at auction, resulting in a donation of $8,500 to the ALS Association. In addition, since 2013, Heaven Hill has donated a portion of sales of each year's Parker's Heritage Collection bourbon to the ALS Association's Parker Beam Promise of Hope Fund, with over half a million dollars raised so far.
"The whiskey industry lost a legend," says Hansell. "Parker was one of the most passionate, hardest working people I've ever met. Every bottle of whiskey he helped produce was synonymous with quality. But more importantly, we lost a member of our whiskey family. That's how I've always felt about Parker—as family—because that's how he and his lovely wife Linda always treated me. And I know that everyone else whose lives he touched feels the same way."
Parker is survived by his wife, Linda, his son, Craig, and numerous family members and loved ones, including his colleagues at Heaven Hill.