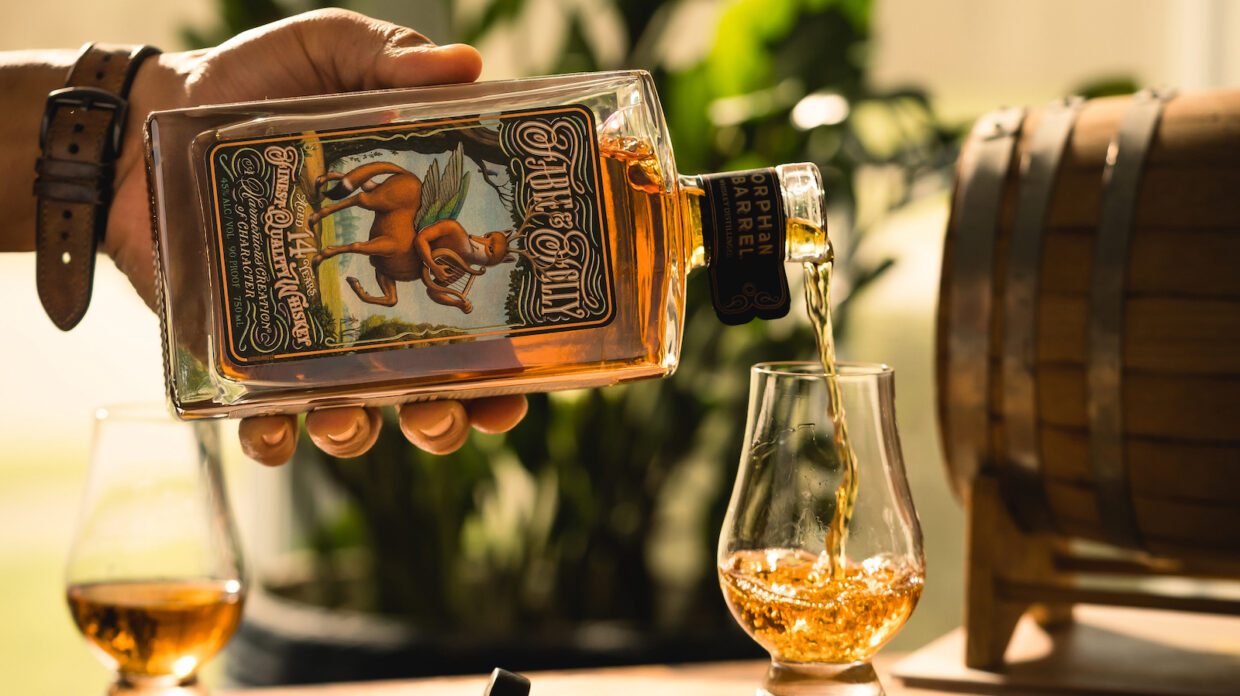 Cask-finished bourbons and ryes are an anomaly of the U.S. whiskey scene, given that U.S. regulations require them to be matured in "charred new oak containers." But bourbon and rye makers have gone boldly forth, exploring a myriad of finishes with barrels previously used for cognac, port, cabernet sauvignon, tequila, and other spirits and wine types. We selected the highest-scoring cask-finished bourbons and ryes from our Spring 2022 Buying Guide, so take look at the power of secondary finishing on American whiskeys.
There are also plenty of new whiskies to explore right here. Orphan Barrel releases a 14 year old Kentucky blend, The Last Drop debuts a duo of aged single malts from Japan and Scotland, and the Holladay Distillery introduces a bottled in bond Missouri bourbon. Read on for full details.
Orphan Barrel Fable & Folly
Style: Blended
Origin: Kentucky
Age: 14 year old
ABV: 45%
Price: $150
Release: April 2022
Availability: Limited
Need to know:
This whiskey merges the last remaining stocks of Orphan Barrel's Barterhouse, Forged Oak, and various Rhetoric releases with a proprietary blend made by master blender Andrew Mackay. 
Whisky Advocate says:
Orphan Barrel owner Diageo didn't disclose the ages of all the components in this blend, though the age statement on the bottle is 14 years. Since that number references the youngest whiskey in the blend, it's possible that this release contains whiskeys older than that. Barterhouse, the first release in the Orphan Barrel series, was 20 year old bourbon. Similarly, the first Rhetoric whiskey was 20 years old, with 21, 22, 23, 24, and 25 year old expressions also within the range.
The Last Drop 20 year old Japanese Blended Whisky
Style: Blended malt
Origin: Japan
Age: 20 year old
ABV: 60%
Price: $5,699
Release: April 2022
Availability: 177 bottles worldwide
The Last Drop 1977 Glenturret 44 year old
Style: Single malt
Origin: Scotland (Highlands)
Age: 44 year old
ABV: 45%
Price: $6,199
Release: April 2022
Availability: 168 bottles worldwide
Need to know:
The Last Drop Distillers' 2022 Collection is comprised of three new bottlings—including its first Japanese whisky, a new Highland single malt scotch, and a 70 year old single-estate cognac. The Japanese blended malt was built around parcels of Hanyu whisky from the beginning and end of its brief period of operation between 1980 and 2000. These have been blended with other Japanese-distilled single malts and matured in a sherry cask. The single malt was produced in 1977 at Glenturret Distillery. This whisky was fully matured in a sherry hogshead, and is only the fifth single malt release from The Last Drop Distillers since 2008.
Whisky Advocate says:
The Last Drop Distillers is writing a new chapter in its history, having released a 50 year old signature blend in 2021 created by Colin Scott, the former Chivas Brothers master blender, and unveiling a new design aesthetic for its 2022 Collection. The niche skill of The Last Drop Distillers is its ability to nose out stocks of extremely rare liquids and connect them with like-minded aficionados. Whisky Advocate has recognized their reputation for excellence with ratings ranging up to 96 points. Taking the intriguing route of blending valuable stocks of Hanyu at 20 and 40 years old, rather than bottling them as single malts, makes this release unique. 
Ben Holladay Bottled in Bond
Style: Bottled in bond bourbon
Origin: Missouri
Age: Not stated
ABV: 50%
Price: $60
Release: May 2022
Availability: Missouri and Kansas with national rollout to follow
Need to know:
Distilled in the spring of 2016 and bottled at 6 years old, this bourbon meets the requirements for both bottled in bond and Missouri bourbon.
Whisky Advocate says:
Missouri established its own style of bourbon in 2019, requiring anything labeled as such to be mashed, fermented, distilled, aged, and bottled in the state; aged in oak barrels manufactured in the state; and made with corn exclusively grown in the state, in addition to meeting all other federal requirements for bourbon. 
The Holladay Distillery, which is owned by the state's largest producer, McCormick Distilling, received a $10-million renovation in 2015 and began distilling on-site a short time after that. When we first reported on the formation of the Missouri bourbon category, McCormick Distilling declined to comment, though there was anticipation that it would bottle a Missouri bourbon the following year at 4 years old. It would seem that Holladay decided to wait a little while longer to release this whiskey. We look forward to trying this and other Missouri bourbons to see how they compare against their counterparts in Kentucky and elsewhere in the country. 
Mischief Farm Bonfire Smoky Rye
Style: Flavored
Origin: New York
Age: Not stated
ABV: 45%
Price: $47
Release: April 22nd
Availability: 3,000 bottles
Need to know:
Actors Jeffrey Dean Morgan and Hilarie Burton Morgan have teamed up with The Vale Fox Distillery in Poughkeepsie, New York to release the MF Libations line of spirits inspired by the Hudson Valley, where their Mischief Farm is located. One of two initial releases, this rye whiskey was aged for 2 years and infused with lapsang souchong tea from the Wuyi Mountains of Asia. MF Libations is also launching a blackberry gin, with both spirits available on ReserveBar starting April 22.
Whisky Advocate says:
New York's Hudson Valley is rich with great food, beautiful scenery, and a lively craft distilling scene. While there is plenty of great whiskey to enjoy in New York City, and Brooklyn in particular, the Hudson Valley has the space and climate for farm distilleries like Hillrock Estate to grow their own grain, like rye and barley. 
This whiskey's use of tea reminds us of FEW Immortal Rye (87 points) which is cut with oolong tea rather that water. If you want brush up on your ability to pick out tea notes in whiskey, we have a tasting lesson to guide you.