If you're the type of whisky drinker who cherishes being the first to get their hands on new releases, distillery clubs will keep you in the know when products drop, give you access to exclusive tastings, and get you discounts on merchandise and tours. We detailed the many perks of joining a distillery club, and spoke to some of the loyal patrons who enjoy them.
As for new releases within the wider world of whisky, Maker's Mark introduces a second limited-edition stave finish for 2021, Macallan adds a 30 year old to its Double Cask line, and Westland unveils its 6th edition of Garryana. Read on for full details.
Maker's Mark Wood Finishing Series 2021 Limited Release: FAE-02
Style: Straight bourbon
Origin: Kentucky
Age: Not stated
ABV: 54.55%
Price: $60
Release: September 2021
Availability: Limited
Need to know:
This is the second limited edition stave finish released by Maker's Mark this year following FAE-01 this spring. Maker's Mark doesn't chill filter its whiskeys, which results in the presence of fatty acid esters (the FAE referred to in the name). FAE-02 was produced with double heat-treated virgin French oak barrel staves that underwent an infrared exposure prior to a flame toast finish. The process is aimed at yielding a more full bodied whiskey.
Whisky Advocate says:
Maker's Mark introduced the Stave Finishing series in 2019, exploring the flavor possibilities with stave options that can be combined a number of different ways. Both the 2019 release (RC6) and the 2020 release (SE4xPR5) were rated 93 points by our tasting panel, as Jane Bowie, director of innovation at Maker's Mark, has crafted different expressions that are consistent in quality. We spoke to Jane on our Instagram Live show #TasteWithSpace last August, about creating these limited edition whiskeys and the distillery's stave finishing program.
Macallan 30 year old Double Cask
Style: Single malt
Origin: Scotland (Speyside)
Age: 30 year old
ABV: 43%
Price: $4,000
Release: September 2021
Availability: Limited
Need to know:
This new addition to the Macallan Double Cask range is comprised of American and European oak casks that were seasoned with oloroso sherry. In July 2020, Macallan added a 15 year old and 18 year old single malt to its Double Cask range after introducing the 12 year old Double Cask in 2017.
Whisky Advocate says:
Both the 12 year old and 15 year old Double Cask landed on our Top 20 list in their respective release years (2017 and 2020). While the price point on this 30 year old likely puts it a bit out of reach for most of us, we certainly look forward to reviewing it.
Highland Park 15 year old Viking Heart
Style: Single malt
Origin: Scotland (Islands)
Age: 15 year old
ABV: 44%
Price: $110
Release: Fall 2021
Availability: Nationally
Need to know:
The new 15 year old blends a high percentage of whisky matured in first-fill sherry-seasoned European oak with sherry-seasoned American oak barrels and a little bit of whisky matured in Highland Park refill barrels. The whisky comes in an embossed ceramic bottle inspired by the earthenware jars that the distillery would have used to store the whisky centuries ago. Viking Heart is a permanent addition to Highland Park's family of Orkney whiskies.
Whisky Advocate says:
Viking Heart marks the return of a 15 year old whisky from Highland Park for the first time since mid-2016 when the distillery dropped the old bottling due to supply constraints. While the previous 15 year old was meant as a limited release that proved tremendously popular and stuck around until the distillery ran out, the new Viking Heart has a permanent place in Highland Park's lineup. This summer, Highland Park 12 year old Viking Honour was picked as one of Whisky Advocate's Editors' Choice selections after scoring 92 points.
Westland Garryana (6th Edition)
Style: Single malt
Origin: Washington
Age: Not stated
ABV: 50%
Price: $150
Release: October 2021
Availability: 5,922 bottles globally
Need to know:
The whiskey in this edition includes 10 casks that were originally matured in virgin American oak for 35 to 45 months before being finished in second fill PX sherry casks for an additional 30 to 38 months. Those casks were then married with whiskey from two calvados casks, one American grape brandy cask, one Washington apple brandy cask, and eight casks made from Quercus garryana, the rare oak native to the Pacific Northwest that gives this series its name.
Westland points out that not all the whisky from these casks was bottled for this release. What wasn't bottled was married and filled into other Garry oak casks for future releases.
Whisky Advocate says:
Last August, Westland introduced its new Outpost range, of which Garryana will be a part, along with Colere and Solum. Each edition of Garryana will be slightly different but given the scarcity of the oak, they are all limited. You can catch our chat with Matt Hofmann, co-founder and master distiller at Westland, from earlier this year on IGTV, where he tastes through and discusses the full Outpost range.
Big Peat Christmas Edition 2021
Style: Blended malt
Origin: Scotland (Islay)
Age: Not stated
ABV: 52.8%
Price: $55
Release: September 2021
Availability: Limited
Need to know:
The latest edition of Douglas Laing's Big Peat Christmas release, as with previous expressions, contains single malt whiskies from Islay mainstays Ardbeg, Bowmore, Caol Ila, and Port Ellen.
Whisky Advocate says:
Unlike the original Big Peat, the Christmas Edition pairs smoke with clove-led spices and toffee sweetness, packing a flavorful punch. As an added bonus, this whisky often scores above 90 points by our tasting panel, so if you or someone you know is a fan of peat bombs, keep this one in mind ahead of the holiday season.
Blue Note Crossroads
Style: Straight bourbon
Origin: Indiana
Age: Not stated
ABV: 50%
Price: $40
Release: September 2021
Availability: Nationwide
Need to know:
Memphis-based brand Blue Note adds this whiskey to its range. It was made from a mash of 60% corn, 36% rye, and 4% malted barley, and finished with a proprietary blend of two types of toasted French oak. The name pays homage to blues history, specifically where Highway 61 and Highway 49 meet in Mississippi. Known as the "Devil's Crossroads," this is the alleged place where Robert Johnson birthed the blues. By combining American and French oak, Blue Note sees this whiskey as a crossroads of sorts as well.
Whisky Advocate says:
Blue Note last released a 17 year old single barrel bourbon this summer, and that whisky will be reviewed in the upcoming Fall issue of Whisky Advocate. Crossroads comes in a decidedly lower price point, and joins a range that also includes Juke Joint (86 points) and a 9 year old straight bourbon (90 points).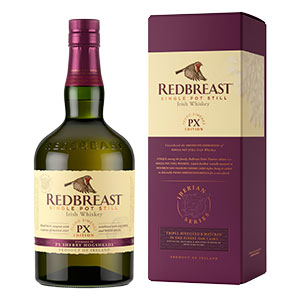 Redbreast Pedro Ximénez Edition
Style: Single pot still
Origin: Ireland
Age: Not stated
ABV: 46%
Price: $86
Release: September 2021 (November 2021 in the U.S.)
Availability: Limited, but nationwide
Need to know:
Redbreast Pedro Ximénez (PX) Edition was finished for 12–22 months in hogsheads seasoned with PX sherry for 2 years. The family-run Antonio Páez Lobato cooperage developed these Spanish oak hogsheads, which are a less traditional cask size than a sherry butt, and were chosen for their ability to intensify the flavor through their increased surface area. This triple distilled limited release heralds Redbreast's new Iberian Series, which will include Redbreast Lustau and up to two annual limited editions, combining the traditions of wine and whiskey making between the Iberian peninsula and Ireland.
Whisky Advocate says:
Pedro Ximénez casks are not part of the routine sherry cask maturation program for the Redbreast range. Master blender Billy Leighton has only ever used PX butts on the strictly limited Redbreast Dream Cask 20 year old Pedro Ximénez Edition in 2019, so this will be the first opportunity for many Irish whiskey drinkers to taste how PX influences the Redbreast style.
Jeptha Creed Bloody Butcher's Creed Corn
Style: Straight bourbon
Origin: Kentucky
Age: 2 years, 9 months
ABV: 50%
Price: $53
Release: September 2021
Availability: AK, DC, KY, ND
Need to know:
This whiskey uses 90% Bloody Butcher corn, an heirloom varietal, in its mashbill. The remaining 10% of the mashbill is 5% malted rye and 5% malted barley. All the corn used for Jeptha Creed's spirits are grown on the Jeptha Creed farm. 
Whisky Advocate says:
Very few distilleries have made a whiskey using primarily Bloody Butcher corn in their mashbill. This heirloom varietal has a tendency to be a bit sweeter than yellow corn, so it's always fun to see how that impacts a whiskey's flavor.
Big Nose Kate
Style: Blended whiskey
Origin: Indiana, Texas, and Virginia
Age: Not stated
ABV: 45%
Price: $36
Release: September 2021
Availability: AZ, NM, OR
Need to know:
This whiskey blends straight ryes with an American single malt. It is named after Mary Katherine Horony Cummings, a figure of the Old West and common-law wife to gunfighter Doc Holiday. The whiskey comes from distiller Melissa Heim.
Whisky Advocate says:
There are only a handful of whiskies named after women, and those that come to mind are all blends. Jane Walker was a fictional character created by the Johnnie Walker team and Grace O'Malley, released in June 2020, is an Irish blend that pays homage to the 16th-century pirate by the same name. This whiskey is also noteworthy for its combination of rye and American single malt, a blend we haven't yet seen.