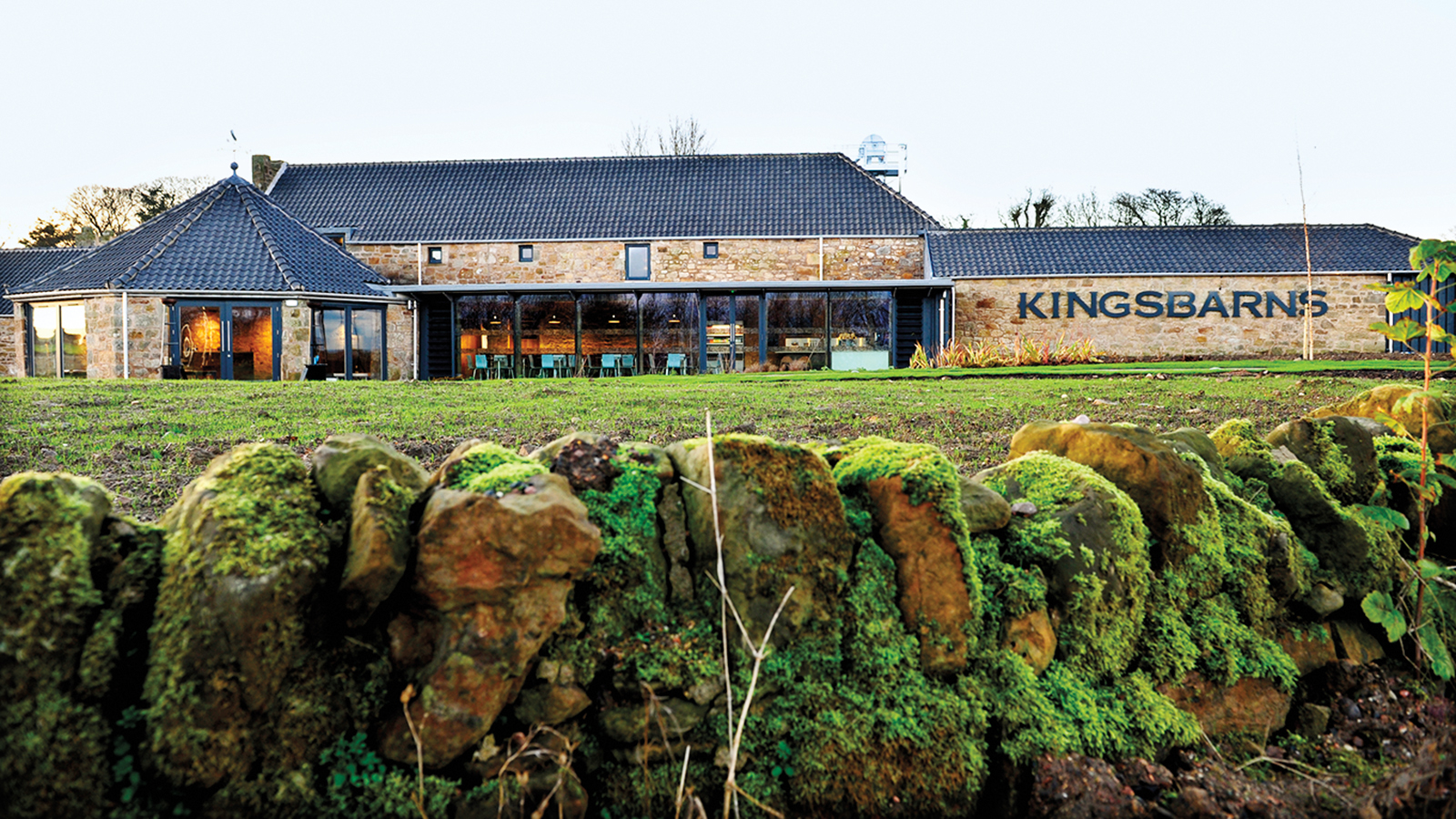 Visiting the Lowlands is really a matter of choosing the best city center for your stay. Glasgow is convenient to the western distilleries and offers a wide range of accommodations, restaurants, and whisky bars. However, if Annandale and Bladnoch top your list, Dumfries is worth consideration as a base. The historic town was home to Robert Burns from 1791 until his death in 1796. Visitors can explore his house and enjoy a dram in The Globe Inn, which was frequented by the poet, songwriter, and one-time excise officer.
Edinburgh is convenient to the eastern distilleries, and includes the Scotch Whisky Experience, an ideal introduction to Scotch whisky. As with Glasgow, there are many options when it comes to eating out and seeking a rare dram. An interesting alternative, however, is the historic and charming university town of St Andrews, close to the three Fife distilleries with visitor facilities—Eden Mill, Kingsbarns, and Lindores—and offering golfers many opportunities for a round or two on the greens, as well as a round or two at the bar.
Founded 2007; 16 stills; Annual capacity: 12 million liters
Ailsa Bay malt distillery is part of William Grant & Sons' vast distilling, blending, and warehousing operation, located on the outskirts of Girvan, by the Ayrshire coast. It is situated some 60 miles southwest of Glasgow via the A77/M77. There is no public access to Ailsa Bay, but don't miss the chance to try its game-changing Lowland single malt.
Founded 2014; 3 stills; Annual capacity: 500,000 liters
In November of 2017, Annandale's first single malt in 99 years came of age, marking an early release of the first new production. A range of tours is available, including a fascinating tour by distillery owner professor David Thomson, available by special arrangement. Local produce is available in the Maltings Coffee Shop.
Don't miss: Rascally Liquor, a new make spirit available in peated and unpeated versions.
Founded 1823; 3 stills; Annual capacity: 2 million liters
Auchentoshan can be found some ten miles from Glasgow city center at Dalmuir, accessed via the A82 road. Open seven days a week, Auchentoshan offers several tour options and has an enchanting retail shop.
Don't miss: The opportunity to select a cask and fill your own personalized bottle. (£80/$103).
Founded 1817; 4 stills; Annual capacity: 1.5 million liters
The most southerly distillery in Scotland, some 70 miles west of Annandale via the A75 trunk road, Bladnoch is due to open a new visitor center and launch a tour program in 2019.
Don't miss: The cozy Bladnoch Inn, located next to the distillery, offering a nice selection of Bladnoch drams. Food and drink are served all day and accommodations are also available.
Founded 2005; 2 stills; Annual capacity 65,000 liters
Situated near the historic town of Cupar in Fife, Daftmill is a busy working farm and a throwback to the days when whisky making closely followed the agricultural calendar, with the distillery housed in old converted stone buildings. There are no formal tours, but Daftmill may accommodate individuals and small groups with advance notice.
Don't miss: The Dutch-style century-old water tower, a regional landmark that still supplies water pressure, now operated by electricity rather than wind.
Founded 2014; 3 stills; Annual capacity 80,000 liters
Created within part of a former paper mill at Guardbridge, Eden Mill is ten miles northeast of Daftmill, using the A91. A brewery is located alongside the distillery, which also produces gin. Dedicated gin, whisky, or beer tours are available.
Don't miss: The distillery's precious 2 year old Oak Aged Spirits–too young to be called scotch whisky, but a taste of what's to come!
Founded 2014; 3 stills; Annual capacity: 200,000 liters
Glasgow Distillery is located on an industrial site in the Glasgow suburb of Hillington, and does not provide visitor facilities.
Don't miss: The distillery's Makar gin and Prometheus 26 year old single Speyside sherried malt, which is filling the gap until Glasgow single malt comes of age in 2018.
Founded 1837; 2 stills; Annual capacity: 2.5 million liters
Glenkinchie is situated fifteen miles southeast of Edinburgh via the A68, and a shuttle bus service operates daily between Edinburgh city center and the distillery.
In excess of 40,000 people visit each year to enjoy a variety of tour options ranging from a quick dram to two hours. The Museum of Malt Whisky Production resides in a space that housed floor maltings until 1969.
Don't miss: The Manager's Tasting, an opportunity to taste six different expressions with the distillery manager, offered on Fridays with reservations. (£150)
Founded 2015; 3 stills; Annual capacity 2 million liters
Along with Glasgow Distillery, Inchdairnie probably has the lowest profile of any in the region. It is located at Kinglassie, near Glenrothes in Fife, and offers no public access. Malt whisky is distilled both for blending purposes and to lay down for a future single malt release.
Founded 2014; 2 stills; Annual capacity: 600,000 liters
Close to the golfing Mecca of St Andrews, Kingsbarns distills whisky in classic Lowlands style, and since 2017, Darnley gin has also been produced on site. Kingsbarns is a dozen miles east of Eden Mill, by way of the A91. Kingsbarns is well equipped to cater to visitors, with a café, shop, and range of tour options starting at £10. These include an unusual evening tour.
Don't miss: Whisky production taking place Monday through Friday, and the chance to purchase bottles of Wemyss Malts' exclusive single cask and blended malt expressions.
Founded 2017; 3 stills; Annual capacity: 850,000 liters
Lindores is the very latest Lowlands distillery to commence production, with the official opening this past August. The distillery is located 25 miles west of Kingsbarns. Tours are available of this visually delightful distillery, created in a 200 year old former farm building.
Don't miss: A pilgrimage to the ruins of Lindores Abbey, established about 1191, the place where the recorded history of Scotch whisky began.