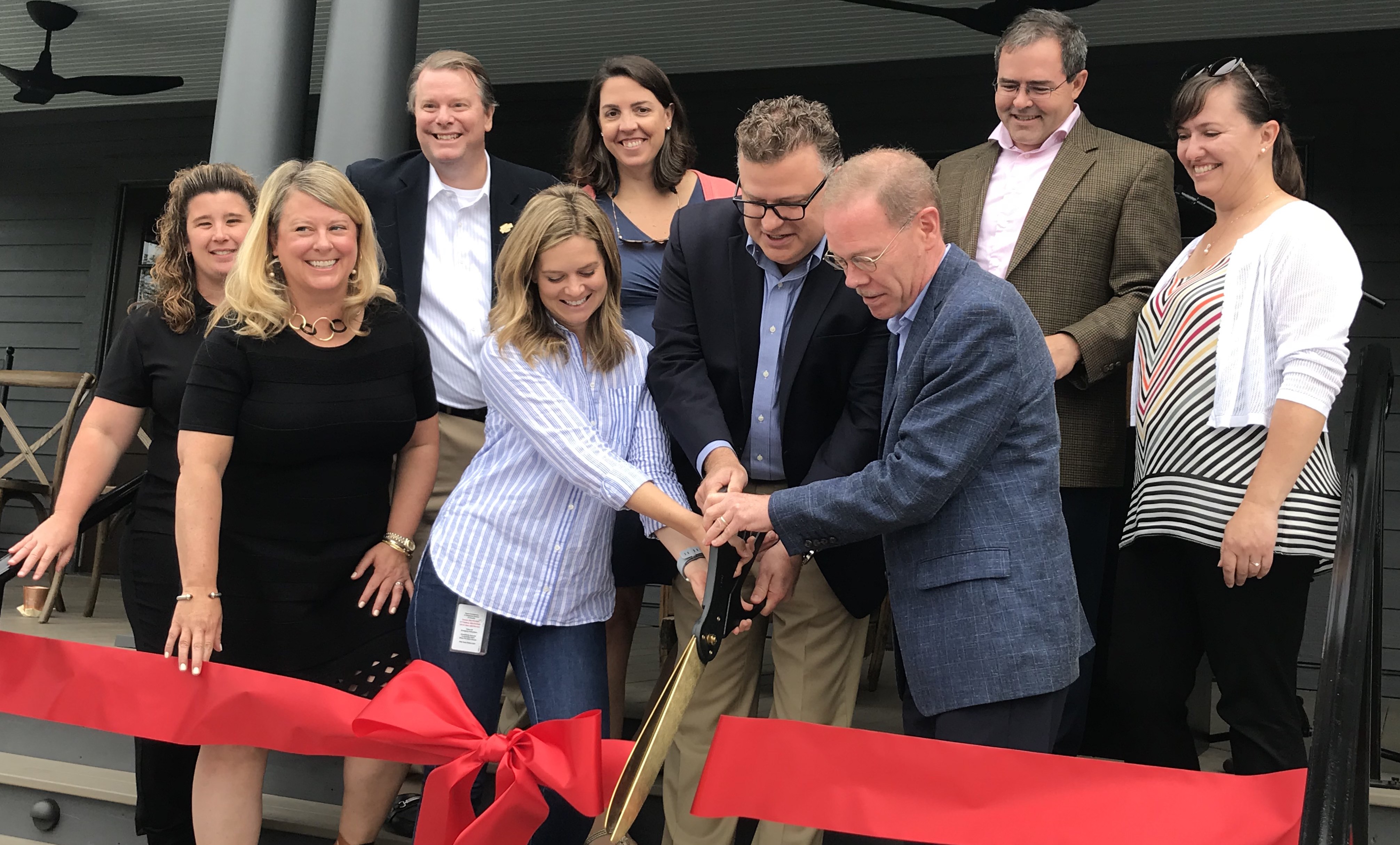 Each year, more than a million tourists drink their way through the Kentucky Bourbon Trail, souvenir passports in hand, eager to collect stamps from the 16 whiskey distilleries along the route. The trail includes Woodford Reserve in Versailles, which debuted a new welcome center on June 12. Five years of planning and two years of construction went into the facility, and there was a feeling of triumph when Woodford Reserve master distiller Chris Morris and assistant master distiller Elizabeth McCall cut the ribbon on the new building.
"We've always had a welcome center at the Woodford Reserve Distillery," says Chris Poynter, Woodford's public relations and partnerships manager. "However, we felt as though we needed to upgrade to accommodate the 1.4 million visitors that visited the Kentucky Bourbon Trail last year." The welcome center joins Woodford's existing visitor center, which continues to operate its gift shop, café, and cocktail bar.
Located on a plot of land so rooted in the bourbon industry that it was deemed a National Historic Landmark in 2000, Woodford Reserve welcomes about 150,000 whiskey enthusiasts a year. The new facility, which is modeled after a classic Kentucky farmhouse, serves as the reception space for visitors before they tour the fermentation, distillation, maturation, bottling, and—best of all—tasting processes of bourbon creation.
Inside the homey space, limestone walls and oak coffee tables complement a warmly lit seating area with dozens of Woodford Reserve bottles on display. One of the main attractions of the welcome center is a cocktail bar. Guests can now sip on Mint Juleps or Bourbon Punch in the welcome center before their tours, as well as at the bar in the visitor center where tours conclude. However, house-made cocktails can be enjoyed whether guests choose to take a tour or not. In addition, the welcome center offers an outdoor seating area overlooking a lush horse farm where visitors can relax. Both the bar and outdoor porch can be rented for parties or other private events.
Poynter says that one of the main purposes for upgrading the welcome center was crowd-control. "Visitors will now start their tour in one spot and end in another," he explains. "That helps with flow of people, especially on busy days."
Back in 1996, Woodford Reserve  was one of the first distilleries to open a visitor center and invite tourists into the fascinating world of bourbon distillation. The new welcome center builds on that legacy even as bourbon tourism grows year on year.