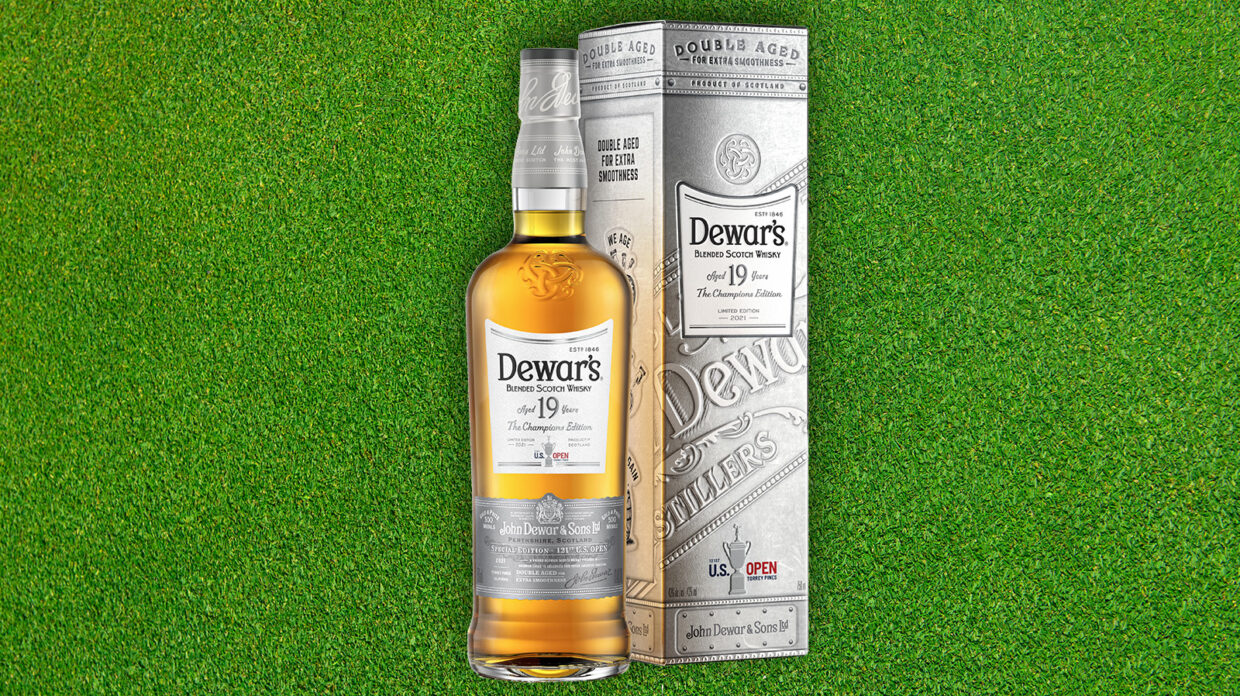 Often referred to as "The 19th Hole," the tradition of enjoying a dram of scotch whisky or another favored tipple after a round of golf is, for some, as central to the game as driving or putting—calling to mind Winston Churchill's famous quip about champagne: "In victory I deserve it. In defeat I need it." Dewar's believes its forthcoming limited-edition 19 year old whisky, debuting as part of a new multi-year sponsorship of golf's U.S. Open, is uniquely suited for the occasion.
Dewar's will tee off as the official scotch whisky of the U.S. Open beginning with the 121st U.S. Open Championship at Torrey Pines Golf Course in San Diego, Calif., taking place June 14-20. In the run-up to the event, in late May the brand is launching the Champion's Edition 19 year old, a 43% ABV blended scotch that was double-aged and finished in first-fill bourbon casks, priced at around $80. Though amounts are limited, the Champion's Edition will be available nationwide, especially in states where scotch whisky has a large following.
A Match Made in Scotland
Dewar's opted to release the 19 year old whisky "not only as a most deliberate nod to the 19th hole, but also due to the stunning selection of malt and grain whiskies of this age in our inventory in Scotland," master blender Stephanie Macleod tells Whisky Advocate. She adds that Dewar's double-aging process seamlessly integrates the disparate characters of the component whiskies, and the bourbon cask finish adds notes of creamy vanilla.
And there's more whisky to come. Brian Cox, vice president of Dewar's for North America at parent company Bacardi, says the plan is to offer a commemorative 19 year old whisky annually as part of the U.S. Open sponsorship. This year's bottling will be followed by special editions for the 2022 U.S. Open at The Country Club in Brookline, Mass. and the 2023 event at the Los Angeles Country Club. A portion of the proceeds from the Champion's Edition will benefit the U.S. Golf Association Foundation, which focuses on "enhancing the on-course experience for all players, creating a healthier relationship between courses and the environment, celebrating traditions, and preparing future leaders."
Dewar's isn't the only scotch brand to align itself recently with a major golf championship; Loch Lomond Distillery has been the partner of the other golf Open, over in the UK, since 2018. "Dewar's scotch whisky, like the game itself, can trace its prestigious lineage to the windswept dunes and lush valleys of Scotland," said Mike Davis, CEO of the U.S. Golf Association, in a statement. "It's an honor to partner with an iconic brand with a rich history that is often associated with the game. We look forward to collaborating with Dewar's on new experiences for U.S. Open Championship fans."