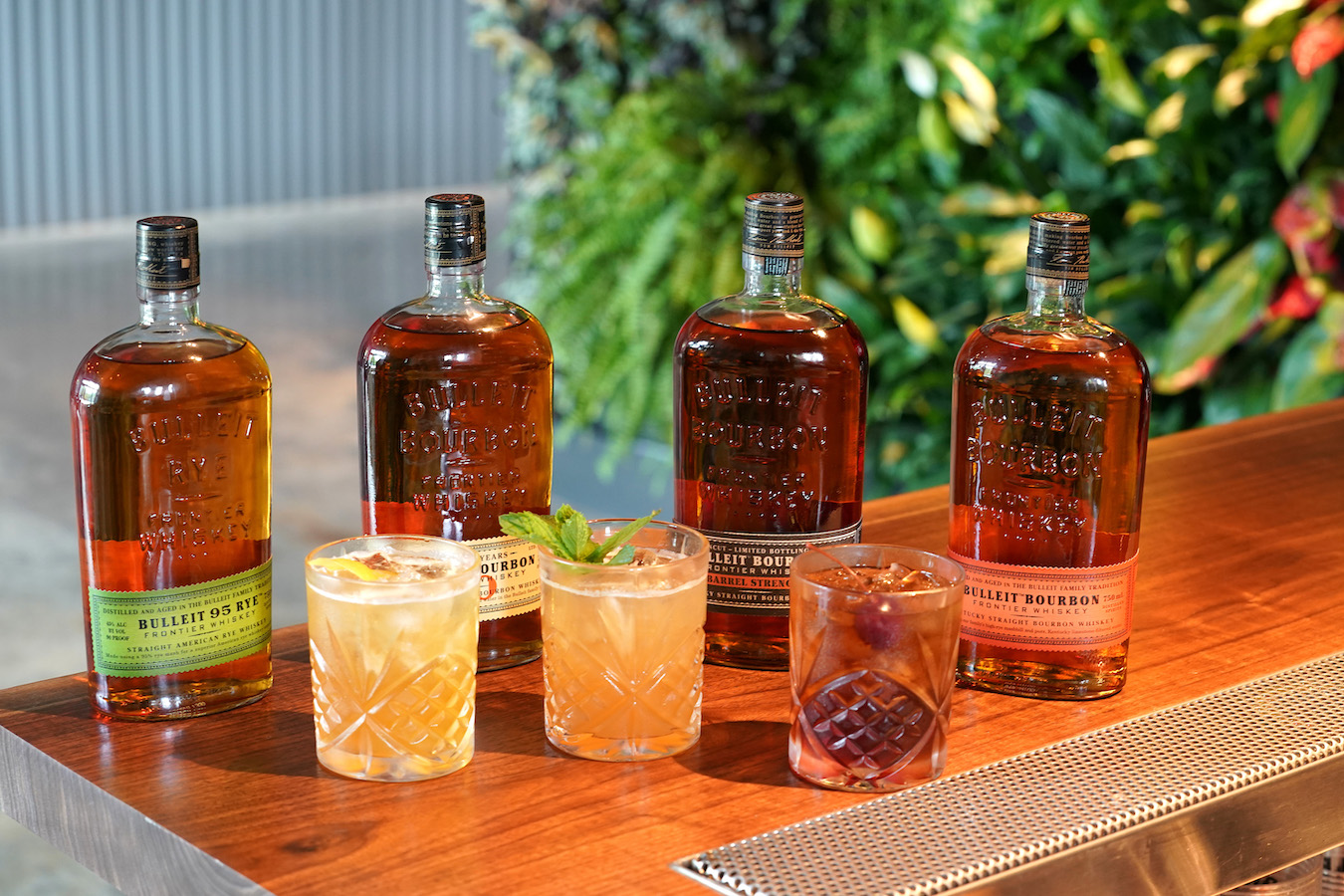 Two years after the opening of the Bulleit Distilling Co. in Shelbyville, KY, the facility debuts a new visitor experience today, making it the 17th stop on the Kentucky Bourbon Trail. Gone are the days when a distillery tour was, quite literally, a tour of the distillery. Bulleit's new visitor experience is an adventure through whiskey-making, complete with high-tech attractions, entertainment, and a showcase of the brand's sustainability efforts. 
"Bulleit is all about being on the cultural frontier," says Jeff Parrott, brand director of American whisk(e)y development at Bulleit parent company Diageo. "And we had to be comfortable creating a visitor experience that really flipped the script on what it means to be a destination on the Kentucky Bourbon Trail."
Bulleit's new visitor experience is rife with with cutting-edge technology, including a studio where guests can design their own custom labels on touchscreens and have them attached to their favorite bottles. Visitors will, of course, still get the chance to tour the distillery, taking in the different aspects of the production process and finishing with a tasting of Bulleit whiskeys.
And that multi-sensory tasting experience is the heart of the tour, aiming to highlight whiskey beyond just what you smell in the glass and taste on your tongue. Bulleit partnered with wireless sound system company Sonos to introduce "olfactory balls"—which give off different scents to complement the whiskey being tasted—and a light-and-soundscape that will also change in accordance with the tasting. During this experience, guests will be invited to try Bulleit bourbon, 10 year old, rye, and Barrel Strength bourbon.  
In addition, the visitor experience features a retail shop stocking locally made goods, including vintage clothing from Worn & Co. Guests are ferried around the campus in buses decorated by local graffiti artist Braylyn "Resko" Stewart. And an organic cocktail garden, where fruits and herbs used at the bar are grown, is flourishing thanks to a partnership with the University of Kentucky.
Parrott says that the bar, which features a "seasonally rotating menu," is one of his favorite aspects of the visitor experience. "We're also bringing some of the best bartenders in the business to Shelbyville to create signature cocktails," he explains. The first partner bartender, Katie Renshaw, was recently named Diageo World Class Bartender of the Year.
The cocktail garden is one of several efforts Bulleit is making to increase the environmental sustainability of the distillery and visitor experience. The graffiti-covered bus that Stewart designed? It's fueled by propane as a result of Bulleit's partnership with Kentucky Propane Education & Resource Council. The cocktail bar and tasting experience have committed to eliminating single-use plastics. Even the distillery grounds are covered in solar panels that power the majority of the site's exterior lighting. 
Bulleit's Frontier Whiskey Experience at the historic Stitzel-Weller Distillery in Louisville remains open.