While there's a plentiful crop of new whiskies out this week, news of Jim Beam's Fred B. Noe Distillery opening means that Beam will be able to experiment more freely, as the new facility will be a place for distiller Freddie Noe to work on his Little Book releases and additional projects, including an American single malt. Learn more about Beam's new Clermont, Kentucky distillery and find out what Freddie has planned for the future.
As for whiskies on shelves right now (or coming relatively soon), Metallica-owned Blackened has teamed up with Willett Distillery on a rye finished in madeira casks, Four Roses has released details on its 2021 Limited Edition Small Batch, and Barrell has a new 15 year old Gray Label bourbon. Read on for full details.
Blackened x Willett Kentucky Straight Rye
Style: Finished rye

Origin: Kentucky

Age: Not stated

ABV: 54.8%

Price: $140

Release: August 2021

Availability: Limited
Need to know:
This is the first release in Blackened's Masters of Whiskey Series, where Metallica's American whiskey brand will collaborate with a variety of other distilleries to create limited expressions. Blackened master distiller Rob Dietrich worked with Willett master distiller Drew Kulsveen on this cask-strength whiskey, which is a marriage of high rye and low rye recipes from the Willett Family Estate Reserve Selection, which was then finished for up to 14 weeks in madeira casks. The whiskey included in the blend is as old as 8 years, with the average age at around 6 and a half years. As with all of Blackened's whiskeys, this was sonically enhanced with Metallica's music as it rested in the finishing cask.
Whisky Advocate says:
Collaboration is central to Metallica, as the band has worked with master distillers Dave Pickerell and Rob Dietrich since launching Blackened in 2018. It was Pickerell's relationship with Willett that led to this whiskey, as he was a longtime friend of the Kulsveen family. We spoke with Dietrich on our Instagram Live series #TasteWithSpace back in May about the ways in which Blackened will continue to expand its range of whiskeys. Look for a review of this whiskey in an upcoming issue of Whisky Advocate.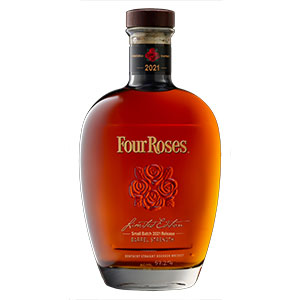 Four Roses 2021 Limited Edition Small Batch
Style: Straight bourbon

Origin: Kentucky

Age: Not stated

ABV: 57.2%

Price: $150

Release: September 2021

Availability: 14,500 bottles
Need to know:
The annual limited edition Small Batch release from Four Roses, this year's whiskey has the following composition of Four Roses recipes and ages:
58% OESV 16 year old
23% OESK 12 year old
13% OBSV 16 year old
6% OBSQ 14 year old
In addition to normal retail sales, the Four Roses visitor center is holding a lottery open to the public (August 31 to September 12) for a chance to purchase this whiskey at its suggested retail price. To enter, sign up on the Four Roses website. Winners must pick up their bottle at the distillery.
Whisky Advocate says:
One of the most sought-after annual releases, previous editions have scored well with our tasting panel. The 2020 edition earned 94 points while the 2019 edition rated 95 points. For more on how yeast impacts flavor, specifically at Four Roses, revisit our chat with late great senior brand ambassador Al Young.
Gordon & MacPhail Generations 80 year old (distilled at Glenlivet)
Style: Single malt
Origin: Scotland (Speyside)
Age: 80 year old
ABV: 44.9%
Price: TBA after Sotheby's auction on October 7, 2021
Release: September 2021
Availability: 250 decanters 
Need to know:
Four generations of the Urquhart family of Gordon & MacPhail have watched over this first-fill sherry cask since the day it was filled in February 1940 to the day it was bottled in February 2020. Architect Sir David Adjaye OBE designed the striking crystal decanter and oak case that encloses the precious liquid.
Whisky Advocate says:
Gordon & MacPhail is the first to master the maturation of single malt whisky beyond eight decades, making this landmark achievement the oldest whisky ever released. This is only the fourth release in the Gordon & MacPhail Generations series since 2010, and the price will be disclosed following the sale of decanter no. 1 at Sotheby's, Hong Kong as part of a Generations package on October 7.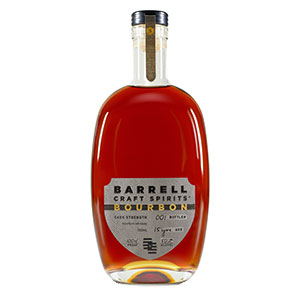 Barrell Gray Label Cask Strength Bourbon (Release 4)
Style: Straight bourbon
Origin: IN, KY, TN
Age: 15 year old
ABV: 50.2%
Price: $250
Release: August 2021
Availability: 12,900 bottles
Need to know:
This whiskey is the fourth release in a series from Barrell Craft Spirits that consists of its most limited and premium stocks. Starting this year, Barrell has adopted the Gray Label name for this series, matching the label color.
Whisky Advocate says:
While most Barrell bourbons score high, the Gray Label releases do particularly well, with the most recent scoring 93 points in our Summer 2021 Buying Guide. Barrell releases blends of straight bourbon throughout the year, mixing whiskeys of various origin and age. While some of those whiskeys may feature a small portion of bourbon aged as much as 15 years, this release pulls from those stocks exclusively.
Blue Run Kentucky Straight Golden Rye
Style: Straight rye
Origin: Kentucky
Age: Not stated
ABV: 47.5%
Price: $100
Release: September 2021
Availability: Nationwide
Need to know:
Distilled in Kentucky and sourced from just 91 barrels, this whiskey's creation was not overseen by Blue Run's liquid advisor and former Four Roses master distiller Jim Rutledge, unlike previous Blue Run releases (which were all bourbon, Rutledge's area of expertise).
Whisky Advocate says:
Golden Rye marks Blue Run's first stab at rye whiskey, and follows last fall's release of a 13 year old bourbon, as well as 14 year old and 13.5 year old bourbons earlier this year. This fall, Blue Run will unveil a high-rye bourbon, and will also lay down its own Rutledge-distilled whiskey at Bardstown Bourbon Company.
Eifel Whisky 2021 Editions
Style: Varies
Origin: Germany

Age: Not stated

ABV: 46%

Price: $75 – $90
Release: October 2021

Availability: AZ, CA, CO, FL, GA, KS, MA, NJ, NV, NY, OK, TN, TX, WA
Need to know:
Eifel Whisky Rye, $75—This is a 90% rye mashbill distilled in a traditional German column still, with a second distillation in a copper pot still. Matured in first and refill red Bordeaux, then finished in Malaga and German pinot noir casks. (3,600 bottles)
Eifel Whisky Peated Rye, $90—Deriving its peaty character from a secondary maturation in bourbon barrels used to mature Laphroaig 10 year old, this 7 year old whisky initially spent 3 years in refill red Bordeaux barrels sourced from Chateau Ausone. (2,400 bottles)
Eifel Whisky Single Malt, $75—Bottled at around 8 years of age, this one is made from 100% unpeated barley. Maturation began in medium-toasted refill red Bordeaux barrels, followed by 4 years in first and second-fill cream sherry casks. (3,600 bottles)
Eifel Whisky Peated Duo Malt, $90—The name "Duo" derives from this 7 year old whisky's two-part composition. 80% is liquid comprised of equal proportions malted wheat and barley. 20% is heavily peated whisky made from malted barley—peated to 35 phenol parts per million. The unpeated stock was matured in first-fill red Bordeaux American oak barrels. The peated spirit was matured in rejuvenated red wine barrels fitted with heavily charred cask ends made from new German oak. (2,400 bottles)
U.S. limited editions from Eifel Distillery in Koblenz are produced in limited quantities and imported annually. The distinctive label artwork often features landscapes of rolling hills and farmland from the surrounding area.
Whisky Advocate says:
Stephan & Carolin Mohr founded Eifel Distillery in 2008, and the distillery's approach is admired for its innovative mashbills and maturation and finishing regimes. Less of the allocation was imported into the U.S. in 2020, but availability is higher this year. We suggest that you make the most of this relative bounty while it lasts.
WhistlePig Sasquatch Sighting #7
Style: Finished rye
Origin: Vermont
Age: 12 year old
ABV: 43%
Price: $220
Release: August 2021
Availability: 2,000 bottles
Need to know:
This whiskey was finished for approximately 3 months in sotol barrels from Mexican spirits brand Los Magos. Sotol is a distilled spirit made from sotol, a plant native to the Chihuahuan region of Mexico. It is produced in a manner similar to mezcal. Prior to his passing in 2018, Dave Pickerell secured these barrels, which date back over 120 years. This expression is available exclusively via WhistlePig's website and is sold with WhistlePig Piggy Back 6 year old as a two-bottle package called Norte a Durango Bundle.
Whisky Advocate says:
Distillers are constantly seeking out new finishing casks, and this is an example. While we haven't heard of rye finished in sotol barrels, mezcal and tequila finishes have appeared in the past. In scotch whisky, Dewar's released a mezcal finished expression last year, while Chivas Regal 13 (also released last year) was finished in tequila casks. In the rye space, Sagamore Spirit released a tequila-finished rye earlier this year as part of its Distiller's Select series. Look for a review of that whiskey in the Fall 2021 Buying Guide.