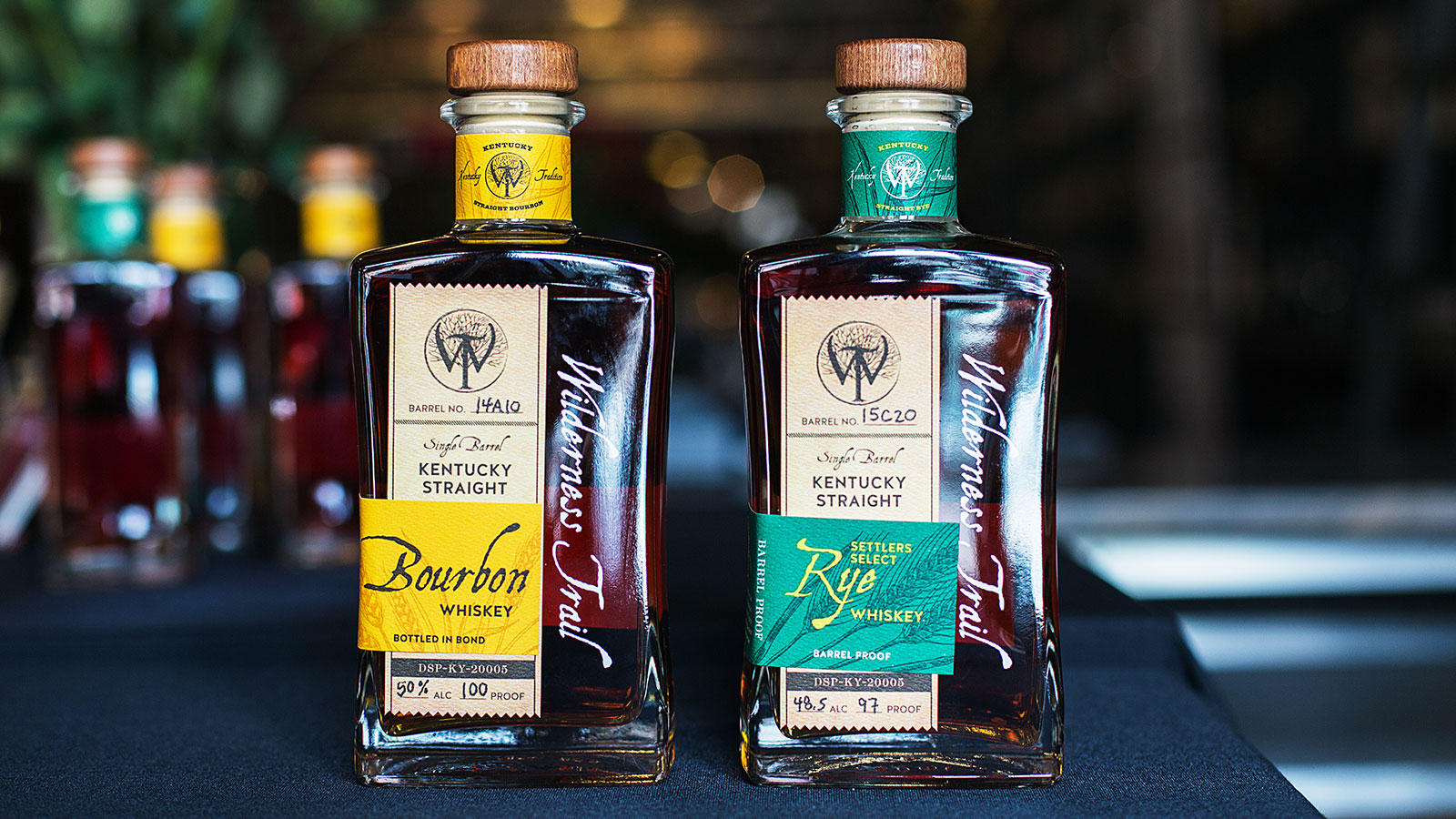 When new distilleries hang out their shingle, many establish their whiskey-making credentials through a family legacy or local historical connections. But Danville, Kentucky's Wilderness Trail—which is releasing its first bourbon and rye in April 2018—has taken a different approach. Rather than finding a colorful story to tell, co-founders Shane Baker and Patrick Heist are emphasizing the scientific pursuit of distilling great whiskey.
Baker, a mechanical engineer, and Heist, a PhD microbiologist and biochemist, initially paired up in the 1990s, playing in a grunge and hard rock cover band. Their initiation to whiskey-making, however, started with the consulting company Ferm Solutions, which they founded in 2006. Baker and Heist made a name for themselves as troubleshooters for distilleries around the world, helping clients start distilleries, consulting on bacterial contamination, developing mashbills, and analyzing grain quality, yeast strains, and fermentation. While they can't disclose the names of their clients, Heist says that they would be recognizable names. "You can walk into any liquor store, walk down an aisle, stop, and be within arm's reach of a brand that we've worked with," he says.
All of that work inevitably led Baker and Heist to have a go at whiskey-making themselves, opening Wilderness Trail in 2012. Baker describes Wilderness Trail as the "collective optimization of hundreds of distilleries around the world." While the two men continue to help other producers through Ferm Solutions, they are now employing their expertise to make their own whiskey as well, carefully designing each element and step of the process.
The Distillery
Wilderness Trail's 44-acre facility has three rickhouses, with a fourth under construction that will bring total storage capacity to 55,000 barrels. The distillery houses three Vendome stills: a 250-gallon hybrid pot-column still—which produced their first batches of bourbon, but is now used primarily to make rum and vodka—and 18- and 36-inch continuous column stills which produce the majority of the distillery's output.
Maintaining energy efficiency is a key focus. Baker and Heist devised a process that precisely regulates cook temperatures to ensure energy conservation during mashing. This innovation, among others, led the Kentucky Association of Manufacturers to name Wilderness Trail as the Kentucky Manufacturer of the Year in 2016.
No Chemicals
Wilderness Trail is a chemical-free distillery, unusual in a business where clean equipment is of the utmost importance and chemicals are often necessary for sanitization. The distillery's pharmaceutical-grade boilers employ a clean steam method during the mashing process, as opposed to the more common method of using scaling chemicals like sodium phosphate or hydroxide to prevent chemical and mineral buildup inside the boiler. "Any chemicals that go into the boilers would end up in the mash," explains Heist. "The absence of chemicals yields a better-tasting distillate. So our boiler is epoxy-lined, eliminating the concern of the boiler wall breakdown from scaling and corrosion."
Sweet Mash
Although Louisville's Kentucky Peerless Distillery uses sweet mash to create its rye and bourbon, Baker and Heist believe that Wilderness Trail was the first Kentucky distillery to embrace the process as the sole mashing technique. (In fact, Baker and Heist assisted Peerless in selecting their yeast strains and designing their sweet mash process.) As with clean steam, sweet mashing—rather than the practice of sour mashing, where a small amount of fermented mash is included in the following batch—is meant to produce a softer, cleaner distillate. "Sour mashing is often used for bacterial control, but you lose the flavor consistency in the stillage," explains Heist. "With sweet mashing, the yeast, grains, and water are consistent from batch to batch."
Uniform Grain
While many distilleries source grain from a common elevator, which might contain dozens of different varietals, Wilderness Trail sources corn, wheat, and rye from a single local seed farmer, Caverndale Farms, which helps the distillery maintain consistent flavors. Wilderness Trail is currently making whiskey using three mashbills: a wheated bourbon made with 64% corn, 24% wheat, and 12% malted barley; a high-rye bourbon made with 64% corn, 24% rye, and 12% malted barley; and a rye made with 56% rye, 33% corn, and 11% malted barley.
The Whiskey Is Ready
Baker and Heist's original plan was to age their whiskey 6 to 8 years, but anticipation from whiskey lovers encouraged them to release some sooner. Bill Thomas, the proprietor of Jack Rose Dining Saloon in Washington, D.C., believes that there's no need to wait. "When you try a whiskey that you think is really good, there's no reason you shouldn't bottle some of it to capture some of those specific flavor characteristics at that moment," Thomas says. "Wilderness Trail at four years old is a really good whiskey. At six years old it could be an even better whiskey, but some of the flavor notes we like now may change. So we're asking them to give us the best of both worlds—some now and some later—as we follow them on their journey."
Jack Rose hosted the debut of Wilderness Trail's rye and bonded wheated bourbon, both aged about 4 and a half to 5 years, on March 25th, 2018. On April 28th, the distillery will release 50 to 60 barrels of bourbon and just two or three barrels of rye, followed by a 2019 release of about 100 barrels, which will be sold in Kentucky only (although Jack Rose will receive a small number of bottles). In 2020, when the whiskey hits the original 6-year target, it will be regularly available in larger quantities.
Baker and Heist are continuing their consulting work through Ferm Solutions as they expand whiskey production at Wilderness Trail. In addition, they aim to experiment with the vast library of yeast strains—around 6,000—that they've collected over the years. "Some are undiscovered, unknown strains," says Heist. "Some are known, but there's no history of them being used for alcohol production. We hope to start incorporating some of these rare, novel yeast strains [into our whiskey]." The pair may also experiment with barrel finishes. It's early days for Wilderness Trail, but with two science-minded experts at the helm, expect acceleration.