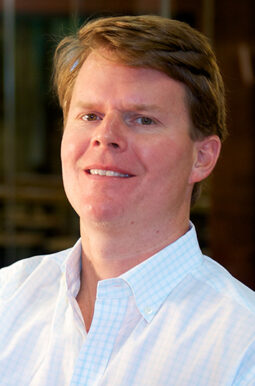 Rob Samuels
The Samuels family has been producing whisky in Kentucky for over 200 years. Thus, it is no surprise that Rob Samuels is continuing the family legacy as an 8th generation whisky maker and Chief Distillery Officer of Maker's Mark, upholding the traditions of craft and quality established by his grandparents, the founders of Maker's Mark.
Growing up in Kentucky, Rob Samuels always had a passion for Maker's Mark even at a young age. Rob learned about the business firsthand from his grandparents, Bill, Sr., and Margie, and has spent time working every job at the distillery; from working the grain and roller mill, to hand-dipping the bottle. All of this experience has given him a unique and holistic understanding of the distinctive craft and heritage that is the legacy of Maker's Mark. 
In 2010, Rob took over the company reigns from his father, Bill Samuels, Jr., current Chairman Emeritus, and was appointed to the position of Chief Operating Officer of Maker's Mark. As COO, Rob has stewarded growth, ensuring that as Maker's Mark grows it remains true to the purposefully inefficient ways and quality standards of its founders. Specific key achievements include:
Growth: Under Rob's supervision and guidance, the distillery added a third still to increase bourbon production by 50%. Rather than scaling up in the most efficient way possible, the third still was designed to mirror and operate exactly like stills I and II in order to replicate the same quality and consistency that Maker's Mark is known for.

 

Innovation:

 

Rob has led the brand's unique innovation strategy with the introduction of a cask strength expression for both Maker's Mark and Maker's 46, as well as the introduction of Maker's Mark Private Select, which allows retailers to create a truly bespoke Maker's Mark using fully matured Maker's Mark Bourbon and a combination of five stave finishes.
Increased Distillery Visitation: Rob strives to make Maker's Mark's the most culturally rich and enduring homeplace of any brand in the world. As such, he has implemented a culinary program for the distillery with renowned local Chef Newman Miller, added art throughout the grounds with The Spirit of The Maker installation – the first Dale Chihuly installation for permanent display in the Commonwealth of Kentucky – and worked to develop the first new road in Marion County in 35 years. Under Rob's guidance, distillery visitation was recognized as best in the world by Whisky Magazine.
Prior to his work at the distillery, Rob earned his Bachelor of Arts degree in Applied Sciences from the University of South Carolina and is an alumni of the University of Chicago GSB (CEI) and Harvard Business School (GMP). Upon graduation, he played a pivotal role at four companies spanning across Texas, Ohio, and Florida over the course of 10 years before he returned to Kentucky as Director of Global Brand Development for Maker's Mark. 
Separate and apart from his career in the bourbon industry, Rob served as Chairman of the board of for The Kentucky Distillers Association. His philanthropic work includes heavy community involvement and substantial fundraising efforts for The Healing Place, The Kentucky Derby Museum, University of Louisville Academic Center of Excellence, and University of Kentucky Center for Academic and Tutorial Services. In his spare time, Rob enjoys running, playing tennis, and practicing yoga.