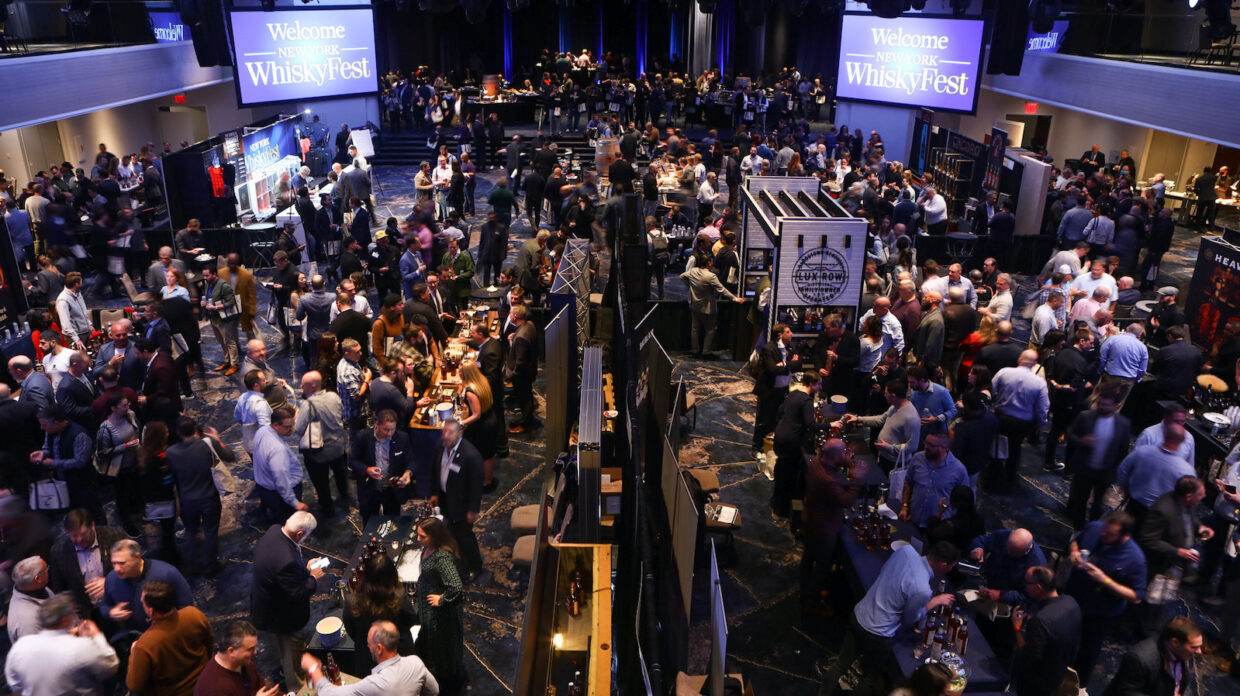 Our autumn run of WhiskyFest events continued with WhiskyFest New York this past Thursday, November 11, at the Marriott Marquis in Times Square. The pours were flowing for an exuberant crowd of whisky lovers, who also had their choice of four seminars presented throughout the night.
VIP ticket holders sampled a world of rare whiskies, including aged single malt scotches like Balblair 25 year old, Benromach 45 year old Heritage, Bunnahabhain 25 year old, and Glen Moray 21 year old, as well as Irish gems like Glendalough 25 year old and the newly released Bushmills 12 year old. There were also aged-stated whiskies from Japan for the VIPs, among them a 30 year old single grain whisky from Fuji Gotemba, complemented by an array of whiskies from Kaikyo and Nikka. American labels on offer in the VIP hour included Proof and Wood 100 Seasons 25 year old, Heaven's Door Bootleg Volume II, 2020, Blackened x Willet Kentucky Straight Rye, and Blood Oath Pact 7.
All attendees had a chance to taste top expressions from Bardstown Bourbon Co., Four Roses, Heaven Hill, Michter's, and Woodford Reserve, as well as craft whiskeys like Yellow Rose, Widow Jane, WhistlePig, and New Riff. "It's our first WhiskyFest ever, and it's proven a fantastic night in learning more about our fans," said New Riff co-founder Jay Erisman. "I've been thrilled, as a rye-centric distiller, to see all the excitement there is for rye."
Nicole Austin, head distiller and general manager of Cascade Hollow Distillery, the home of George Dickel, was similarly wowed by the crowd's energy. "I forgot how much I enjoy talking to people who are genuinely enthusiastic about whiskey," she said. "It's exciting to connect with them. People are asking questions, and they're sincerely interested in learning more." In addition to its Bottled in Bond and 15 year old single barrel whiskeys, Dickel was pouring its newly released rye blend, made in collaboration with Leopold Brothers.
Among the energized attendees in the crowd was whisky lover Jeffrey De Luca. "Thank God we're back," he said. "I've been coming to WhiskyFest since the early 2000s, and I come every year." He was accompanied by a group of friends, who have joined him at the event since 2010.
To take a break from the tasting floor, attendees had their pick of four different seminars—led by Dewar's, Widow Jane, Heaven Hill, and Glenmorangie. A vertical tasting was presented at Dewar's, led by North American brand ambassador Gabriel Cardarella, while Widow Jane president, head blender, and head distiller Lisa Roper Wicker guided attendees through a blending session where they were tasked with recreating Widow Jane 10 year old bourbon. From Heaven Hill, master distiller Conor O'Driscoll and West Coast whiskey ambassador Jack Choate discussed the history of rye whiskey, and at the Glenmorangie seminar, national ambassador Dan Crowell led guests through a tasting of a variety of great drams.
The final WhiskyFest event of the year will be held on December 3, at the Marriot Marquis in San Francisco. Get your tickets here.