In "What's It Worth?" our resident auction expert examines the collectibility of a distillery, brand, or series. Here he breaks down the value of Ardbeg's popular Committee Releases.
Just three years after reopening, on Jan. 1, 2000, Ardbeg Distillery launched the Ardbeg Committee, a fan club that's free to join and offers members access to special releases and other privileges. The goal was to build up a loyal following and ensure the Islay distillery never fell silent again; during the 1980s and 1990s, production had been spotty, with long periods of disuse at the distillery culminating in closure in 1996.
One large perk of joining the Ardbeg Committee is access to its exclusive bottlings, many of which have become collector's items—though plenty are opened and enjoyed. The earliest releases were available by mail order and took time to sell out, but as Ardbeg's fan base grew, release days were marked by chaotic online scrambles to acquire a bottle—even though quantities are now higher than ever. Since 2008, alongside the Committee Releases, which are typically cask strength, Ardbeg has usually offered a more widely available version of the whisky, typically bottled at 46% ABV.
Unlike many limited editions, Ardbeg Committee Releases aren't particularly expensive to buy on release (Arrrrrrrdbeg!, released in February 2021, had a suggested price of $180), but they can subsequently achieve prices ranging from a few hundred to several thousand dollars at auction. We ranked 20 of the best-known Ardbeg Committee Releases by hammer price achieved during 2020. Read on to see what your bottles might be worth, or check out the latest prices if you are looking to add a missing bottle to your collection.
ARDBEG COMMITTEE RELEASES Ranked by 2020 Hammer Price
2
0. Ardbeg Drum Committee Release (2019)
Hammer Price: $258 at Just Whisky
Sold: Oct. 18, 2020
This cask-strength rum cask-finished Ardbeg was released in 2019. It is slowly increasing in value but still readily available at auction.
19. Ardbeg Grooves Committee Release (2018)
Hammer Price: $273 at Whisky Auctioneer
Sold: Feb. 3, 2020
The 2018 Ardbeg Committee Release was matured in wine casks charred so heavily that the surface became deeply grooved. The grooves were sufficient to inspire an Ardbeg Day theme that channeled the spirit of Woodstock, the Summer of Love, and '60s psychedelia.
18. Ardbeg Perpetuum Bicentenary Committee Release (2015)
Hammer Price: $339 at Whisky Hammer
Sold: Oct. 25, 2020
Bottled to celebrate the bicentenary of Ardbeg distillery in 2015, this was released at 49.2% ABV, while the general release of Perpetuum, rated 90 points, was bottled at the lower strength of 47.4% ABV.
17. Ardbeg Blaaack Committee Release (2020)
Hammer Price: $355 at Whisky Auctioneer
Sold: Sep. 7, 2020
With the cancellation of Fèis Ìle (the Islay Festival) in 2020, whisky events had to adapt and move online. That year's Committee release, rated 92 points, was matured in New Zealand pinot noir casks and bottled at cask strength at 50.7% ABV, while the general release was cut to 46% ABV.
16. Ardbeg Supernova Committee Release SN2014 (2014)
Hammer Price: $395 at Whisky Hammer
Sold: Sep. 27, 2020
Limited-edition Ardbeg Supernova debuted in 2009 (see below), but collectors had to wait five years for the second Supernova Committee Release, which was bottled to mark the return to earth of Ardbeg's space experiment.
15. Ardbeg Dark Cove Committee Release (2016)
Hammer Price: $398 at Whisky Auctioneer
Sold: Jun. 1, 2020
The 2016 Committee Release was based on a smuggling theme. It was reportedly Ardbeg's darkest-ever whisky, the result of select sherry cask maturation.
14. Ardbeg Kelpie Committee Release (2017)
Hammer Price: $403 at Whisky Auctioneer
Sold: Feb. 3, 2020
In 2017, the Committee Release was named after a Scottish water spirit and partly matured in Russian virgin oak casks sourced from the Black Sea.
13. Ardbeg Supernova Committee Release SN2019 (2019)
Hammer Price: $403 at Whisky Auctioneer
Sold: Feb. 3, 2020
The fourth Committee Release of Supernova came four years after the distillery had declared the series complete (see below). Despite probing, information on the age of the whisky inside, the ppm level, or the number of bottles released remains as classified as the Roswell Incident.
12. Ardbeg Supernova Committee Release SN2015 (2015)
Hammer Price: $417 at Whisky Hammer
Sold: Oct. 25, 2020
Supposedly the final Supernova release for the Committee, this coincided with the publication of director of distilling, whisky creation, and whisky stocks Dr. Bill Lumsden's white paper on the results of orbiting maturation experiments that began in 2011. (Obviously, this was back before sending barrels by rocket to the international space warehouse became a routine mission.)
11. Ardbeg Rollercoaster Committee Release (2010)
Hammer Price: $539 at Whisky Auctioneer
Sold: Nov. 11, 2020
Ardbeg released 15,000 bottles of Rollercoaster for the 10th anniversary of the Ardbeg Committee. The whisky comprised Ardbeg distillates laid down every year from 1997–2006.
10. Ardbeg Day (2012)
Hammer Price: $574 at Whisky Hammer
Sold: Oct. 25, 2020
Named after Ardbeg Day—the distillery's open day during Fèis Ìle—this release capitalized on the growing number of retailers in the distillery's embassy program. If you couldn't make it to Islay, you could always visit your local "embassy" to pick up a bottle. The final whisky was a combination of Ardbeg styles, a marriage of sweet and spicy Ardbeg with a more botanical style that was finished for 6 months in refill sherry butts.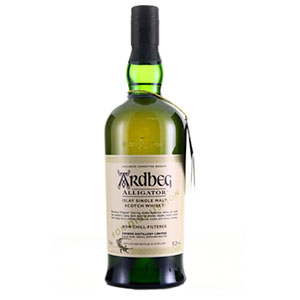 9. Ardbeg Alligator Committee Reserve (2011)
Hammer Price: $598 at Whisky Auctioneer
Sold: Feb. 3, 2020
The 2011 release was named after the heavy "alligator" char given to the new American white oak casks employed in maturation in the distillery's sea-facing warehouse No. 3. At the U.S. Committee launch of this whisky following WhiskyFest Chicago, Ardbeg brought along live gators and a friendly boa constrictor.
8. Ardbeg Corryvreckan Committee Reserve (2008)
Hammer Price: $744 at Scotch Whisky Auctions
Sold: Sep. 6, 2020
With just 5,000 bottles released, this offering has always performed well at auction, but climbed significantly in value during 2020. It is named after the Gulf of Corryvreckan whirlpool that lies between the isles of Jura and Scarba.
7. Ardbeg Very Young For Discussion (2003)
Hammer Price: $797 at Scotch Whisky Auctions
Sold: Sep. 6, 2020
This youngster was the first Ardbeg to be released to Committee members stamped "for discussion" and the first to feature the Committee's now-familiar cream label. It offered the first opportunity to drink Ardbeg made under the ownership of The Glenmorangie Co., the group that purchased the distillery in 1997. The inaugural bottling in Ardbeg's "Peaty Path to Maturity", a general release of Very Young followed, before Still Young and Almost There paved the way to the release of Ardbeg Renaissance in 2008.
6. Ardbeg Committee Reserve (2002)
Hammer Price: $1,008 at Scotch Whisky Auctions
Sold: Dec. 6, 2020
This multi-vintage vatting of Ardbeg stock from the 1970s, 1980s, and 1990s featured the more typical black label found on Ardbeg's core bottlings.
5. Ardbeg Supernova Advance Committee Release (2009)
Hammer Price: $1,226 at Whisky Hammer
Sold: Oct. 25, 2020
The original Supernova release from 2009, this cask-strength, multi-vintage single malt comprised peaty stocks of Ardbeg in excess of 100 ppm. When released in 2009, it was the fastest-selling Ardbeg in history, with all 3,000 bottles selling out in 112 minutes. At the time, Islay distillers were competing to see who could pack the most smoke into their whiskies.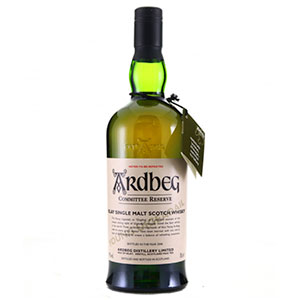 4. Ardbeg Young Uigeadail "The Oogling" Committee Reserve (2006)
Hammer Price: $1,436 at Whisky Auctioneer
Sold: Aug. 3, 2020
One of the toughest Committee releases to acquire, only 1,392 bottles of "The Oogling" were released in 2006. A combination of three casks of very young Ardbeg with a sherry butt of 2002 Ardbeg, this youthful one-off now commands serious prices. 
3. Ardbeg 21 year old Committee Exclusive (2001)
Hammer Price: $1,803 at Whisky Auctioneer
Sold: Dec. 7, 2020
This 2001 release had 2,500 bottles drawn from a dozen casks filled during 1979 and 1980. Stuart Thomson, then Ardbeg's distillery manager, signed each bottle, and their scarcity has pushed prices up.
2. Ardbeg Kildalton 1980 (2004)
Hammer Price: $1,971 at Whisky Auctioneer
Sold: Nov. 9, 2020
An unusual Ardbeg one-off released in 2004, Kildalton is a combination of experimental unpeated Ardbeg and lightly peated Ardbeg. Encouraged by its reception, the distillery released the lightly peated Ardbeg Blasda in 2008, though it was never available in the U.S. Blasda was a younger whisky made using malt peated to 8 ppm, and is much easier to find at auction than Ardbeg Kildalton 1980 if you want to experience how the low phenols shift the Ardbeg taste profile.
1. Ardbeg Alligator Exclusive Committee Reserve 4.5 liter (2011)
Hammer Price: $4,330 at Just Whisky
Sold: Dec. 14, 2020
Ardbeg has created 4.5 liter bottlings of several releases including Ardbeg Mór, Uigeadail, Rollercoaster, Auriverdes, and Alligator. These large-format bottles of Alligator, the equivalent of six standard bottles, were perfect for Committee launch events and whisky shows, but inevitably, a small number of them found their way into the hands of collectors and are now hot commodities at auction.
Please note: Highest hammer prices set during the year 2020 were determined from the following selection of leading whisky auction houses: Scotch Whisky Auctions, Whisky Auctioneer, Whisky Hammer, Whisky.Auction, Just Whisky, Whisky Online Auctions, Bonhams, and Sotheby's. Prices were converted to U.S. dollars using www.xe.com exchange rates from the date of each auction. The list is not intended to be comprehensive and not all Ardbeg Committee releases are included. Highest hammer prices from 2020 are shown, and future auction results may produce higher or lower hammer prices.