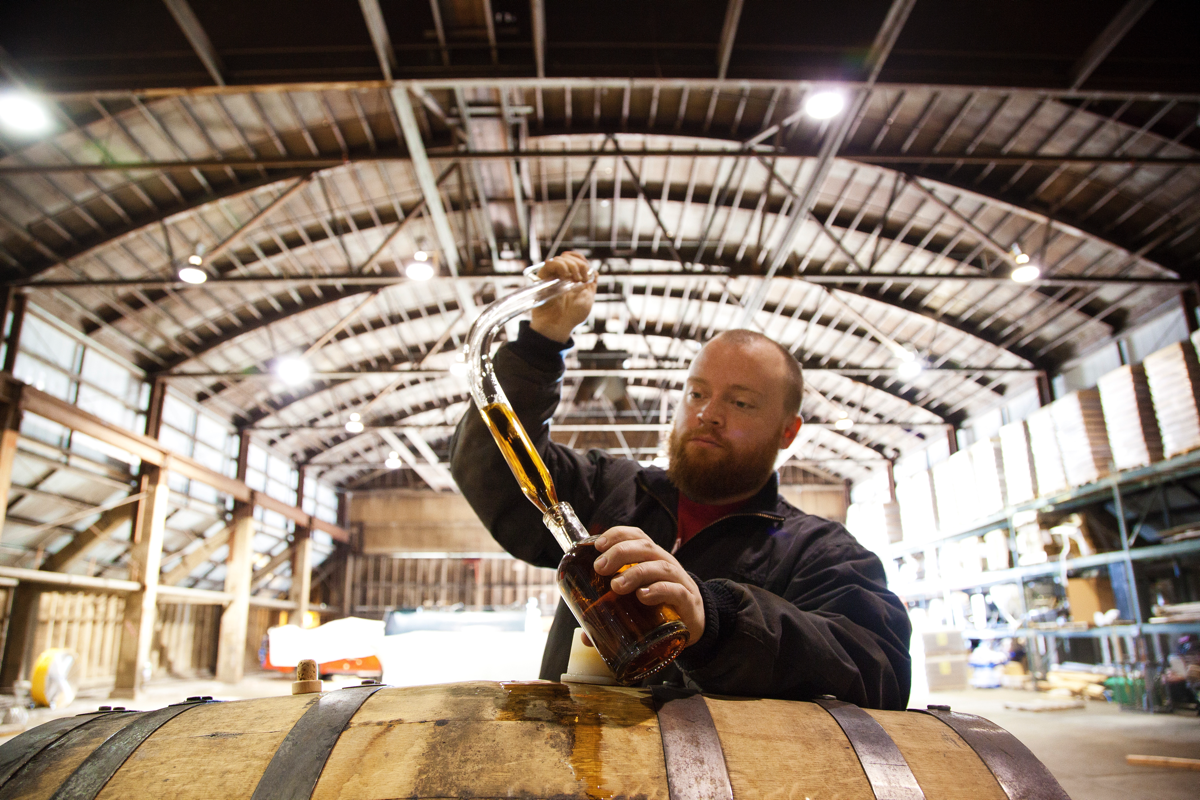 News broke this morning that international drinks conglomerate Rémy Cointreau has signed an agreement to acquire Seattle's Westland distillery for an undisclosed sum. The deal will likely close by the end of the year. Paris-based Rémy Cointreau is best known for its namesake cognac and liqueur brands, but whisky lovers will remember its purchase of Islay's Bruichladdich distillery in 2012. And particularly clever observers will note the similarities between Westland and Bruichladdich. Both producers tout the importance of terroir in whisky, using different varieties of barley and unusual types of oak casks to create new flavors and expressions of single malt. For example, Westland's recently released Garryanna was aged in Oregon oak (Quercus Garryana), which is native to the Pacific Northwest and imparts heavy phenolic and tannic character. The limited-edition whiskey scored an 87 in Whisky Advocate's Winter 2016 Buying Guide.
Westland was founded in 2010 by Matt Hofmann and Emerson Lamb. Lamb left the company last year, but Hofmann remains as master distiller. The brand's rise has been swift, with its first release debuting in September 2013. Currently, Westland has three core whiskeys—American Single Malt, Peated Oak, and Sherry Wood—and a couple of limited releases, including Garryanna and the Winter 2016 single malt whiskey, which just launched in November. The distillery is located in Seattle's SoDo neighborhood, and earlier this year, Hofmann cited Washington's "cultural terroir" as a factor that helped the whiskey brand establish itself. Its actual terroir matters too: "For us, here in Washington state, one of the great things is we have a perfect barley-growing climate," he said in Whisky Advocate's Fall 2016 issue. "The combination of Washington State barley, Washington State peat, Pacific Northwest oak, that's what we have a real possibility for here."
The acquisition by Rémy Cointreau comes on the heels of another big American craft distillery sale less than two months ago, when Constellation Brands bought Utah's High West Distillery for roughly $160 million. The deal wasn't unprecedented: Over the last six years, several craft whiskey producers have been bought by major drinks companies, including Tuthilltown Spirits' Hudson Whiskey brand (bought by William Grant & Sons in 2010); Stranahan's Colorado Whiskey (bought by Proximo Spirits in 2010); Canada's Forty Creek distillery (bought by Gruppo Campari in 2014); and Angel's Envy (bought by Bacardi Ltd. in 2015). Just two weeks ago, Oregon's House Spirits distillery sold Aviation Gin to Davos Brands, although the company maintains ownership of Westward Oregon Straight Malt Whiskey and its other spirits brands.