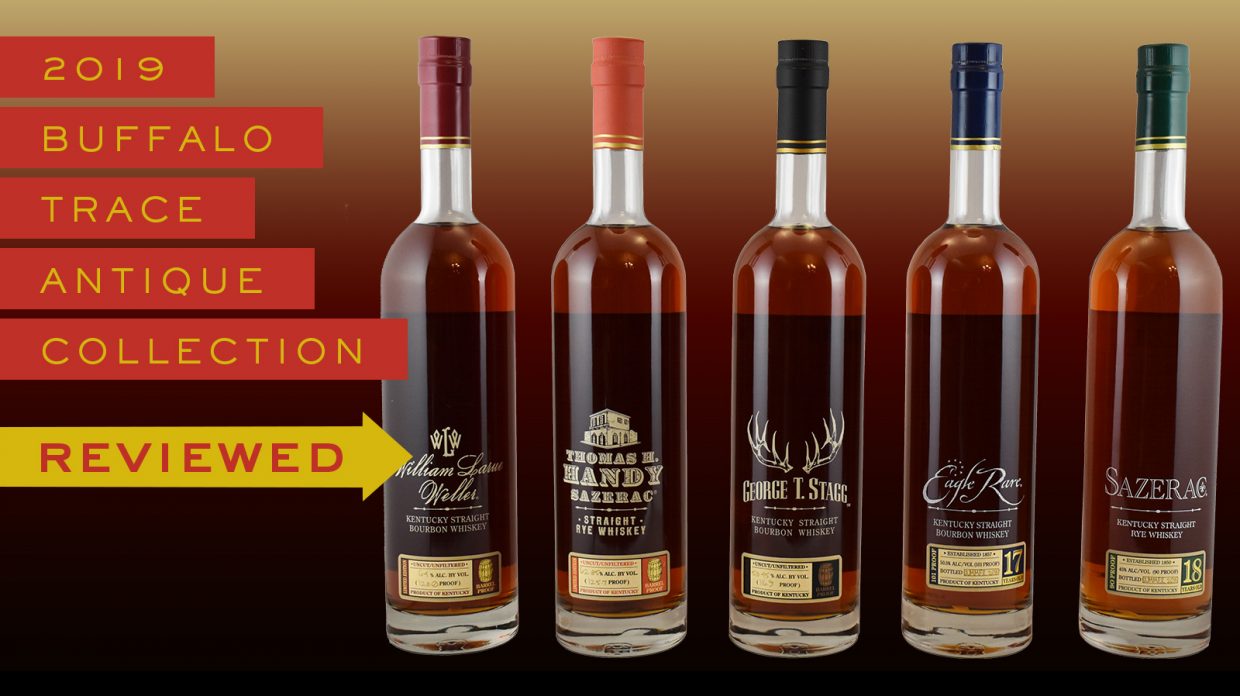 Every year, the Buffalo Trace Antique Collection metaphorically hits shelves to great anticipation. In reality, these trophy bottles are near impossible to find—unless, perhaps, you're willing to pay a hefty markup over the $99 list price.
The 2019 lineup was blind-tasted and scored by multiple Whisky Advocate reviewers (with another high-proof Buffalo Trace bourbon mixed in with the range). In general, scores were consistent among reviewers; as usual, George T. Stagg and William Larue Weller commanded the highest praise. But with everything at 90 points and above, there are no duds to be found.
These reviews will be published in the Spring 2020 Buying Guide.
2019 Buffalo Trace Antique Collection: Scores & Reviews
Sazerac 18 year old Kentucky Straight Rye
90 points, 45% ABV, $99
A nose of orange peel, dusty spice, licorice, cherry, dark fruit, and cola leads to a palate that's spiced, smooth, and offers notes of lemon, orange peel, and pepper. Water enhances the citrus notes, and also brings out bitter cherry, dried orange slices, leather, and cracked pepper. The finish has good length, with a fair amount of oak influence, orange marmalade, cigar ash, dark chocolate, and bitter herbs. —David Fleming
Thomas H. Handy Sazerac 6 year old Kentucky Straight Rye
92 points, 62.85% ABV, $99
Sweet and spicy on the nose, this offers peppermint candy cane, root beer barrel candies, plenty of citrus, and some raspberry notes. However, it's the wet earth and funky mushroom notes that make this the most peculiar of the family. There's great breadth of flavors on the palate, as a mélange of spices—allspice, clove, and cinnamon—ride along on a wave of persistent sweetness, laced with anise and cola. —Jeffery Lindenmuth 
Eagle Rare 17 year old Kentucky Straight Bourbon
93 points, 50.5% ABV, $99
Vanilla nougat, violet candies, maple syrup, blueberry jam, root beer, spiced peanuts, iced tea, and rich cooked fruit on the nose. Creamy and nutty on the palate, with milk chocolate, bitter orange, Coca-Cola, roasted pecans, blackberry jam, and lush, silky spice. The lengthy, full finish showcases a panoply of spice—none of it hot—along with cooked cherries, dark chocolate, and leathery oak. Excellent construction and balance of flavors; no water needed. —Susannah Skiver Barton
George T. Stagg 15 year old Kentucky Straight Bourbon
94 points, 58.45% ABV, $99
Aromas of concord grape jelly, vanilla crumb cake, dusty baking spice, leather, tobacco barn, iced tea, and peanut shells are offset by citrus peel and rose oil, especially prominent with a bit of water added. The bold, rich palate is packed with dark berries, baking spice, semisweet chocolate, espresso, and pops of citrus fruit and spearmint adding liveliness and verve. It finishes with blackberry cobbler, dark chocolate, leathery oak, and undercurrents of black pepper and baking spice that don't quit. Restrained and elegant, even at full proof. —Susannah Skiver Barton
William Larue Weller 12 year old Kentucky Straight Bourbon
95 points, 64% ABV, $99
A decadent whiskey with deep aromas that unfold sweet pipe tobacco, cedar cigar box, hot caramel sundae, candied peanuts, toasted coconut, and hints of paraffin. While the oak is here in abundance, it is in lovely harmony, with juicy, dark blackberry balanced with long, leathery oak. The finish rolls on and on, with waxy fruit and a cascade of spices ending in drying oak tannins laced with dark chocolate. Masterful. —Jeffery Lindenmuth