Happy 4th of July! Like us, you're probably looking forward to a few celebratory days that include grilling, great drinks, and good company. We have some favorite summertime whiskies to suggest as well as the ideal whisky pairings for barbecue and grilled meats and vegetables. If you're hosting a party, here's some useful equipment that will make your life easier, and for the beach crowd and the partygoers among us, consider tossing one of these ready-to-drink cocktails into your bag to crank up the fun this weekend.
As far as new whisky goes, Redbreast debuts the first expression in its new American Oak series; Jack Daniel's  is releasing its highest proof whiskey to date; and Michter's is back with its beloved 10 year old rye. Read on for full details.
Redbreast Kentucky Oak Edition
Style: Single pot still
Origin: Ireland
Age: Not stated
ABV: 50.5%
Price: $96
Release: June 2022
Availability: U.S. exclusive; limited release
Need to know:
Redbreast is launching a new series to showcase the provenance and flavor influence of American oak. For this inaugural release in the series, a batch of mature single pot still whiskey was finished for 3 to 7 months in virgin oak barrels sourced from the Taylor family's Elk Cave Farm in Gravel Switch, Kentucky.
Whisky Advocate says:
White oak logs from Elk Cave Farm were cut, air-dried, and coopered into the 63 casks used to finish this whiskey. The Taylor family has championed sustainable forestry practices for decades, and is renowned for its application of the oak shelterwood method, a regeneration technique wherby newer trees are carefully cultivated beneath the shelter of the older ones. The American Oak series is a departure from previous Redbreast expressions that favored sherry cask finishing, such as Redbreast Lustau Edition and Redbreast Pedro Ximénez Edition. Virgin oak finishing is an increasingly popular method of adding new layers of flavor, and Irish Distillers has experience from using virgin Irish oak on Midleton Dair Ghaelach and virgin Spanish oak on a Method & Madness release.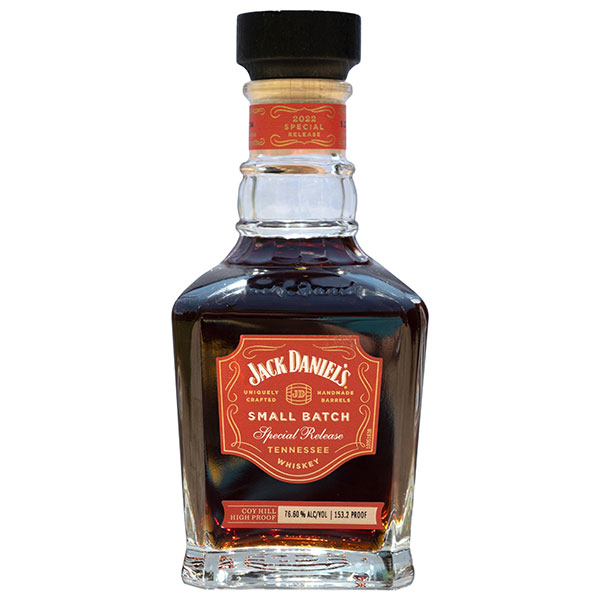 Jack Daniel's Small Batch Special Release Coy Hill High Proof
Style: Tennessee
Origin: Tennessee
Age: Not stated
ABV: 71.8%-77.55%
Price: $55/375 ml
Release: July 2022
Availability: Limited; Tennessee only
Need to know:
This release follows the 2021 bottling of Coy Hill High Proof single barrel (90 points), which had an ABV range between 68.7% to 74.15%. This one is even more powerful, featuring five batches bottled at ABV levels between 71.8% and 77.6%, making it Jack Daniel's highest-proof whiskey to date. The whiskey's mashbill is 80% corn, 12% malted barley, and 8% rye.
Whisky Advocate says:
The 55 barrels that make up this whiskey were initially found during the 2021 bottling, but the angels' share taken from each was deemed too high to bottle them as single barrels. So master distiller Chris Fletcher decided to batch them together in five separate combinations that would highlight their high proof.
Michter's 10 year old Rye (2022 Release)
Style: Straight rye
Origin: Kentucky
Age: 10 year old
ABV: 46.4%
Price: $185
Release: July 2022
Availability: Limited
Need to know:
This is the only 10 year old rye release that Michter's is planning for this year. It's made with relatively high levels of corn and barley in the mashbill, with the idea of providing more balance and complexity to the spice of the rye grain, according to master of maturation Andrea Wilson.
Whisky Advocate says:
With Michter's holding back its 10 year old bourbon until 2023, this rye might be the distillery's only 10 year old whiskey released in 2022. All expressions in the portfolio are on allocation as demand continues to exceed supply—something Michter's has long experienced. Such popularity and scarcity have made these whiskeys among the more sought-after items on the secondary market.
Stellum Black Equinox (Blend #1)
Style: Blend of straight bourbons
Origin: IN, TN, KY
Age: Not stated
ABV: 58.63%
Price: $99
Release: June 2022
Availability: Limited; 8,400 bottles
Stellum Black Fibonacci Rye (Blend #1)
Style: Blend of straight ryes
Origin: IN, TN, KY
Age: Not stated
ABV: 57.56%
Price: $99
Release: June 2022
Availability: Limited; 9,000 bottles
Need to know:
Stellum, from Barrell Craft Spirits, is introducing these whiskeys as part of its Stellum Black specialty blends series, which highlights rare barrels to create limited edition expressions. Indiana-distilled bourbon or rye is joined by older whiskeys of similar style from Kentucky and Tennessee.
Equinox Blend #1, the first bourbon in the series, was constructed over a period of several months and is comprised of rare bourbons that were slowly layered into the blend. Its name is inspired by the time period in which it was made. "When we started this one, it was dark when we left for work," recalls Barrell founder Joe Beatrice. "Rain felt cold, and we looked forward to warmer times. As the weather was changing, we officially declared it finished on the evening of the vernal Equinox—and named it in homage to that moment."
Fibonacci Rye Blend #1 is the first rye in the series. It blends six separate ryes in accordance with the Fibonacci sequence, a series of numbers in which each one is the sum of the previous two. It's named in tribute to Leonardo Fibonacci, known as the greatest mathematician of the medieval Christian world, who derived it from ancient formulae. Like the Golden Ratio, the sequence is used by architects, designers, and others to achieve aesthetic balance in their works.
Whisky Advocate says:
Barrel Craft Spirits first introduced Stellum Black in December 2021, as a series of older whiskeys blended together for a uniform profile. All the Stellum releases have scored well. These Specialty Blends are priced in line with Stellum's previous standard Black bourbon and rye expressions.
Rock Island Mezcal Cask Edition
Style: Blended malt
Origin: Scotland
Age: Not stated
ABV: 46.8%
Price: $70
Release: July 2022
Availability: 1,500 bottles globally
Need to know:
Part of Douglas Laing & Co.'s Remarkable Regional Malts range, Rock Island (originally branded as Rock Oyster) is a blend of single cask single malt whiskies from distilleries on Arran, Islay, Jura, and Orkney. This limited-edition expression was finished for a year in mezcal casks.
Whisky Advocate says:
In 2019, the Scotch Whisky Association (S.W.A.) changed the rules regarding the types of casks permitted in the production of scotch whisky, allowing the use of  tequila and mezcal casks for maturation and finishing. Dewar's 8 year old Ilegal Smooth, a mezcal cask-finished scotch, was released the following year, and was joined by tequila cask-finished releases from Chivas Regal and Buchanan's. Lagavulin's Islay Jazz Festival 2021 13 year old release was its first mezcal cask-finished whisky, while both Nc'nean and Kilchoman have also released tequila-finished single casks. Douglas Laing & Co. is the only scotch player thus far to release a mezcal-finished blended malt, marrying the salty, maritime notes of Rock Island with the roasted agave notes from the mezcal cask.
Arcane Alpha
Style: Whiskey distilled from beer
Origin: New York
Age: Not stated
ABV: 41.5%
Price: $46
Release: July 2022
Availability: New York
Need to know:
This whiskey, which is Arcane's flagship, is vacuum-distilled from a triple IPA made at Brooklyn-based Kings County Brewers Collective (KCBC), then hopped before bottling.
Whisky Advocate says:
Arcane makes whiskey from beer, and its new Brooklyn distillery is built entirely around vacuum-distilling technology, whereby whiskey is made under reduced pressure and lower temperatures than column distillation. The vacuum distillation process itself was designed with sustainability in mind—it requires 15% less grain, 30% less water, and a third of the energy required by more traditional whisky distilleries, according to Arcane. Later this year, Arcane will release Imperial, a whiskey distilled from KCBC imperial stout. King's County Distilling Co. alumnus Phil Morgan leads production.