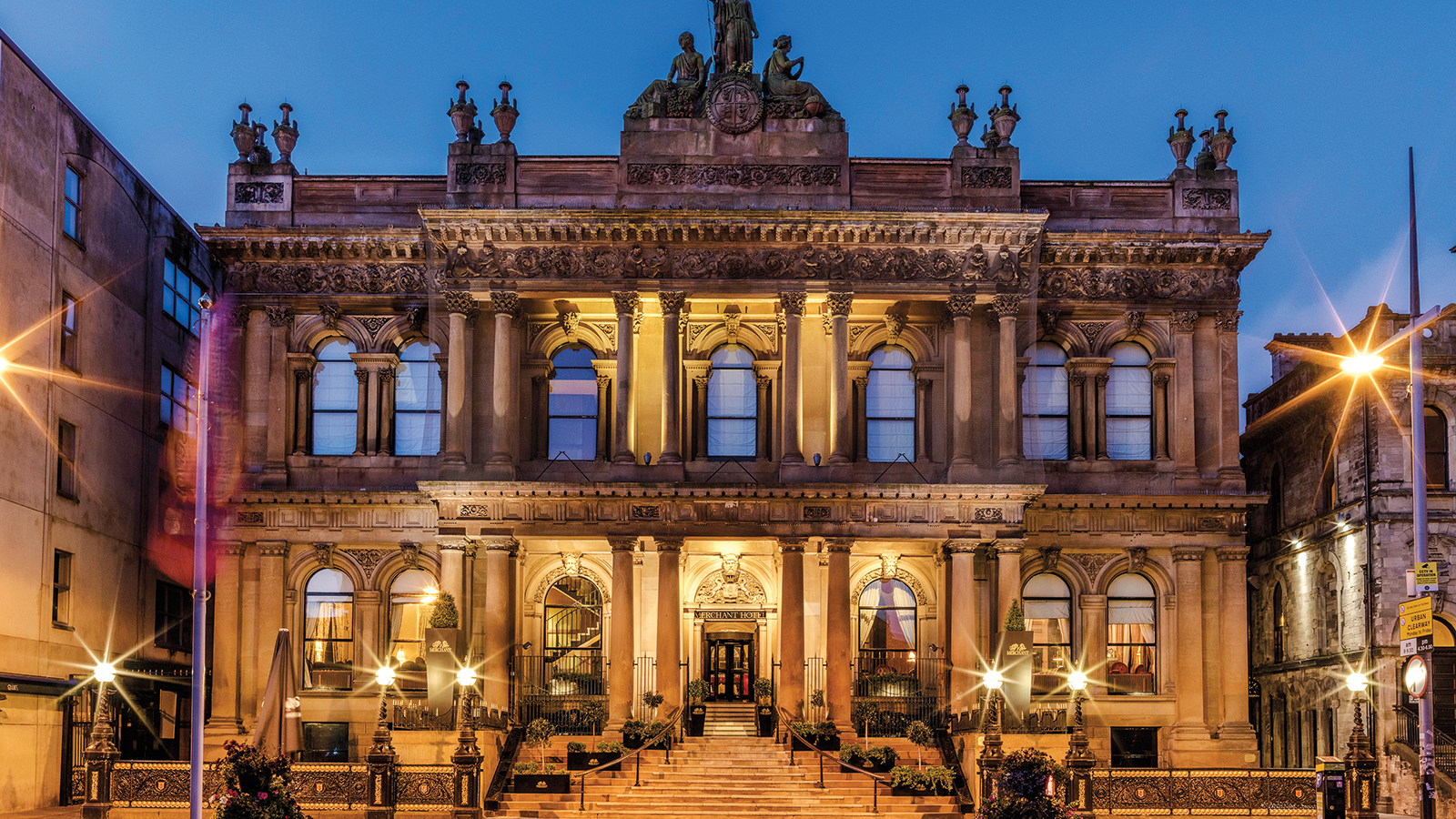 From spectacular cliff-top castles and coastal links golf courses, to wild remote glens and brooding mountains, Northern Ireland has a great deal to offer any visitor. 'Norn Iron' (if you want to sound like a local) was formed from six of the nine historic counties of Ulster when Ireland was partitioned in 1921. With The Troubles largely confined to the 20th century, these days the country is well recognized for the quality of its food and drink, its welcoming hospitality, and the achievements of Rory McIlroy, Liam Neeson, and Kenneth Branagh. A whiskey visitor can drink in more than just the landscape; there are a growing number of distilleries, whiskey bars, and restaurants to experience. This year has been designated the Northern Ireland Year of Food and Drink. From pints of the black stuff sipped in historic pubs along with foot-stompin' traditional music, to sophisticated libations quaffed in high-end hotel lounges, this place should be high on your bucket list.
Whether you fly into the International or City Airport, or arrive by sea from Scotland, pick up your rental car and head north to the village of Bushmills. If it's getting dark, the most direct route is the A26 road, but if you have a few hours of summer daylight left, then detour along the breathtaking A2 coastal road on the eastern side of the Glens of Antrim. Quite simply, it's the best introduction to the landscape you could ever imagine.  Check into the Bushmills Inn and you'll feel instantly at home. Even if you've not booked the Master Distillers 1608 Suite, there are sumptuous four-poster beds in many of the better rooms.
Once you've freshened up, head to the Gas Bar for refreshment before sliding into one of the restaurant's wooden booths to eat. Maybe tonight you'll order the onion and Guinness soup, followed by the beef filet flambéed in Bushmills? After-dinner drams from their well-stocked whiskey list can be taken at the fireside, or if you're looking for privacy, disappear upstairs into one of the armchairs under the eaves of the dark wooden beams.
Day One
Renewed by sleep, gird your loins for the Full. Irish. Breakfast. You see, an Ulster Fry is probably the greatest breakfast on the planet, thanks to the art of combining soda farls, potato bread, and black and white pudding to soak up the juices of the perfectly cooked pork sausage, fried eggs, back bacon, field mushrooms, and tomatoes. Consume everything, and then head to the west end of the village to the Old Bushmills distillery. Tours run for about 40 minutes and end with a tasting. There are options for more in-depth tasting experiences too, and with many photo opportunities around the site, you'll happily spend a couple of hours here. My tip is to take home a bottle of the exclusive Bushmills 12 year old Distillery Reserve, a more sherry influenced single malt whiskey than the classic Bushmills 10 year old. Hungry? A good spot for an early lunch is The French Rooms, to devour their wonderful tasting platters.
Next, head to the Giant's Causeway, a UNESCO World Heritage site of impressive basalt columns backed by dramatic cliffs. The Irish giant Finn MacCool challenged the Scottish giant Benandonner, but when the angry Scot thundered over the Irish Sea on the causeway, MacCool conspired to outwit him. He dressed as a baby, and with his wife Oonagh, fooled Benandonner into imagining the true scale of his nemesis, leading him to flee back to Scotland, tearing up the causeway behind him. Nearby, if you've a head for heights, attempt the Carrick-a-Rede rope bridge, which was first erected by salmon fishermen more than 250 years ago. Drive back to Belfast via the Ballinlea Road toward Ballymoney to witness the twisted branches of the Dark Hedges, one of the country's many local filming locations from HBO's Game of Thrones.
In Belfast, take a room at The Merchant Hotel, the Italianate style five-star hotel that has transformed the former Ulster Bank headquarters in the Cathedral Quarter. Start your evening in The Cocktail Bar, where Jack McGarry and Sean Muldoon once tended bar before setting up the award-winning Dead Rabbit in Manhattan. Their menu is deliciously tempting and this plush room is a terrific way to kick off a night on the town. After a cocktail or three, you'll want to eat something good and filling, but nearby, and McHugh's Bar and Restaurant, dating from 1711, fits the bill. With a well-lined belly, proceed up the cobbles and squeeze into The Duke of York for good craic and the best Irish whiskey selection in town, plus an abundance of scotch too. Rare and vintage bottlings abound: Midleton 1973 26 year old 175th Anniversary, Black Bowmore 1st edition for £250 a dram, and drink in the sights of display-only 100 year old whiskeys. If you're still in need of a live session, end the night with traditional music in The John Hewitt Bar, The Dirty Onion, or Fibber Magee. If you want more whiskey, head to the Hudson Bar.
Day Two
Take a stroll down to George's of the Market for brunch, where their 'best of the market' breakfast uses the finest local produce sold on the doorstep. Next, a choice for sightseeing, but you only have time for one. Either take a black taxi tour of the political wall murals that were painted on gable ends during The Troubles as a form of expression, resistance, and memorial, or cross the Lagan to spend a couple of hours at Titanic Belfast, a showpiece interactive museum built in the ship's birthplace, the famous Harland & Wolff shipyard. Lunch should be taken in a mahogany booth at the historic Crown Liquor Saloon, washed down with a freshly pulled pint from Hilden Brewery Co. Leaving the city behind, head past Newtownards and down the Ards peninsula for a tour of the Echlinville distillery (45-60 minutes, and pre-booking is essential). Here you can learn how Shane Braniff and his enthusiastic team have been making their pot still and single malt triple distilled whiskeys.
As the afternoon draws to a close, you need to catch your ferry or plane, so it's time to return the keys to the rental. With more distilleries in the pipeline, you can't help but plan your next trip to Northern Ireland on the journey home.
Northern Ireland Source Guide
Distilleries
Echlinville Distillery 62 Gransha Rd., Newtownards; 28 4273 8597; echlinville.com
Old Bushmills Distillery 2 Distillery Rd., Bushmills; 28 2073 3218; bushmills.com
Silent season will run from July 4th to August 5th 2016. Be aware that there are plenty of stairs on the tour if you have mobility issues.
Rademon Estate Distillery Downpatrick; 28 4483 0001; shortcrossgin.com
Visitor center planned and their malt whiskey will be on sale in 2018.
Belfast Distillery Company is planning to make whiskey inside the former Crumlin Gaol, but there's no liquid behind bars yet.
Niche Drinks nichedrinks.com
The good people behind The Quiet Man whiskey range have planning approval to build a new distillery outside Derry.
Hotels
Bushmills Inn 9 Dunluce Rd., Bushmills; 28 2073 3000; bushmillsinn.com
The Merchant Hotel 16 Skipper St., Belfast; 28 9023 4888; themerchanthotel.com
Bars and Restaurants
The Cocktail Bar The Merchant Hotel, 16 Skipper St., Belfast; 28 9023 4888; themerchanthotel.com
Crown Liquor Saloon 46 Great Victoria St., Belfast; 28 9024 3187; nicholsonspubs.co.uk
The Dirty Onion 3 Hill St., Belfast; 28 9024 3712; thedirtyonion.com
The Duke of York 7-11 Commercial Court, Belfast; 28 9024 1062; dukeofyorkbelfast.com
Fibber Magee 38-40 Great Victoria St., Belfast; 28 9024 7447; fibbers.robinsonsbar.co.uk
The French Rooms 45 Main St., Bushmills; 28 2073 0033; thefrenchrooms.com
Gas Bar Bushmills Inn, 9 Dunluce Rd., Bushmills; 28 2073 3000; bushmillsinn.com
George's of the Market 1st Floor, St. George's Market, Oxford St., Belfast; 28 9024 0014; georgesbelfast.com
Hudson Bar 10-14 Gresham St., Belfast; 28 9023 2322; hudsonbelfast.com
The John Hewitt Bar 51 Donegall St., Belfast; 28 9023 3768; thejohnhewitt.com
McHugh's Bar and Restaurant 29-31 Queen's Square, Belfast; 28 9050 9999; mchughsbar.com
Tourist Attractions
Carrick-a-Rede Rope Bridge 119a Whitepark Rd., Ballintoy; 28 2076 9839; nationaltrust.org.uk/carrick-a-rede
Dark Hedges Bregagh Rd., near Gracehill Golf Club by Stranocum; 28 2766 0230;
discovernorthernireland.com/gameofthrones
Giant's Causeway Visitor Center
44 Causeway Rd., Bushmills; 28 2073 1855; nationaltrust.org.uk/giants-causeway
Paddy Campbell's Belfast Famous Black Cab Tours 79 9095 5227; belfastblackcabtours.co.uk
One of many companies offering tours.
Titanic Belfast Queens Rd., Belfast; 028 9076 6386; titanicbelfast.com