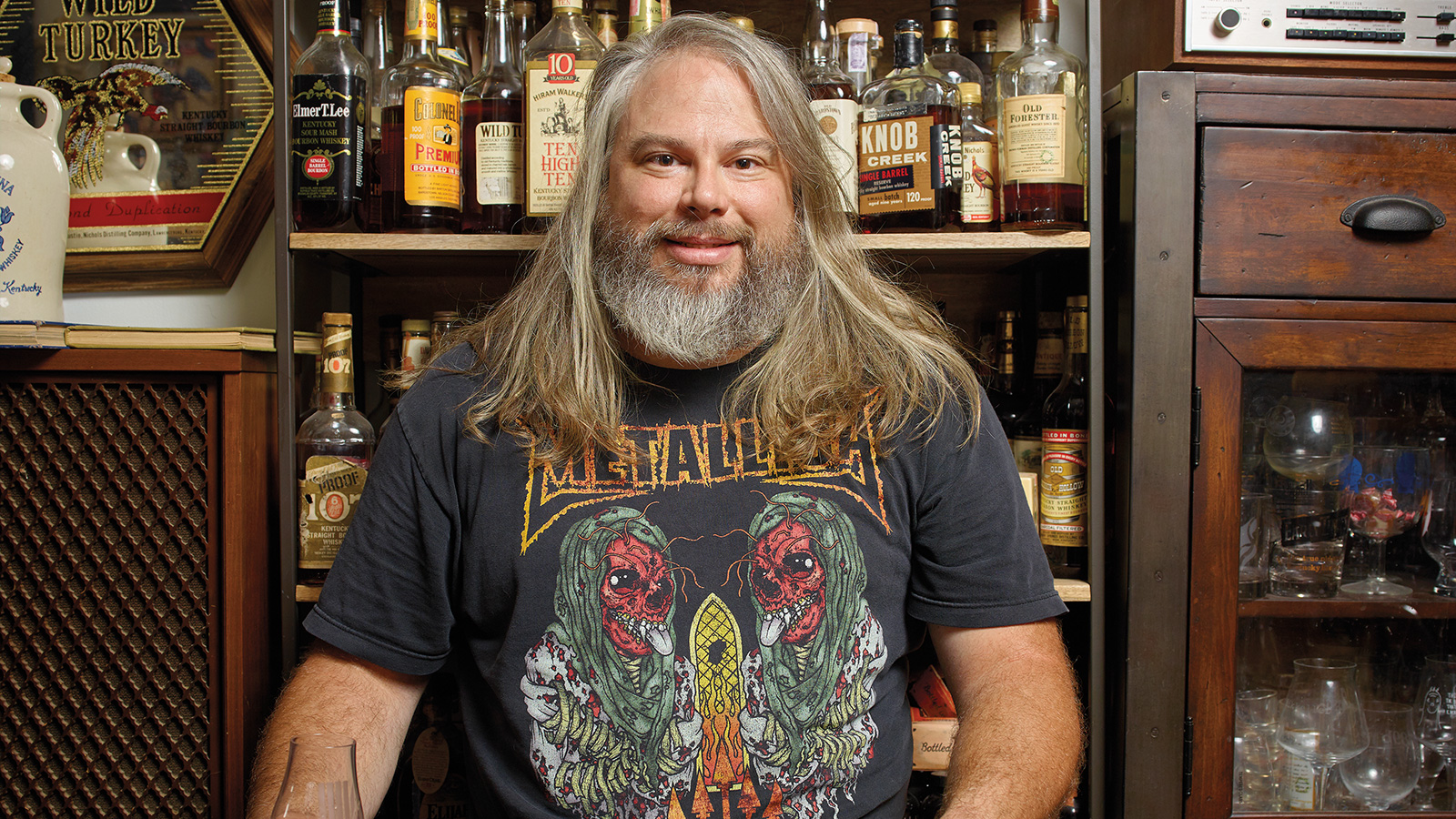 In a living room chock-a-block with animal skulls, taxidermied raccoons, Civil War-era wooden furniture, and 1980s Japanese robots, it's easy to overlook the shelf of whiskey bottles. Many of the labels are faded or torn, while others—Cutty Sark, Wild Turkey—look perfectly ordinary, part of any whiskey drinker's home bar.
At first glance, the sheer number of bottles on the floor-to-ceiling bookcase is impressive, but on closer inspection, these are not familiar bottom-shelf whiskey brands. The forgotten distillery names, the faded labels, the tax strips on the necks—all are indicators of the whiskeys' provenance and age, which are well out of the ordinary—indeed, exceedingly rare—in 2017.
Mike Jasinski is one of the country's foremost hunters of old whiskey, and one of the most generous. His collection of "dusties," dusty old bottles rescued from liquor store shelves, once numbered 1,200. These days he has closer to 700 or so bourbons, ryes, scotches, and other whiskeys dating from pre-Prohibition to the present. The shelves in his antique-packed house are bursting with vintage bottles, more than most whiskey lovers will experience in their lifetime and can only dream of tasting: pre-Prohibition I.W. Harper, dozens of decanters of Old Crow 10 year old in the shape of chess pieces, oodles of 1970s Wild Turkey, Juarez "straight American whiskey" (made in Mexico), and bottlings from Kentucky's coveted Stitzel-Weller Distillery.
All of it is there to be opened and enjoyed. "For me, drinking whiskey, it has to be the experience with the bottle, the feel of the bottle, the look of the bottle," Jasinski emphasizes. "This is kind of where it's at, sitting around with a group of people, just…tasting, talking about it, not worrying about the fact that there's, what, $10,000 worth of whiskey on this table."
Happy Hunting Grounds
Jasinski's wife, Claire Doordan, who runs a vintage clothing business, started him on the dusty-hunting trail. "She was the first one to get into it," he says. "We started reading about dusties, and I was kind of like, 'Oh hey, this is cool. You go into old liquor stores and you find old bottles.' She happened to have a day off work and she went into Wilmington and she came out with a huge box of these old bottles."
That was in 2012. In the intervening years, Jasinski spent weekends cruising the urban neighborhoods of cities like Baltimore, Wilmington, Del., and Paterson, N.J. in his Mini Cooper. "I found some crazy stuff in Baltimore—I was buying Old Fitz by the case," he says, referring to bottled in bond Old Fitzgerald bourbon from 1984. Old Charter and Old Overholt from the 1950s also remained in abundance, but some of the richest treasures were pillaged even before Jasinski arrived. "The guys who came before me were finding absolutely ridiculous things on the shelf," Jasinski says. "I mean, they were finding Prohibition ryes."
But it wasn't always as easy as just picking up a bottle and paying for it. Many store owners eyed Jasinkski's affection for these forgotten bottles with suspicion. Some refused to ring the register, thinking it might be illegal to sell such old bottles. Others pegged him as a troublemaker—or an inspector—and told him to leave their store. With pockets full of cash in search of whiskey to buy, there were times he feared for his safety. "You always have to be prepared for the worst," he says, noting that the majority of the time, shop owners and neighborhood residents are simply curious about an obvious outsider in their midst. "People always just ask me questions."
In addition to trolling out-of-the-way liquor stores for old stock, Jasinski purchased bottles on eBay (when it was still allowed) and Yahoo Auctions Japan—once a rich source for rare bourbons that were sold in Japan, sometimes exclusively. Nowadays, however, the prices aren't much lower than what you can buy them for in the U.S. In fact, a lot has changed in the five years since Jasinski started searching out old whiskey. More and more people are doing the same, and the supply of older bottles is far smaller than it once was.
"When I used to go hunting, I would take like $500 in cash with me and that's all I would use," Jasinski recalls. "I would hit six, ten, maybe 20 stores and I would be out of money; whereas now, you could go through 60 to 80 stores and you probably wouldn't spend $200." Frustrated dusty-hunters know the feeling: A lot of that old whiskey is already on a collector's shelf.
A Drink in the Hand is Worth Two on the Shelf
These days, Jasinski doesn't go hunting at all. "I have plenty," he says, noting that he only drinks a few nights a week, and only has about an ounce at a time. "I have enough to last me a lifetime. I have enough to be generous with my friends. I mean, what do I need it for? I'm not gonna sell it." Instead, he keeps dozens of bottles open for fellow enthusiasts who seek him out. Most of the whiskeys are already open because Jasinski likes to compare them, tasting Eagle Rare or Old Weller Antique from various eras to see how they evolved through different owners and distillery sources. He likes to demonstrate the "three-bird comparison:" Eagle Rare, Wild Turkey, and Fighting Cock dating from the early 1990s. "They were all products that were meant to compete against each other, so tasting them side by side to see what you like is kind of fun," he says. "I always joke that it's for science, but you're doing, like, the three Eagle Rares to see how it's changed over the years. It's cool to see that."
He regularly donates whiskeys to charitable causes, including fundraisers for a nonprofit he leads called Jeeps for Joy, which supports children and families in need. "It's important to me to do something like that to give back, because when I was a kid I was sick all the time," Jasinski says. "My parents were very young when they had me, so we were not in a good place financially. I had a lot of stuff donated to me at a Shriners' hospital. The local doctor in town donated a lot of services, so you've gotta give back."
Jasinski's years of searching have allowed him to give back in a big way. The actual value of the collection far exceeds what he originally paid for it—and there are plenty of eager whiskey drinkers prepared to pay for a taste of history that benefits a good cause.
One label you won't find much of in the collection is Van Winkle, including the sought-after Pappy Van Winkle, even though Jasinski loves Stitzel-Weller bourbon. "Pappy nowadays is just all the hype machine. Almost everybody I know who is a hard-core bourbon drinker is not a Pappy drinker," he says. "I always used to keep a Lot B on the shelf for when people come over. I'm not going to break out something from Lawrenceburg [where the Van Winkle line was bottled prior to 2002, before moving production and bottling to Buffalo Trace] for somebody who's never tried bourbon before 'cause they wouldn't get why it was so special. So just having a random bottle of Pappy, they get excited."
There's Always Something Out There
Jasinski did not stop hunting because the well ran dry. "There will always be stuff out there because there are huge back rooms of liquor stores," he says, noting that ordinary people's basements can also be rich hunting grounds. "There will be bottles that are lost in the shuffle. You will always find dusty whiskey on the shelves." Today, however, he limits his purchases to an occasional private barrel pick.
Like many advanced collectors, Jasinski observes how his hobby evolved over time. "When you first got into it, it was like any old whiskey was awesome. If you found a bottle of Rich and Rare from the '70s on the shelf you were like, 'Yes, look at that. It's an old whiskey.' And it's terrible whiskey, but it was still cool," he says. "Then it got to the point where it was like, I would only buy 86 or higher proof whiskey. And then it got to the point where it was like, I was only out looking for the unicorn bottles because I didn't need any more." The most he's ever spent on a bottle of whiskey is $500 for Very Old Fitzgerald.
Beyond the obvious Buffalo Trace Antique Collection and Pappy, which of today's whiskeys might be the unicorn bottles of the future? For Jasinski that's tough to answer. "I am not terribly in touch with 'today's' whiskey, but I certainly think you can put Willett Family Estate bottlings and the Heaven Hill gift shop-only bottles on that list," he says. "I think the special Medley bottles that are coming out are going to turn into collectibles since they have a rich history of distilling in their family. You are going to start seeing some of the smaller producers coming out with some whiskey that is really cool."