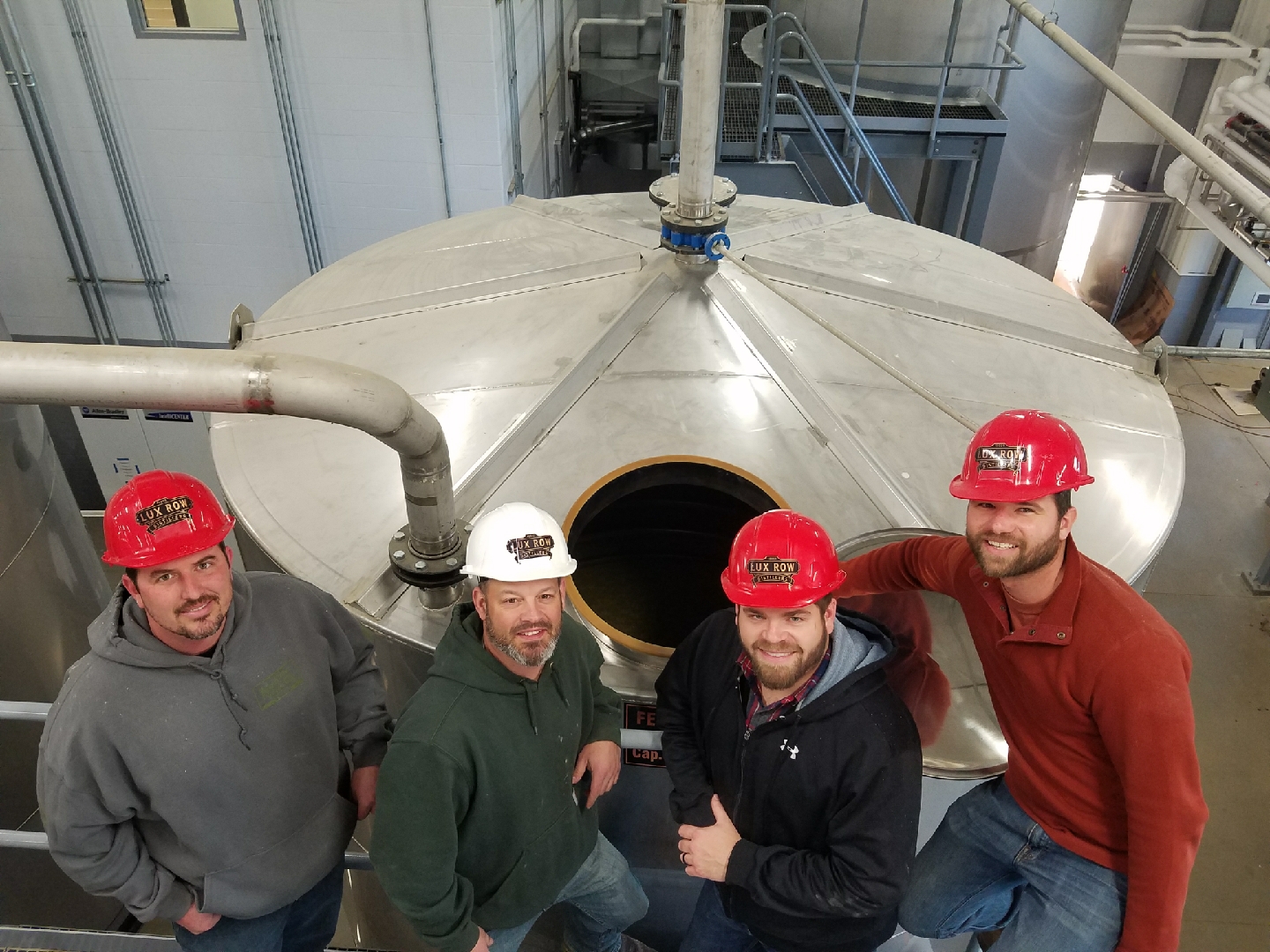 Bardstown, Kentucky's newest whiskey distillery quietly filled its first barrel on January 10th, 2018. Lux Row Distillers, which is located just a few miles from Jim Beam and Heaven Hill, among others, is the first whiskey distillery owned by Luxco, a St. Louis-based spirits company that also sells vodka, gin, tequila, rum, and liqueurs. Luxco's whiskey brands—which include Ezra Brooks, Rebel Yell, David Nicholson, and Blood Oath—are currently produced for the company at unnamed distilleries.
Although not on the scale of the planned Kentucky Owl Park, which will be located just a stone's throw away, Lux Row is no micro-distillery. It has twelve 8,000-gallon fermenters, and a 36-inch column still capable of churning out over a million proof gallons of whiskey annually. The space was designed to make it easy to add more fermenters and a second still in the future. There's one warehouse already standing, and another set to be completed by the summer. The site is big enough to house four more warehouses, and Luxco has plans to move some of its sourced whiskey to Lux Row eventually, as well as some barrels from Limestone Branch Distillery, in which the company has a 50% stake.
John Rempe serves as Lux Row's head distiller and master blender. He has worked for Luxco for nearly two decades overseeing its spirits production, and created Blood Oath bourbon and Rebel Yell 10 year old—one of Whisky Advocate's Top 20 Whiskies of 2017. With Lux Row's opening, he is relocating to Bardstown to oversee production, including gradually introducing whiskey made at Lux Row into the brands that are currently sourced.
"Our current suppliers haven't stopped and they're not going to stop making whiskey for us for a little while," he explains. "But once we get whiskey that's of age, we'll be rolling that into our brands. Eventually all of our bourbons will come out of Lux Row Distillery…We've taken every step to ensure that the whiskey coming out of Lux Row will match the whiskey from our [current] supplier."
In addition to creating everything needed to supply existing whiskeys, the distillery will be able to produce new recipes. "That's one of the more exciting things—we'll have complete control of what we need to now, so if we want to, say, do a wheat whiskey, [we can]," Rempe says. "I'll be able to use my creativity and do whatever I want. Say we're going to put this one in the barrel at 110 proof instead of 125—that affects the aging."
Lux Row's visitor center is set to host a grand opening in April and will be part of the Kentucky Bourbon Trail. "Our brands never really had a home," Rempe says. "But now they will have a home that people can actually walk in, they can experience, they can see, they can put their hands on it. They can taste the bourbons right there. It is a big change for us, but it's exciting."