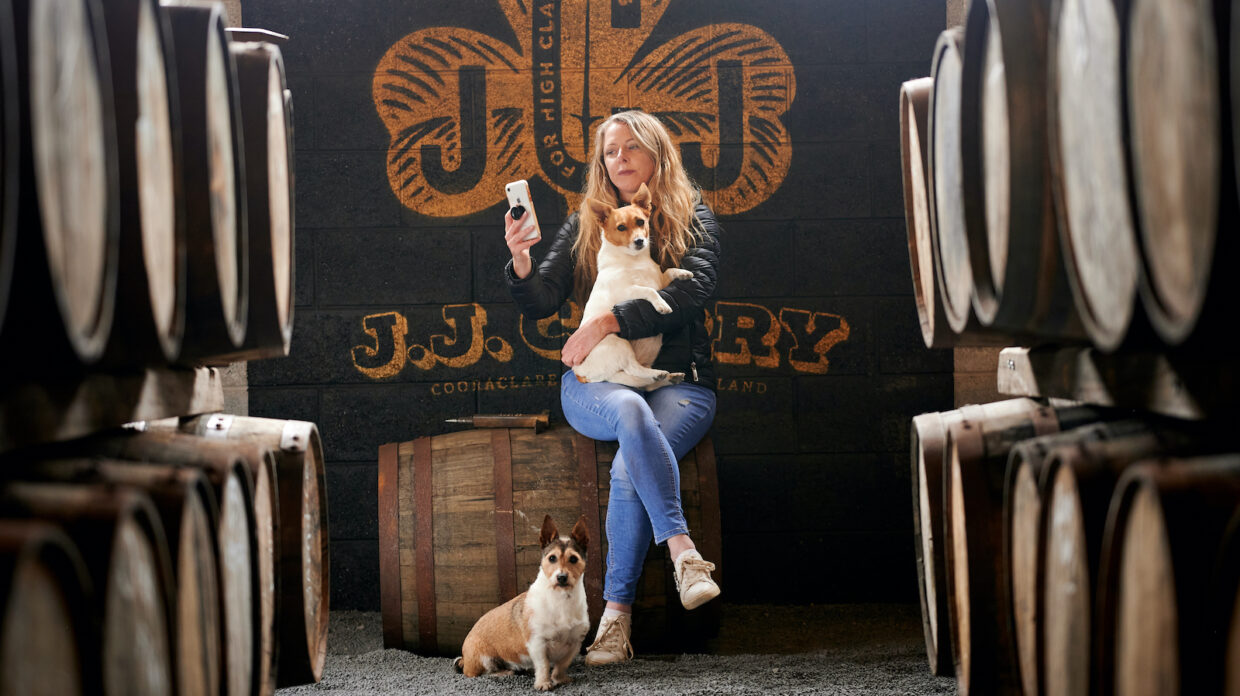 Whiskey has a long and rich history on the Emerald Isle, though for most of the 20th century it languished, with just a handful of distilleries in operation. Now, however, Irish whiskey is experiencing a resurgence as new distilleries open, making single pot still and other styles, and yielding an array of liquids for potential blending. "It's a good time to be a whiskey bonder," said Lousie McGuane, founder of J.J. Corry Irish Whiskey, who joined Whisky Advocate's #TasteWithSpace on Feb. 26. "It wasn't when I started, but it is now."
Irish whiskey bonding—not to be mistaken with the American bottled in bond whiskey—is technically a way of blending which was commonplace in previous centuries and operated similar to the way Scotland's blending tradition evolved. Independent merchants would purchase spirit from different distilleries to age, finish, and blend themselves. "You source whiskey from other sources and you custom-blend it to make your own house style," McGuane defined it. The practice disappeared when the Irish whiskey industry as a whole declined in the early 20th century, but McGuane brought bonding back a few years ago with the J.J. Corry brand, making her Ireland's first modern whiskey bonder.
"I knew I wanted to make a good, positive contribution to the [Irish whiskey] industry," McGuane said. "And I wanted to be pretty true to tradition but be quite modern about what I did. … I was looking around and I found this old label, a J.J. Corry label, from the 1890s that an antique dealer was selling. It was really interesting because on it, it said 'J.J. Corry Whiskey Bonder.'" McGuane added that she hadn't heard of bonding before, and then after delving through historical documents, she learned that bonding was a huge part of the Irish whiskey industry in the past and decided to revive this "lost part of the industry."
BRINGING BONDING BACK WITH A BOOM
J.J. Corry debuted with The Gael, a blend of three Irish single malts, in 2018. In the time since, McGuane has been building relationships with the many new distilleries that have popped up in Ireland recently—she noted that five years ago, there were only three distilleries with whiskey available, and now there are 36. In building these relationships, she can "build a library of Irish whiskey flavors," she said, by purchasing various styles of new make from different distilleries, and then pulling from that library to create her inventive blends. As she navigates the territory of bonding, McGuane is also breaking new ground. She technically invented the Irish blended grain category with The Hanson, which combines grain whiskey from three distilleries.
When it comes to experimentation, the sky is the limit. In 2019, J.J. Corry released Ireland's first whiskey made using agave spirits casks—The Battalion, which was finished in both tequila and mezcal casks. "We do mad stuff like that," McGuane said, adding that she also uses more traditional fortified wine casks for finishing, such as sherry casks. Considering all of its many innovations so far, it's hard to believe that J.J. Corry is only a few years old. McGuane is excited for the promising future of the brand, and she's thankful to be part of the current Irish whiskey revival. "It's an honor to be part of the rebirth of any industry, particularly one that's this historic," she said. "And to make a positive contribution to it—which I hope I'm doing—I'm pretty excited about that."
McGuane also answered viewer questions, including some about J.J. Corry's U.S. availability, which is set to expand greatly thanks to a new distribution agreement the company announced yesterday. Check out the full interview and follow Whisky Advocate on Instagram to keep up with upcoming #TasteWithSpace episodes. Tune in on Friday, March 5, when senior editor Susannah Skiver Barton talks with Kilbeggan brand ambassador Michael Egan about the distillery's Top 20-winning single pot still, how to make an Irish Coffee, and more.