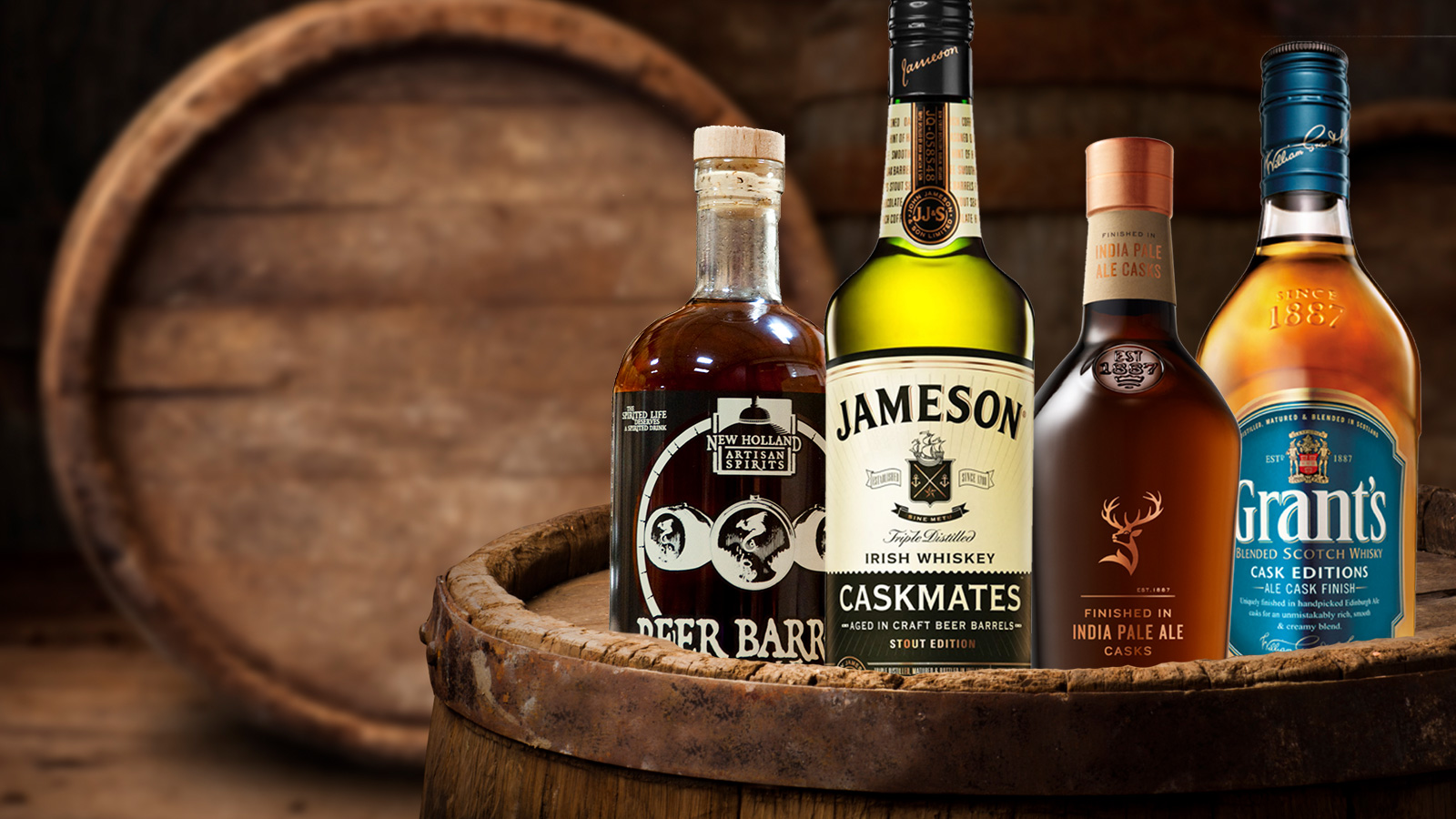 The world is awash with craft beers finished in various whisky casks, and now a few enterprising distillers have flipped that idea on its head. Scottish distiller William Grant & Sons Ltd., who pioneered the idea of placing whisky in used beer barrels about fifteen years ago with Grant's Ale Cask Finish, is at it again with their new release: Glenfiddich IPA Experiment.
Why so long between beer cask-finished whiskies? Grant's master blender Brian Kinsman explains. "Firstly, even though there are more oak-aged beers available, the total volume is still quite small." Beer barrels also present technical challenges, like the potential for bacterial growth if they are not filled quickly, according to Kinsman. For these beer barrel-aged whiskies, the risk is worth the reward.
Glenfiddich IPA Experiment—43%, $70
When it came to selecting the right beer style, Glefiddich chose India Pale Ale with the intention of balancing its citrus fruit elements with the fresh pear and green apple notes present in the single malt. Working together with the distillers, the Speyside Craft Brewery in Forres developed an IPA that complemented the flavors of mature Glenfiddich influenced by American oak.
Characteristics: hops, honey, toffee, spice
Grant's Ale Cask Finish—40%, $24
To create Ale Cask Finish, Wm. Grant collaborated with Edinburgh's Caledonian Brewery to produce a beer that would add creamy and malty notes to the blend. Ultimately, they arrived at Edinburgh Ale to meet the challenge of balancing the beer's notes with the peated malt of the whisky.
Characteristics: cereal, apples, lemon, hops
Jameson Caskmates Stout Edition—40%, $30
Two Irish institutions—Jameson whiskey and stout—come together in this collaboration between the Franciscan Well Brewery in Cork and Irish Distillers. Jameson Original whiskey was finished in casks that previously held the brewery's stout, after initially being used to age Jameson.
Characteristics: hops, char, cocoa, butterscotch
Polly's Casks—40%, $100
Alexander Murray & Company joined forces with California's Firestone Walker Brewing Co. to create Polly's Casks. Sixty bourbon barrels that previously held the brewery's Double Double Barrel Ale were shipped to Scotland and filled with Tullibardine single malt, which was then matured for an additional year.
Characteristics: red berries, honey, butterscotch, herbs
New Holland Brewing Beer Barrel Bourbon—40%, $36
Michigan's New Holland produces bourbon, then matures it for an additional three months in barrels that held two consecutive batches of their Dragon's Milk Stout, an 11% alcohol bourbon barrel stout, in their quest for a softer, easy-drinking whiskey.
Characteristics: sweet malt, chocolate, toffee
Abraham Bowman Limited Edition Gingerbread Cocoa Finished Bourbon—45%, $40/375ml
This ten-barrel special edition spent 17 months in Bowman bourbon barrels that then held two different dark beers from Hardywood Park Craft Brewery in Virginia: six barrels of Gingerbread Stout and four barrels of Foolery Imperial Milk Stout.
Characteristics: spice, cocoa, ginger, oak